wholesale LCD display Plug and Play CO2 grow room controller
Greenhouse CO2 Controller Features
1. Special used to real-time detect CO2 level in air ducts.
2. NDIR infrared CO2 sensor inside with Self-Calibration and up to 15 years lifetime
3. High accuracy humidity and temperature de Greenhouse CO2 Controller tection&display optional
4. With LCD or without LCD selectable
5. Providing one dry contact output with presetting the setpoint
6. Modbus RS485 communication interface optional
7. Wireless of ZigBee protocol optional
8. Smart structure with easier wire connection through the external pipe
9. Provide four types: wall mounted, duct mounted, split and plug & play
10. For plug & play type, special design a photosensor inside to detect day/night and change the working mode of the CO2 generator
11. For duct probe type, special the 180° rotatable fastness position of the probe can be used in two directions of air flow.
12. Replaceable filter in the probe and extendable probe length
13. Design the convenient and easier buttons for operation
Specifications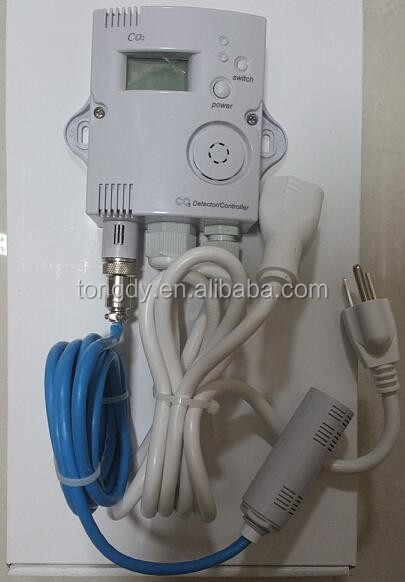 CO2 Sensor

Non-Dispersive Infrared Detector (NDIR)

Measurement Range

0~2,000ppm (default)

0~5,000ppm (preset)

Accuracy

±40ppm + 3% of reading @22°C(72°F)

Stability

<2% of full scale over the life of the sensor

Calibration

Self-calibration system

Response Time

<5 minutes for 90% step change at low duct speed

Non-linearity

<1% of full scale @22°C(72°F)

Duct Air Velocity

0~450m/min

Pressure Dependence

0.135% of reading per mm Hg

Warm up time

2 hours (first time)

2 minutes (operation)

Split CO2 sensor

2 meter cable connection between the senor and the controller

Temperature & Humidity Detection&Display (optional)

Temperature

Relative Humidity

Sensing element:

Band-gap-senor

Capacitive humidity sensor

Measuring range

-20°C~60°C

0 -100%RH

Accuracy

±0.5°C (20~40°C)

±4.5%RH (25°C, 15%-85%RH)

Display resolution

0.1°C

0.1%RH

Stability

±0.1°Cper year

±1%RH per year

General Data

Power supply

24VAC/24VDC or 100VAC~240VAC

Consumption

1.8 W max. ; 1.0 W avg.

LCD display

Display CO2 measurement

or CO2 + temperature& humidity measurements

Dry contact output (optional)

1xdry contact output for CO2

Max. 5A (100~240VAC/30VDC)rated switch contact

Plug& play type

Just for 100VAC~240VAC power supply with European or American power plug and power connector to the CO2 generator

Modbus RS485 Interface (optional)

19200bps, 15KV antistatic protection.

Wireless module (optional)

ZigBee 2.4G short distance wireless communication

Operation conditions

-0°C~50°C(32~122°F); 0~99%RH, non condensing

Storage conditions

10~50°C(-40~158°F)/ 20~60%RH

Net weight

280g

IP class

IP30

Standard Approval

CE-Approval
Typical Applications
1.In office and residence areas to detect CO2 level
2.Ventilation control
3.In BAS to detect the CO2 and the data transmittance
4.For greenhouse and plant bin
5.For CO2 laboratory
Company and Certifications
As an advanced technology company, Tongdy heavily invests in R&D in IAQ and HVAC products and solutions for more than 10 years,
it's professional to supply the high quality products with high quality service.
Tongdy specializes in customizing products to meet the unique customer requirements with quick response at best price.
Tongdy's products have been resold and used in European markets, North and South America markets, Gulf areas, Australia and New Zealand,
Southeast Asia markets. Many local partners have established a stable relationship of cooperation with Tongdy, and we're together to won some local large projects and government projects.
With moving to the new building from March of 2014, Tongdy has not only more space and equipment, but also has more professional service to customers.
We believe Tongdy will go another new milestone in the near future.
Tongdy has dedicated to establishing a win-win situation with the partners and customers. It will continue to develop more new products with high quality and best service.