Basement waterproofing products
Description:
GREATVISION® brand HDPE geomembranes are a kind of large molecule (macromolecule) polymer as the basic
raw material composed of waterproof and cut-offs(insulation & separation) geosynthetic material.
type: HDPE geomembrane, composite geomembrane
Properties:
high strength, low permeability, chemical corrosion resistance, ultraviolet & sun exposure resistance, oxidation resistance, weather resistance, antimicrobial, erosion resistance.
thickness: 0.20mm - 2.50mm
Roll width: 5.9m
Loading quantity / 40HC: according to thickness, roll width and roll length
Package: plastic bag with shrinkage waterproof and UV stabilized PE film.
Specification & index: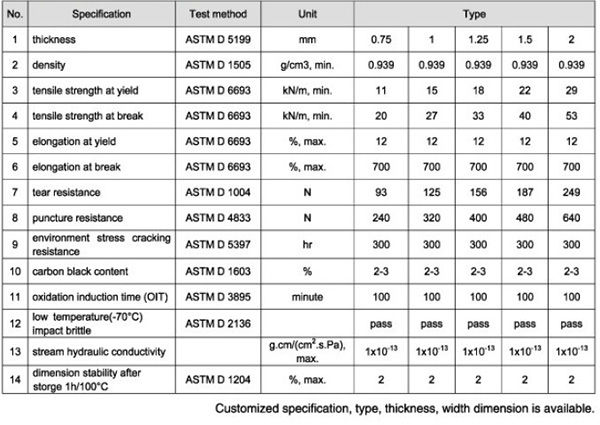 Benefits:

Cost Effective

Excellent Chemical Resistance

Impermeable and Impervious Layer

Outstanding UV Resistance and Weather Ability

World-Class Product, Service and Support

Availability and Fast Delivery

Long Term Performance

Dimensional Stability

Strength and Flexibility

Micro-Organism and Rodents Resistance

Easy and Fast Installation

Application:

Sanitary and industrial waste landfills

Industrial water treatment pond

Waste Water

Heap leach pad

Artificial and decorative ponds

Storage tank and secondary containment

Water content control in expansive soil

Fire water pond

Lake contour lining

Agricultural reservoir

Construction lining

Tunneling

Irrigation and drainage canals

Aquaculture lining
Testing Machines:

Certifications: