Metal Zippers - Brass Closed End 100% Cotton Tape Zipper - Natural
THE PREMIER ZIPPER OF CHOICE

Product Features
-Material 100 % Cotton with Bass teeth
-Heavy Duty, Separating and DYEABLE.
-Brass Closed End ~ 100 % Cotton Tape Zipper - Natural

1: Zipper Specifications: Cotton tape zipper, size 3# ,4#,5#,8#,10#
2: Type: finish zipper
3: Slider: normal & fancy
4: Color: Silver, gold, anti-brass, plated nickel , black nickel, etc
5: Minimun Order: small MOQ is accepted
6: Inner Packing: Poly bag
Outer Packing: standard Carton
7. Payment: T/T
8. Lead Time: 25 days usually for a container, as per order details
9. Applicable Range: garments, luggage, handbags, etc.
10.Colors: YKK color card, Pantone Color Card, Your color sample, etc.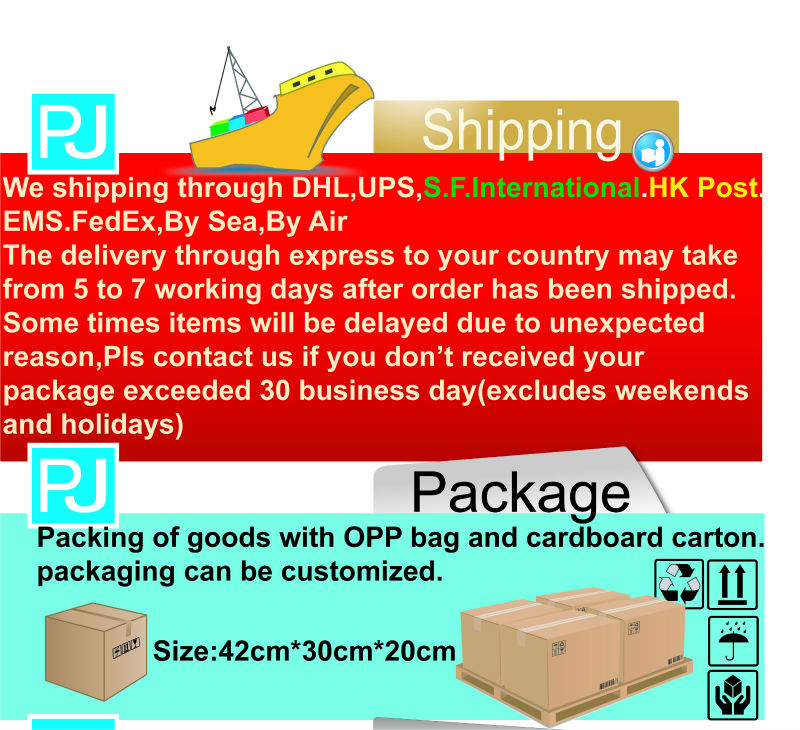 We have the ability to make virtually any type of zipper, in any length and in a wide variety of colors. All zippers are made to your exact requirements.
Minimum order. You may order just hundreds of zippers, all custom made.
We can produce zippers for sleeping bags, campers, leather jackets, raincoats, boots, heavy winter coats, boat top covers, SUV enclosures, chaps and just about any other type of application that requires a zipper closure.
We also offer continuous zipper material on a spool along with sliders and stops. This is very convenient for those applications that require endless zipper to be sewn into cushions, futons, bags, pillows and so many other items requiring endless zipper material.
After reviewing our site, should you have any questions, please call us at +86-769-8555-1805. We will be happy to assist you with any special zipper applications you may have.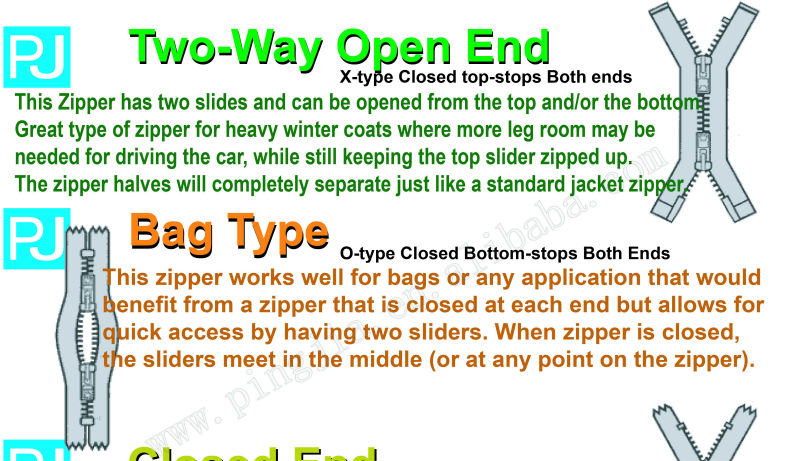 Definition you Should know to assist you in determining Your zipper need
| | | |
| --- | --- | --- |
| CHAIN: | | The continuous piece that is formed when both halves of a zipper are meshed together. |
| CHAIN SIZE: | | Refers to the specific gauge of the chain, i.e., size of the teeth. |
| TEETH: | | The individual elements that make up the chain. |
| SLIDER: | | The device that moves up and down the chain to open or close the zipper. |
| PULL TAB: | | The part of the slider that you hold to move the slider up or down. |
| MATERIAL: | | Refers to the type of chain that is used in the construction of the zipper, such as, metal chain, molded plastic chain or coil (nylon) chain. |
| TAPE: | | The fabric part of the zipper. |
| TAPE WIDTH: | | Refers to the width of the fabric on one side only, of the zipper chain. |
| TAPE ENDS: | | The fabric part of the zipper, that extends beyond the teeth, at the top and /or bottom of the chain. |
| STYLE: | | Refers to the manner in which the zipper is assembled for a particular application. |
| TOP STOP: | | Two devices affixed to the bottom end of a zipper, to prevent the slider from coming off the chain. |
| BOTTOM STOP | | A device affixed to the bottom end of a zipper, to prevent further movement of the half of the zipper from separating. |
| BRIDGE STOP: | | A device similar to a bottom stop, used at the top and of a zipper to prevent each half of the zipper from separating. |
| PIN: | | A device used on a separating (jacket type) zipper whose function is to allow the joining of the two zipper halves. |
| BOX: | | A device used on a separating (jacket type) zipper whose function is to correctly align the pin, to begin the joining of the zipper halves. |
| HEAT SEAL PATCH: | | The cotton and nylon laminated material fused to the bottom end of a separating zipper, used to reinforce the type. |
| HEAT-SEALABLE ZIPPERS (WELDABLE LAMINATED ZIPPERS): | | Any zipper that has a strip of plastic fused to each half of the zipper tape to allow a manufacturer to electronically "weld" the zipper onto the garment or item that is being manufactured, without the need of sewing or stitching. |
| CONTINUOUS CHAIN: | | Any material or size of zipper chain that is continuously spooled without sliders or any other components. Typically used by fabricators on a cut-as-need basis. |
| CUT-TO-LENGTH ZIPPERS: | | (Finished Zippers) Any zipper that is finished to a specific length, with all necessary components attached. |