Printed microfiber cleaning cloth
product detail
material:microfiber(80%polyester+20%polyamide)
pattern:plain dyed
type:glass cleaning cloth
shape:square
size:15*15cm(customer own size is acceptable)
brand name:XY
model:XY-A
use:home,hotel,sports...
color:gray,blue,green,black,white...Many colors are available,customer own color is acceptable.
weight:170g,180g,200g...or as customers request
edge:saw edge,straight edge,round corners
print: silk print , digital print ,emboss,hot transfer print
logo: can customize as customer request
packing:opp,pvc,carton
we accept OEM.
ISO9001-2008 approved.
QC
1.make sample before mass production for clients approvel
2.QC will control the quality during the production
3.inspect group will check the finished goods
4.factory manager will inspect randomly
Product feature
wipe with no scratching, lint-free , excellent absorbency , cleaning strong ,quick-dry , non-moldy ,durable , and so on .
Widely used in
cellphone screen , computer LCD screen ,digital camera lens ,glass, specular highlights , CD wipe , leather surface ,high-grade furniture , and It also can be used for promotional gifts !!
company detail
We are specialized in microfiber cleaning cloth , digital camera lens cleaning cloth , microfiber towel ,microfiber glove ,and so on . We have 8 years factory experience.
We can dye any color according to pantone C,U or TPX. Customers' LOGO and design are welcomed. Accept small order and short delivery.
All the trademarks shown are only for reference . If you are interested in our products, please be free to contact with us for details. thanks.
Contact with us
DongGuan XingYa Textile Co.,Ltd.

Address:No.2 Building 3 DiHao Road BaiGuoDong Industrial Zone ZhangMuTou Town DongGuan

Tel:0769-87190272

Fax:0769-87783171

Web:www.dgxingya.com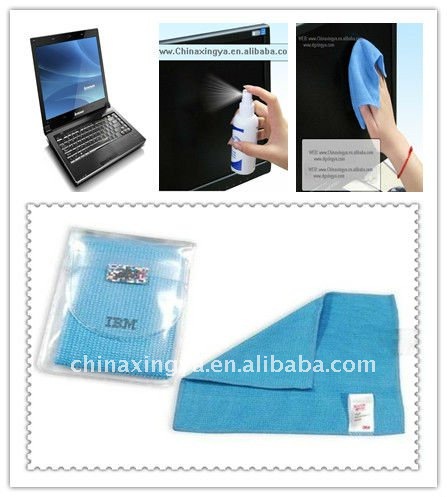 Detailed Product Description
1.Microfibe cleaning towel
2.Eco-friendly,Soft and comfortable
3.Washable,dry quickly
4.Wipe effect is good
5.No easy dirty
Microfiber commonly refers to any fiber with strand less than 1 denier. Textile synthetic microfibers such as polyester microfibers have a diameter of about 10 microns or less. While most microfibers are of synthetic origin, asbestos can be considered as natural mineral microfibers since the fibers width is less than 1 micron.
Though different polymers can be used to produce microfibers, polyester and nylon are the most employed and are often mixed together to obtain specific properties. Composite fibers can also be split to produce thinner strands that can be less than 0.2 denier.
A microfiber's diameter often measures half of a silk fiber and allows producing very lightweight fabrics with excellent draping qualities, wearing comfort and luxurious appearance. When woven appropriately microfiber fabrics have even more properties: good isolation, impermeability, breathing ability, wrinkle-resistance, stain-resistance, easy washability.
How does it work?
During the last 30 years, microfibers have found broad use in various fields: industrial applications, textiles and even medicine. Many attributes define the composition of the fiber itself and also in the weaving of the different fabrics.
For instance, in apparel textile, if one needs a fiber with similar light reflecting qualities as silk for a shiny looking fabric, the microfiber's cross section will have to adapt, a square or ribbon shaped fiber's cross section allowing to reflect much more light than a classical round one.
| | |
| --- | --- |
| | |
Fibers design offers even more possibilities in industrial or cleaning applications. Capillarity properties can be considerably enhanced following specific cross section designs, thus allowing specific filtration properties. Most cleaning microfibers have a so-called "pie wedges" cross section made of polyester and nylon (polyamide). Splitting those fibbers separates the nylon star-shaped core from the polyester wedges and divides the fiber into 9 different (in size, shape and composition) strands. As a result the fibers capacities, such as water absorption or dust attraction are greatly increased.

Weaving has also a direct impact on the properties that are sought. A tightly woven fabric will be very efficient to repel water and protect from the wind, making it useful for apparel. Some microfibers mops on the other hand try to expose the most fibers so as they can penetrate any corner and cover the whole surface to catch the dust.
Why are microfibers absorbent?
Weaving patterns are also important for thatpurpose as a very tightly woven polyester microfiber fabric will at first prevent water from soaking in since polyester is more water-repellent (which makes it efficient for clothing). Cleaning mops are thus woven with specific patterns that allow a high exposition of the fibers, especially the polyamide core, to the surface in order to maximize absorption .
The capillary action is also mechanically increased by the scrubbing movements during cleaning. On average, a microfiber mop can retain up to 8 times its weight in water. Once inside the microfibers, water will be distributed quite fairly between fibers since polyester, which generally constitutes most of the fibers, is rather hydrophobic and won't accumulate much water molecules on its surface. When sweeping a wet surface, microfibers will absorb most of the liquid, but it will also spread some along the surface in a very thin layer, which, in case of water, evaporates almost immediately.
Microfiber textiles are rather easy to launder and resistant. All depends on the fabrics and fibers taken into consideration. Polyester microfiber clothes, bed sheets or table cloths can't be laundered the same way than bicomponent polyester-nylon microfiber mops or microfiber furniture. Here are a few advices to follow.
When too dirty or after a couple of cleaning works, microfiber cleaning devices should be machine washed. For that purpose any standard detergent provided its overall pH does not exceed 11- can be employed. Water temperature should not exceed 90°C (ab. 200°F). Microfiber is quick to dry and can be machine-dried at temperature not exceeding 60°C (ab. 140°C).
Things to avoid: Do not use fabric softener when washing microfiber cleaning devices. Softener would act as a kind of wax, recovering the fibers' surface, clogging up the micro spaces that are efficient to trap dusts and also cancelling the fiber's chemical and electrostatic properties. Microfiber can be washed with other kind of textile provided they are lint-free. No terry cloths or dryer sheets for instance! Otherwise lint would clog the fibers as well and reduce their efficiency. If those mistakes have been committed, microfiber should be rewashed in order to recover its properties. Like most plastics microfibers are resistant to a lot of chemical products. However do not use chlorine bleach on microfibers and avoid using acetone (it can shatter polyester fibers) or strong acids (it can shatter nylon fibers).
Life expectancy of good quality microfiber can be very long compared to other cleaning devices and provided it is cared properly. Any good microfiber should resist more than 200 laundries and up to 500. To that point microfibers can still maintain their properties but the fabric might be falling apart.