Lutein and Zeaxanthin
Name of Product: Marigold P.E. Super Lutein
Latin Name: Tagetes erecta L.
Part of Used: Flower
Active Ingredients: Super Lutein
CAS No.: 127-40-2
Specification Available: UV/HPLC5%-90%
Appearance: Orange fine powder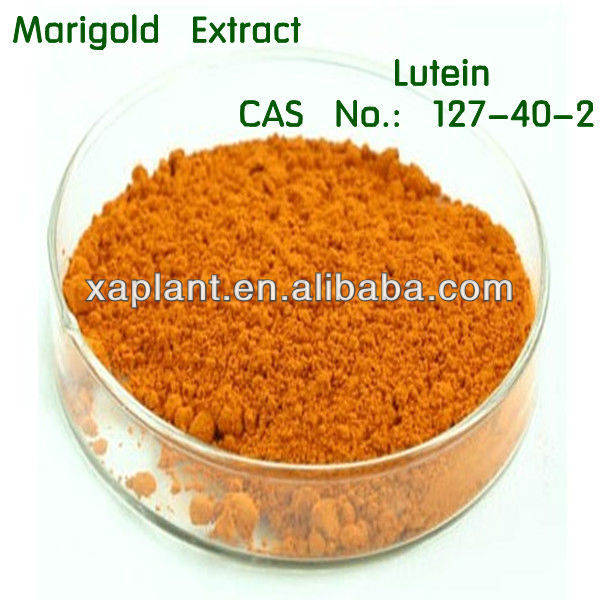 Main Function
(1). Lutein can protect our eyesight, with the function of delaying eye's ageing;
(2). Lutein has the antioxidant effect, reducing the risk of cardiovascular disease, coronary heart disease and cancer;
(3). Lutein can postpone early atherosclerosis process ;
(4). Lutein has effect of inhibiting cancer, such as breast cancer, prostate cancer and colorectal cancer.
Application
(1). Applied in food field, as a kind of natural colorant, adding shine for goods;
(2). Applied in health product field, lutein can replenishes nourients for eyes, and protecting the retina;
(3). Applied in cosmetics field, lutein is used to reduce age pigment of people.
[Shelf Life]2 Years
[Storage]Store in cool and dry place
[Packing]25Kg/Fiber Drum, double plastic bag inside, with carton outside. 1Kg/Bag, aluminum foil bag vacuum packing.
Payment term: T/T, L/C, O/A, Paypal, Escrow, West Union, etc.
Leadtime: With Stock in mill, we can arrange shippment immediately.
Sample: Free Sample available.
Superiority
We have passed ISO9001, HACCP, KOSHER CERTIFICATE and HALAL, also we have the USA FDA register number. Now, we are committed to pass the GAP Certificate. And we are also Alibaba Golden Supplier; we can do commodity inspection.
Production Machinery
| | | | |
| --- | --- | --- | --- |
| Machine Name | Model No | Quantity | Condition |
| Extracting Tank | TQ3000 | 2 | Acceptable |
| Extracting Tank | TQ500 | 2 | Acceptable |
| Outer Circulation Concentrator | WN500 | 3 | Acceptable |
| Vacuum Concentrator | ZN200 | 3 | Acceptable |
| Spherical Concentrating Pot | QN200 | 1 | Acceptable |
| Spraying Dry Tower | LPG30 | 1 | Acceptable |
| Centrifugal Machine | L800 | 1 | Acceptable |
| Mixing Machine | EZ500 | 1 | Acceptable |
| Heated Air Circulation Oven | W24 | 1 | Acceptable |
| Vibrating Sieve | ZW600 | 1 | Acceptable |
Testing Machinery
| | | | |
| --- | --- | --- | --- |
| Device Name | Model/ Brand | Quantity | Condition |
| Ultraviolet and Visible Spectrophotometer | 722S | 1 | Acceptable |
| HPLC | Agilient /1200 | 1 | Acceptable |
| Analytical Balance | ALC-110.4 | 1 | Acceptable |
| Moisture Analyzer | SF-1000 | 1 | Acceptable |
| Melting Point Apparatus | MP-1100 | 1 | Acceptable |
| Microscope | CC-350 | 1 | Acceptable |
| TLC Scanner | T-260 | 1 | Acceptable |
| Polarimeter | SGW-3 | 1 | Acceptable |