-Destination customs clearance included
-Delivery to door with warrenty or insurance
-Ontime tracking
-Air freight and ocean freight to door with documents
-Low cost warehouse supervising and customs broker for special goods, such as brand copy, LED lighting etc production, no need commodity inspection cost
Flying Logistics is a Chinese corporation primarily engaged in the business of domestic and international freight forwarding by air,sea and express courier.
1.Our main services: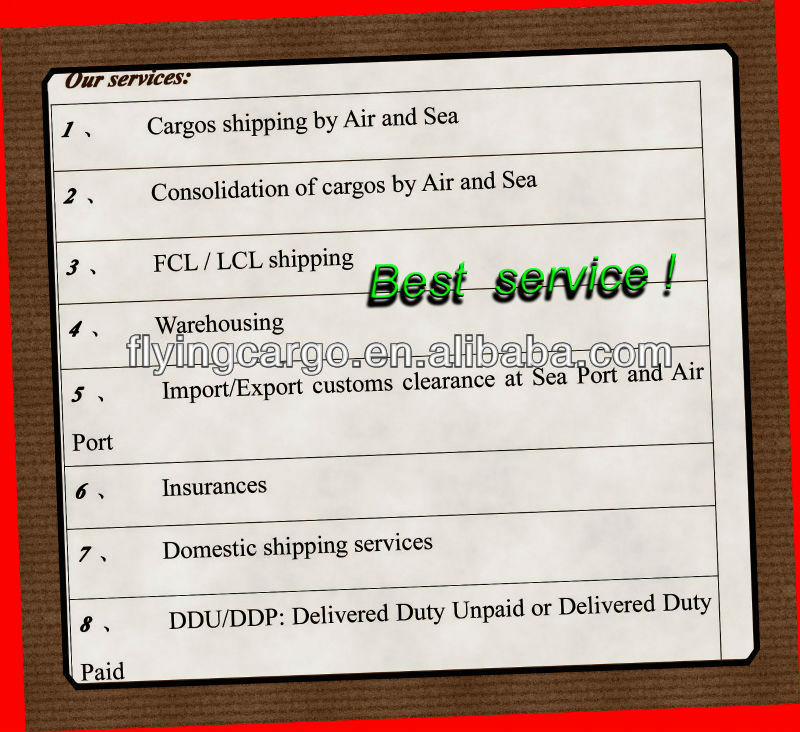 2.Our advantages:
3.Our work procedures:
4.Our certifications:
5.Our cooperation partners:
International Airline we offer as bellow: AY / BR/ CK/ EK/ QR/ KL/ NH/ KA/ TG/ MU/ MF/ CA/ 8Y
6.Our warehouse:
7.Our tracking records:
8.Keep reminder:
9.About us:
Flying industrial Co.,Limited established in Shenzhen as one star cargo agent, authorized by Ministry of Foreign Trade and Economic Co-operation.

Our company deal with international cargo shipping, the business scope cover express, airline, ocean import & export services, including booking airline/vessel space, customs report, LCL, FCL, delivery to door, making paper, foreign exchange etc logistics service.

We have good cooperation relationship with those express agent airline company and vessel company. Any goods sent to worldwide, we can make it, fast delivery time, good service. We have agreement with Europe, North America, Australia and Africa honesty agents. We have great confidence to send customer's goods safely to everywhere in the world.

Holding constant business management attitude all the time in minds, we provide reasonable freight cost, on time delivery, satisfactory service. We not only consider us as forwarder, but also as business partner with our customer,. With the heart of endless passion and after perfect, we always to improve our service better and better.
If you want to learn more about us and seek for your favorite service, please feel free to contact us .
Just tell us what you needed, we will do our best to supply you the services you like. Thank you !