Quality and the after sell service is our aim: we do not sell the prodcuts but solutions.We believe that you will be satisfied with both our products and service.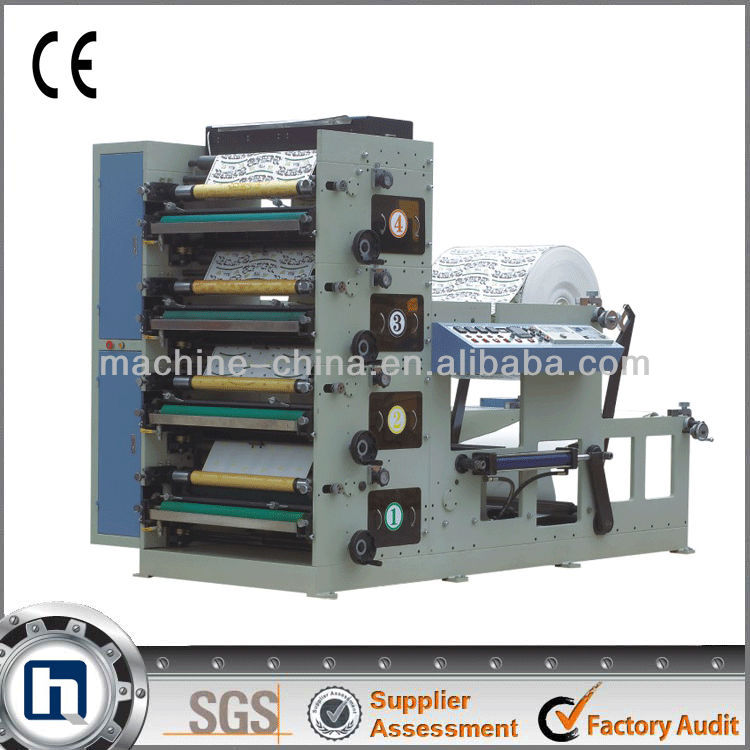 1.Feature:
1.1 Ink Roller :With the Ceramic roller by 100LPI-1000LPI, high speed dot reproduction rate, screen printing, structure three–dimensional sense of strong ,registering accurately
1.2 Ink :Adopt the automatic circle system ,running ink by single small motor
1.3 Timing :Adopt Japanese inverter controlled ,running by small fluctuations
1.4 Unwind EPC :adopt the high quality automatic EPC controller device
1.5 Unwind and rewind way : adopt the magnetism Auto tension controller.
1.6 Ink way :our company has special design for the doctor blade device with the ink pump can suck the ink automatically
1.7 Up and down plate :adopt the hydraulic pressure rising and down the printing plate automatically
1.8 Roller :adopt the special steel processing ,and through the special technique treatment , and plating thickness of 10 silk protective layer of hard chromium, beat the following in the 0.02mm
1.9 Traction Rollers :adopt Japanese production of small semi-enclosed bearing, static equilibrium and dynamic levels do cross-processing, hard oxidation treatment, resistance, beating a small
1.10 Drying device: ventilation with heat blowing three devices, which use a central heating temperature control system and the control each group
1.11 Body: thick wall (75mm), longer bridges, thick base, making the machine more stable.
1.12 The control system: machine adopts PLC device: 1) start,2) stop,3) run,4) automatically transported down the ink, with PLC control, automation and better, more humane facilities.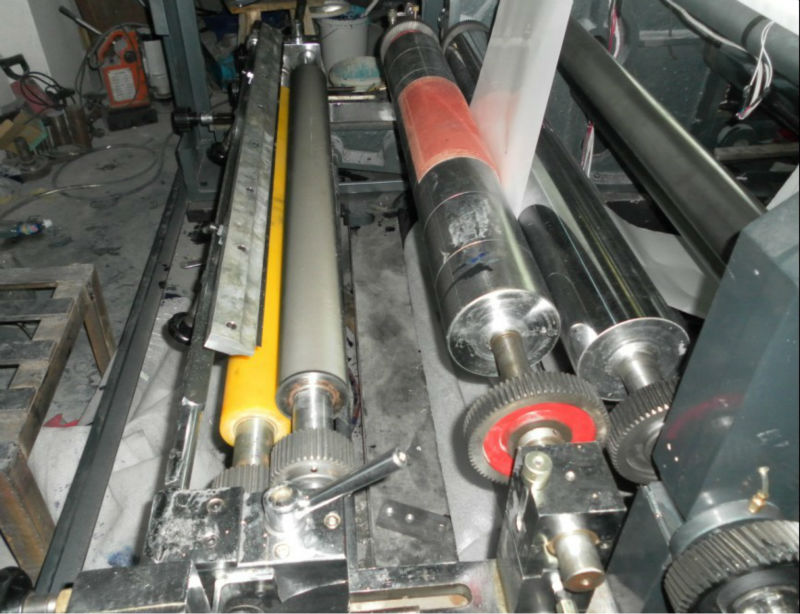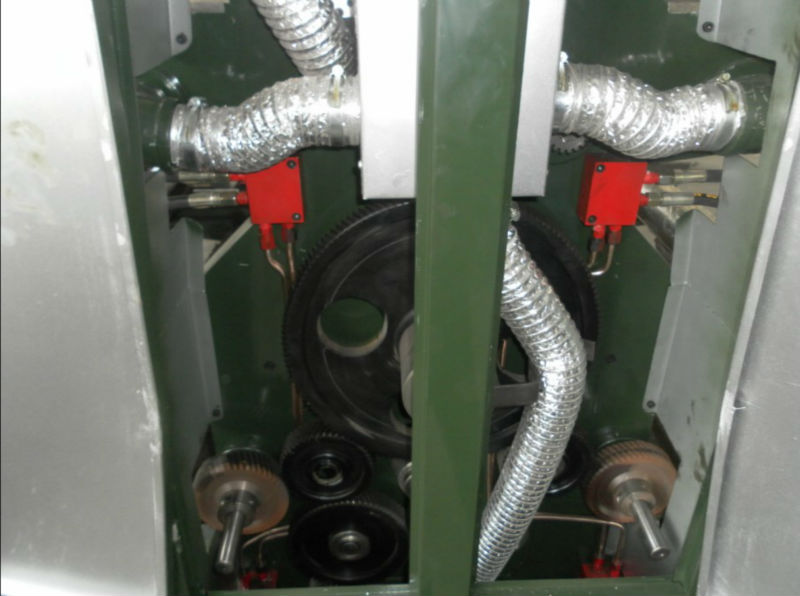 2.Main Specification:
2.1 Main Parameter

Model

YTB-41000

Max Width of Material

1000mm

Max.Width of Printing

960mm

Material

Non-woven fabric:15-120g,Paper:15~400g/m2

Aluminum foil:30~150μm,Woven Fabric Material:15-500g/m2,PVC:15~120μm,OPP:10~100μm,BOPP:10~100μm,PE:15~150μm,NY:15~120μm,PET:15~100μm,CPP:15~100μm

Printing color

4 colors

Max.Length of Printing

200-1100mm

Machinery mechanical speed

10-90m/min

Max.Speed of Material Printing

10-70m/min

Thickness of Plate

2.38mm

Total power

32kw

machine weight

5800Kg

machine dimension

5200mm×2600mm×3300mm

Power condition

Voltage:380V,3PH,50HZ

2.2 Unwind Unit

Max.Length of Roller

1000mm

Max.Width of Printing

960mm

Max.Dia. of Unwind

1000mm

Type of Unwind

auto tension with magnetic powder

Unwinder Magnetism device

5kg

Auto Tension Controller Unwinder

2—20kg

Unwinder EPC

Electrical Edge Correction Device

Feeding shaft

Air shaft

Axis core diameter

76mm

2.3 Traction Unit

Constitution of Traction

Aluminum roller, Chrome plated Roller

Traction Zones

4 Zones

2.4 Printing Unit

Constitution of Printing

Anilox roller, Rubber roller, Chrome plated roller, Version roller Resin version, Scraper

Girth of Pressing Roller

200-1100mm

Material of Plate

Resin or Rubber

Principle of Work

Gears Drive

Adjusting of Register

Manual

Overprint Precision(mm)

Horizontal:+-0.15mm,Vertical:+-0.2mm

Plated-glued roller adjusting

hydraulic type of plate-cylinder

Anilox Roller

Ceramic Anilox Roller:1 pcs/per color

Rubber rollers

1 pcs/per color

Scraper

Ordinary

2.5 Heating and Drying Unit

Type of Heating and drying

blowing first then heating

Heating Zones

10zones

Power of Heating

12 kw

Assistance of Drying Length

2m

Blowers

8 Fans

Power of Blowers

1.5kw×2pcs 0.2kw×6pcs

2.6 Electrical Parts

Main motor

5.5kw

Ink-Transfer Motor

0.2kw

The inverter

6kw (An Inverter Equips With the Main Motor)

Tension test

2--30kg

2.7 Wind Unit

Max Width of Material

1000mm

Max.Dia of Wind

1000mm

Type of Wind

Auto tension with magnetic powder

Rewinder Magnetism Powder

5kg

Collect Reducer Motor

2.2KW

Auto tension controller

2—20kg

The receiving shaft

Air shaft

Axis core diameter

76mm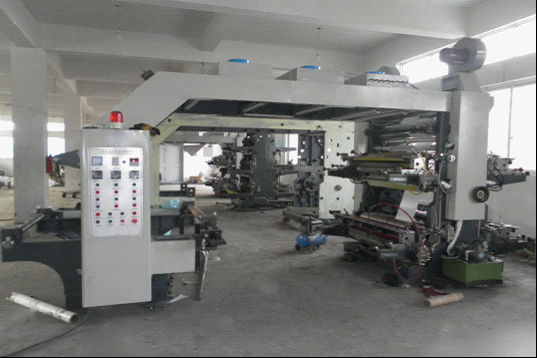 If u are interested, contact us pls.
wzqc003

Tyler784068458

86-15669891172(Phone)

0577-65566111(Tel) 0577-65565872 (Fax)

https://www.facebook.com/WenzhouQichenIndustryTradeCoLtd?ref=hl

http://www.youtube.com/user/Tina5221990