Hot sale playground for sale Indoor and outdoor 5D theater equipment
Features of 5D theater equipment
5D theater is made of by three-dimensional film(3D Movies) and the surrounding environment simulation which called four-dimensional space. It is based on 3d movie then adds special effects, new video products formed in the simulation, trough linkage to the audience and movie content to stimulate or enhance the immersive effect. When the audience to see the stereoscopic film, along with the film and television content change, they will real-time feel the storm, lightning, rain, vibration, spray ,leg sweep and so on functions, cooperate with the three-dimensional image.
We Can Design the Blueprints for your own Cinema Space
Specifications of 5D theater equipment
Person

Room space size (L*W*H),m

Screen size(m)

Seats combination

6persons

6m*3m*3m,18 square meters

2.4m*1.8m

3seats/set,2sets

9persons

8m*3m*3m,24 square meters

2.4m*1.8m

3seats/set,2sets

12persons

8m*5.5m*3.5m,44square meters

4m*3m

3seats/set,4sets

18persons

9m*6m*3.5m,54 square meters

5.3m*3m

3seats/set,6sets

24persons

10m*7m*4m,70 square meters

6.5m*3.6m

2seats/set,12sets

36persons

9m*8m*4m, 72 square meters

6.6m*3.7m

3seats/set,12sets

50persons

13m*9m*5m,117 square meters

7m*4m

2seats/set,25sets

120persons

22m*13m*7m,264square meters

Arc screen:12m*4m

2seats/set,60sets

More persons are for choice…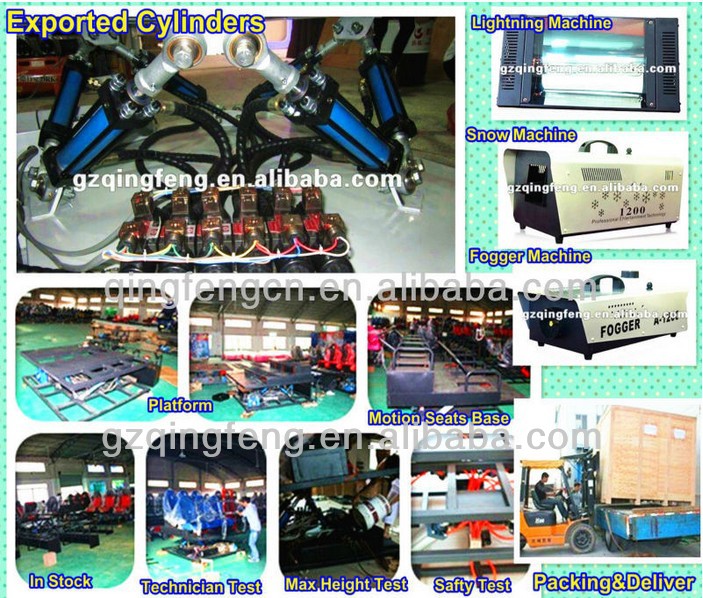 Our Packing:
Bubble pack + wellpappe + stretch films + wood frame.
1.Packing with plastic
2.Lacking with stretch film
3.The out packing with wood