100%cotton wax print african textiles fabric 32*32 68*68
1) width: 57/58"
2) pattern: wax print african textiles fabric
3) yarn count: 32*32 or according to client's requirements
4) density: 68*68 or according to client's requirements
5) usage: suitable to clothes, workwear,bags, shoes
6) color: bleached ,dyed ,grey ,
7) weight: 95g/m2,(net weight )
8) minimum order quantity: 5000 meters each time
9) delivery time: 10days (grey fabric) / 25days (white or dyed fabric) after receiving payment
10) packing:grey fabric baled with woven bags ,400 meters each bag, finished fabric(dyed fabric) packing in roll,about 100meters each roll, or according to client's requirements.
markets: South America, the Middle East, Africa,Europ, Southeast Asia and so on,more than 60 countries and areas.
Our company, Shijiazhuang Taihong Clothing Co., Ltd., established in 2007, is an enterprise which integrates production, processing and trade. Our company lies in Shijiazhuang City of Hebei Province, which is one of the largest textile bases in China. We supply kinds of woven fabrics for bedding, garments, lining, shoes, toy accessories and others with good quality and competitive price. We produce grey fabric of cotton, cotton and polyester, pure polyester, rayon and cotton, linen and so on. Also, we can process as customers' requirement, such as bleaching,dyeing, printing,coating, then supply customers the finished fabric.

We enjoy a good reputation at home and abroad. Our products find a market in Southeast Asia, Europe, America, South America, Africa, and other countries and regions. We adhere to the principle of "Quality first and Customer first". We look forward to cooperating with your esteemed company and establishing a long term business relationship.
100% cotton fabric

Composition

Weaving

Yarn

Density

Width(inch)

Weight(gsm)

100% cotton

plain

32*32

68*68

43/44" 57/58"

95

100% cotton

plain

32*32

75*75

57/58"

110

100% cotton

plain

30*30

68*68

57/58"

105

100% cotton

plain

21*21

60*60

57/58"

135

100% cotton

plain

20*20

60*60

43/44" 57/58"

140

100% cotton

poplin

40*40

133*72

47" 63"

130

100% cotton

plain

20*10

40*42

43/44" 57/58"

150

100% cotton

poplin

40*40

133*72

57/58"

130

100% cotton

JCpoplin

40*40

133*72

57/58"

130

100% cotton

2/1twill

40*40

133*72

57/58"

130

100% cotton

poplin

40*40

133*100

57/58"

145

100% cotton

satin

40*40

127*79

57/58"

130

100% cotton

poplin

50*50

144*80

57/58"

110

100% cotton

Fine cloth

60*60

90*88

57/58"

80

100% cotton

Jc fine cloth

60*60

90*88

57/58"

80

100% cotton

popin

60*60

140*140

57/58"

120

100% cotton

voile

80*80

90*88

57/58"

60

100% cotton

plain

40*40

68*33

57/58"

80

100% cotton

plain

24*24

72*60

57/58"

130

100% cotton

20*20

100*50

57/58"

180

100% cotton

canvas

16+16*12+12

108*56

57/58"

280

100% cotton

canvas

21/2*10

72*40

57/58"

270

100% cotton

canvas

32/2*16

94*48

57/58"

220

100% cotton

2/1twill

40*40

143*112

57/58"

160

100% cotton

2/1twill

32*21

133*78

57/58"

190

100% cotton

2/1twill

32*32

130*70

57/58"

150

100% cotton

3/1drill

21*21

108*58

57/58"

190

100% cotton

3/1drill

20*16

128*60

57/58"

240

100% cotton

3/1drill

16*12

108*56

57/58"

280

100% cotton

3/1drill

10*10

74*44

57/58"

290

100% cotton

3/1drill

7*7

68*38

57/58"

360

100% cotton

plain

30*30

76*68

110"

110

100% cotton

plain

40*40

110*90

110"

120

100% cotton

4/1satin

40*40

140*110

110"

150

100% cotton

4/1satin

60*40

173*120

110"

145

100% cotton

21corduroy

40*40

77*177

57/58"

100% cotton

16 corduroy

16*21

44*134

57/58"

100% cotton

14 corduroy

16*16

72*130

57/58"

100% cotton

11/8/6 corduroy

12*16

64*128

57/58"
100%cotton wax print african textiles fabric 32*32 68*68 more details as follow:
Picture one:
Picture two:
Coner of SHIJIAZHUANG TAIHONG CLOTHING CO.,LTD:
Coner one :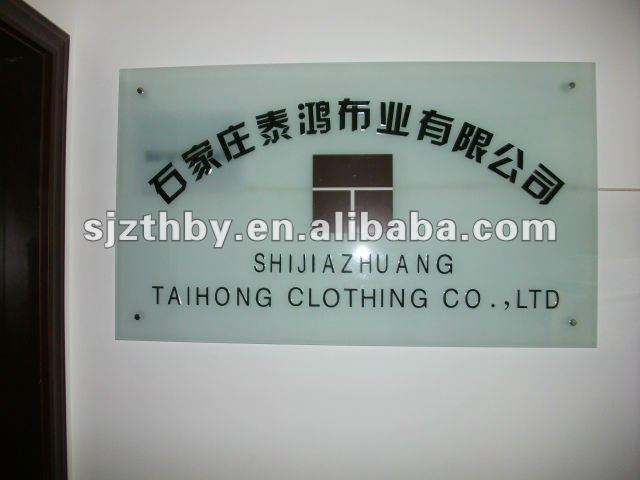 Corner two:
Welcome to call at our website: www.sjzthby.com.cn