1. Description-- Polymer modified bituminous membrane
Chenhua Polymer modified bituminous membrane is a kind of flexible
sheet waterproof material, which uses amorphous polypropylene (APP) modified asphalt as a dipping and covering modifier, whose upper surface is coated by PE film,
fine sand, mineralgrain or aluminum foil or other isolating materials.
The compound is a mixture of distilled bitumen, plastomers and elastomers which gives the membrane excellent resistance to heat aging and weathering.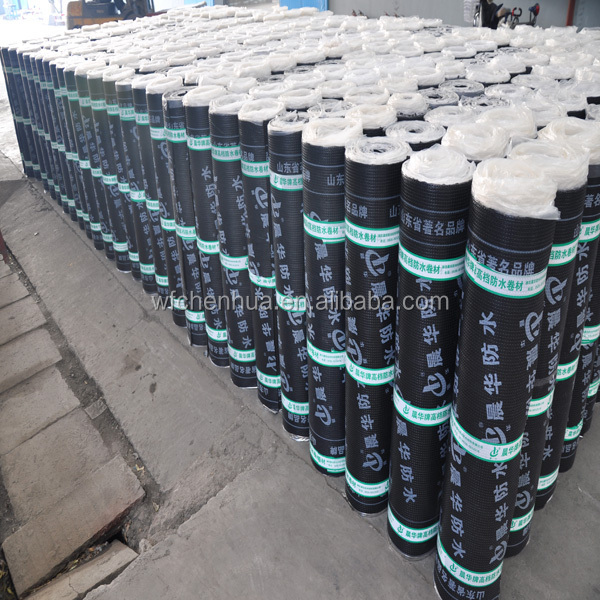 2.Product Uses-- Polymer modified bituminous membrane
(1) Integrated advantage properties of spunbonded polyester substrates
and APP modified asphalt, wonderful integrated properties.
(2) High strength and good property to stand against water pressure
(3) High tensile strength and elongation rate, strong adaptability for substrate
shrinking distortion and cracks
(4) Good construction performance, with firm and enduring joints
3. Product Type-- Polymer modified bituminous membrane
4. Technical Specification- Polymer modified bituminous membrane
5. Product Uses-- Polymer modified bituminous membrane
1) Make sure the roof deck smooth, clean and dry(Moisture<9%),
then apply the surface of roof deck homogeneously with a kind bitumen paint
till dry to start application.
2) There are two methods in application:
One way is by heating and melting metho---Heat the polyethylene film
of the membrane and roof deck surface by heating and melting method
to be nearly melted(not flowing), then install the membrane fully bonded to the
roof deck with overlaps of 5-10cm.
The other way is by cold adhesive method---Pour the cold adhesive homogeneously on the roof deck then roll
the membrane to install it to be fully sticked to roof deck.By heating and melting
method and by cold adhesive can be used in alternation in application as requested
3) After application, a full serious inspection is required to make sure no air bubble,
no fold, no falling away etc to guarantee the waterproof life.
CHENHUA WATERPROOF Co.,Ltd was established in 1994, she is located in Taitou industrial part,Shouguang,Shandong,China. which is the biggest construction waterproofing base in China. with convenient transportation and superior location.Our Company now has three factories,covering an area of 70000 square meters, there are more than 300 high qualification employees with state-of-the-art technology,superior quality and service.
Our main products :
1)Polyester base for making bitumen waterproofing membrne.
2)Compound base for making bitumen waterproofing membrane
3)SBS/APP torch on modified bitumen waterproofing membrane
4)Self-adhesive bitumen waterproofing membrane
5)PVC waterproofing membrane,TPO waterproofing membrane
6)waterproof membrane production line machines....
In the last years of hard work,our company reaches ISO9001 and BV standard and establish long term relation with many domestic factories and overseas clients.such as,Beijing Oriental Yuhong waterproofing technology Co.,Ltd,Hongyuan waterproof material Co.,Ltd,Russia,Iran and Iraq waterproof materials manufacturers,
We enjoy a higher reputation all over the world.welcome your enquiry and visit anytime.