Specification
Products Name: Timber Connection Nail Plate
Category: Wood Connector
Material: Galvanized sheet steel
Surface Treatment: Sendzimir zinc plated
Size: W: 57.7mm L: 220mm Thickness: 1mm

Available Sizes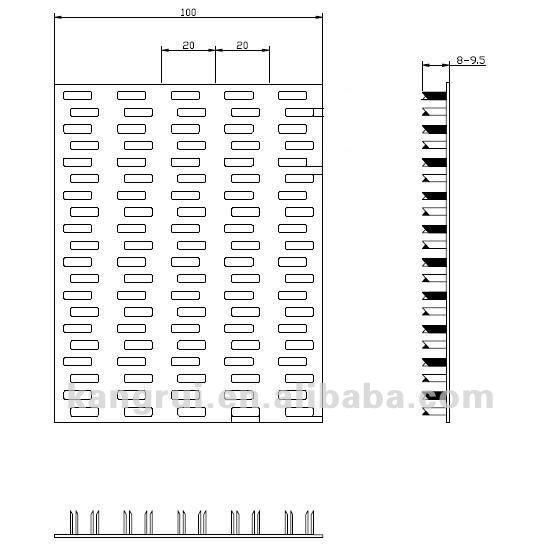 Quality Testing
Every products for per batch no can be checked by our QC in the production during, and we also provide the trusted Final QC Testing Report from us as client's requirements. In order to make sure every customer can get the high quality, safe products , we decided to start to corporate with FQC that also named Fasteners Quality Center from Germany . Our products can be tested by the third party, FQC, and will provide the authorized testing report. We can provide the below testing service.
Mechanical - technological tests
Tensile tests for full-size bolts and screws

Tensile tests under wedge loading

Proof load test for nuts

Hardness test Rockwell (HRC)

Hardness test Vickers (HV)

Hardness test Vickers HV0,3 for core and surface hardness

Chemical analysis

Coating thickness test
Dimensional and tolerance tests
Bending test on screws

Dimensional check of head height on screws

Recess penetration test

Test with thread ring gauge Go/No Go

Test with thread plug gauge Go/No Go
Kangrui specializes in the following metal fabrications
Angle brackets, fence brackets and metal parts, equipment parts, metal braces, metal holders, various mounting brackets, stamped metal parts, laser cut parts, mig welded parts, bracket components, galvanized metal products, stamped machine parts, sheet metal parts, formed metal parts, metal clips, fabricated metal guards, custom sheet metal products, conveyor parts, aluminum brackets, metal signs, steel plate, steel industrial rings, furniture brackets, wire guides, construction brackets, stainless steel parts, shelving brackets and more fabricated metal products.
OEM Service
We can also help you with your current part requirements. Simply send us your drawings and we will provide you with pricing and production timeframe information.
Design and prototype development, project quotation, metal fabrication, metal shearing, sheet metal stamping, part forming and bending, metal working, welding and laser cutting, machined metal processing and metal finishing are some of the services Kangrui provides via our website and manufacturing partners. We have the equipment and volume capabilities to meet your product requirement.
Surface Treatment
We provide various metal finishing options for your products including black oxide finish or high quality powder coat finishes, galvanizing and plating services. We can produce your metal part design out of many different material specifications including: carbon steel, stainless steel, and aluminum alloys of different makes, brass, and much more! We produce quality, accurate metal parts to your specifications with excellent turnaround time.
Kangrui offers a full line of standard run bracket designs (including L Brackets, Z Brackets, U Brackets, Hat Brackets, Pan Brackets and Metal Plate) to choose from in our Catalog Section. Should you require a special bracket, we can offer you design assistance to develop the bracket to your special needs. We can provide stamped metal brackets or laser cut metal fabrications.
Kangrui provides quality service and quality machined parts with your complete satisfaction in mind. Thank you for visiting our website and please let us know if we can help in anyway – we want your business.