ZHONGYUN company specialized in extrusion production of acrylic (pmma) tube with 10 years manufacturing experience. We produce outer diameters from 5mm-250mm regular size tube, 1.5mm-4mm ultra-thin tube, and more than 300mm oversized tube. According to different clients' requestments, tube's size, thickness, length, color all can be changed. We have rich inventories, large or small quantities are both available.
PC (polycarbonate) tube has good advantages of good flexibility, shock resistance, less damaged, heat resistance, and fire resistance. It generally used for lighting, house deco, medical equipment, building, crafts, algae bioengineering, and the other different functions.


OUR ADVANTAGES
♦ Factory covers 20,000 square meters
♦ 10 extrusion production lines
♦ Product sructure design capability
♦ CAD / CAM
♦ Provide sample
♦ Independent mould design capability
♦ Commissioning production capacity
♦ Rich stocks
♦ Materials development
♦ Quality Control by 24 hours
Below diameter is just part of our inventory, welcome to inquire more specifications.
| | | | | | | | | | |
| --- | --- | --- | --- | --- | --- | --- | --- | --- | --- |
| Φ 1.5 | Φ 2.5 | Φ 3 | Φ 5 | Φ 6 | Φ 8 | Φ 10 | Φ 12 | Φ 20 | Φ 25 |
| Φ 30 | Φ 40 | Φ 50 | Φ 60 | Φ 70 | Φ 80 | Φ 90 | Φ 100 | Φ 110 | Φ120 |
| Φ 130 | Φ 140 | Φ 150 | Φ 155 | Φ 160 | Φ 164 | Φ 172 | Φ 180 | Φ 190 | Φ 200 |
| Φ 225 | Φ 250 | Φ 380 | | | | | | | |
♦ We have more than 6000 square meters of warehouses to store tubes which contains more than 80 different sizes. Tthe total inventory over 50 tons.
♦ The tubes are stored by stand-up. The warehouse is insulated and shaded, significantly reduce the risk of tube's distortion and aging.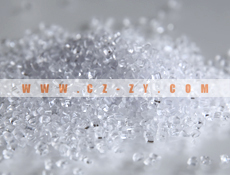 (Please click pic to check material certifications)
MATERIAL SELECTION
♦ Select international material brands of Germany and Japan.
♦ We have professional experience of the same series materials for 8 years. It helps us to ensure material's stability.
♦ Through a special process to strengthen material's ageing resistance and UV-resistance.
PRODUCTION PROCESSING
♦ Using an extruding machine of better plasticization, can make a fuller integration of plasticized materials.
♦ According to ISO Quality Control System to record the technology processing, all of product information can be traced. We strictly enforce the process, to ensure the product's consistency.
♦ Technology Department will analyse the feedback datas, constantly improve the technical maturity and quality stability.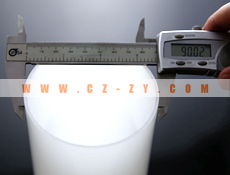 QUALITY CONTROL
♦ The product should pass five full-parametric test and a fully parametric sampling which from production to delivery, thus ensure product quality standards conforms with company's standards.
♦ Customer's special requirements will be joined and strictly enforced in the inspection standards, to ensure that customers are satisfied with our products.
>> Quality Management System Certification ISO9001:2008
* * * * * * * * * * * * * * * * * * * * * * * * * * * * * * * * * * * * * * * * * * * *
>> RoHS Report of PC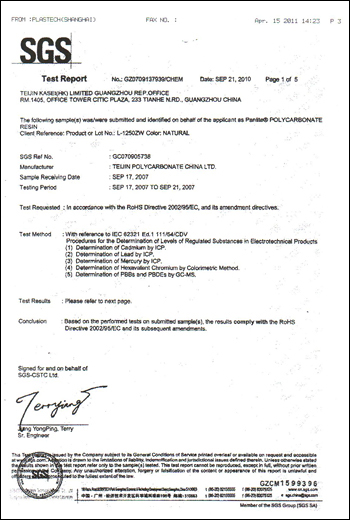 Generally we use PE package or stretch film to wrap each tube, a number of tubes are put in a carton box for shipping. We use high quality paper to produce a variety of cartons, try to reduce the damage in transportation.
***** FAQ *****
[Q1]What is the difference between ACRYLIC and PC?
ACRYLIC: the chemical name is PMMA, also called "organic glass".
PC: the chemical name is polycarbonate.
The Difference:
- Transparency: ACRYLIC >PC
- Chemical stability: ACRYLIC >PC
- Weatherability: ACRYLIC >PC
- Processing: ACRYLIC >PC
- Impact Resistance: PC> ACRYLIC
The Main Application:
- ACRYLIC application: decoration, furniture, lighting accessories, advertising, etc.
- PC application: building materials, lighting accessories, etc.
[Q2] What are our main process?
EXTRUSION is a process used to create objects of a fixed cross-sectional profile. A material is pushed or drawn through a die of the desired cross-section.
- Advantages: high efficiency, adjustable length, high control precision of diameter and wall thickness.
- Disadvantages: single production required large quantities, a small amount of production will lead to great waste of raw materials.
CASTING is a process of injection molding and cooling forming of the plastic raw materials.
- Advantages: good control of outside diameters (suitable for large diameter's tube), good processing performance, high heat resistance, single production only need small quantities.
- Disadvantages: low efficiency, not a variable length, low control precision of diameter and wall thickness.
[Q3]Why do we always choose the same brand raw material?
The same brand raw material is relatively uniform by processing, stability and weather resistance. At present, we selected ACRYLIC and PC raw materials of international brands, such as EVONIK(Germany), TEIJIN(Japan) etc.. We constantly testing and recording in 10 years, and selected the best one which from dozens of different raw materials. Also we summarized the optimum process of this type of raw materials, try to provide quality product for each customer.
[Q4]Why has tolerance?
Tolerance is a normal phenomenon. First of all, ACRYLIC and PC raw material has a larger thermal expansion and contraction by itself. Thermal expansion coefficient is about 0.4%-0.7%. So in different temperatures, dimensions is changed. Secondly, ACRYLIC and PC raw material has elasticity, so it increase the manual measuring errors. Finally, in the production process, the temperature difference up to 200 degrees. It is considerable difficulty when we control tolerance .
[Q5]Why the wall thickness of ACRYLIC tube thicker than PC tube's?
This is because of two different material properties. PC raw material has good toughness, and ACRYLIC material has good hardness. Therefore in the same wall thickness, ACRYLIC tube is easier to be damaged. So in order to ensure safety in production, transport and processing, we do not recommend customers to use thin wall thickness of ACRYLIC tube.
[Q6]Using precautions?
ACRYLIC tube:
(1) Try not to use glue bonding. If you must use glue, make sure to use a neutral glue, and control the bonding environment;
(2) Try not to use chemicals to clean or soak product;
(3) Try not to seal both ends of the product for using;
(4) Do not force hit products;
(5) The use temperature controlled below 80 degree. Not recommended for long-term use nearly 80 degree.
PC tube:
(1) Try not to use glue or chemical reagent to clean or contact product;
(2) The product of environmental avoid moisture and direct sunlight;
(3) The use temperature controlled below 120 degree. Not recommended for long-term use nearly 120 degree.
[Q7]Why do we need a minimum order quantity (MOQ)?
Before each extrusion production, we must do a lot of commissioning work. This will generate costs of labor, raw material and energy consumption, also will make unnecessary waste of customes. So based on responsible attitude and different factors, we developed an appropriate MOQ.
Of course, customers can not accept MOQ, we have two other options: (1) Selected from the inventory. Our rich inventory can be satisfied with small quantities; (2) Pay additional cost. If the customer can accept pay additional costs, we can make a small production for you.
[Q8]Can I request diameter size?
Yes, of course. If the customer wants to require diameter size, please communicate with us in advance. So that we can test standards specified by customer's, and make products meet requirements.
[Q9]What is the difference between new material and recycled material?
First of all, recycled material mixed with other substances, purity is not good. Thus it makes product's transparency and surface smoothness are not good. Secondly, recycled material during several processing in high temperature, its material molecules cleaved, greatly reducing the stability, weather resistance and anti-aging properties of the product. (e.g.: the PC tube which has an excess of recycled materials is easier be broken than ACRYLIC tube.)
[Q10]If we have special requirements for raw materials, can be customized by ourselves?
Yes, of course. We basically cooperate with all the world-renowned supplier of raw materials and additives suppliers. According to customer requirements to select appropriate materials. Also our Research Department can help you to do an in-depth research and development of raw materials and additives. Currently we are able to provide: frosted acrylic, frosted PC, toughened acrylic, flame-retardant PC, and the other special modified materials.