Top organic fertilizer for green plants Humic Acid powder granular
Humic acid is formed by microbial degradation of the dead biological substances such as lignin. Its specific properties and structure depending on a given sample source from water or soil to extract the specific conditions. However, while the humic acid is from different sources, the performance is very similar. Humus in soils and sediments can be divided into three main parts: humic acid (Humic acid, HA), fulvic acid (fulvic acid, FA) and humin (humin, HM). HA is soluble in alkali solution, but not soluble in water and acid; FA is soluble in alkali, soluble in water and acid; the HM is neither soluble in alkali, nor soluble in water and acids.
| | |
| --- | --- |
| Appearance | Black Powder/Granule |
| Product code | JFHA-HA-1/2-P/G |
| Humic Acid(dry basis) | 50%min |
| Organic Matter(dry basis) | 85%min |
| pH | 4-6 |
| C.E.C | ≥300meq/100g |
| Particle size | 2-4mm |
Shandong Jingfeng Humic Acid Technology Co., Ltd. is high-tech company committing to humic acid R & D,producing and sales, was founded in 2009, in early 2015 the restructuring, the registered capital of 18 million, total assets of 200 million yuan, has more than 50 employees, including professional R & D 5 people.
The company is committed to humic acid products development,producing and sales. We have achieved remarkable results on development and application of the agriculture humic acid series,feed farming humic acid series,pharmaceutical grade humic acid, and also in ceramic industry,batteries and more. We are currently registered international certification in some foreign institutions.
Main products
Currently we have Agricultural Product series humic acid base fertilizer NPK, humic fertilization, macronutrients humic fertilization, fulvic acid foliage and the like; lead-acid batteries expansive aspect of high purity humic acid; sodium humate feed grade, pharmaceutical grade humic acid and so on 30 kinds of products.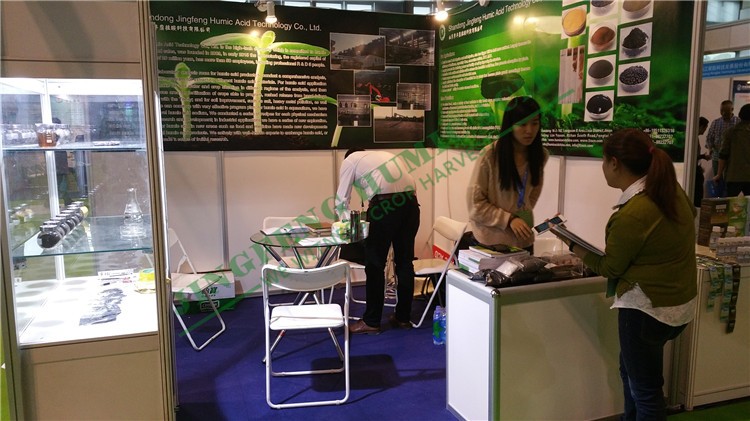 What is humic acid?
Humic acid is a principal component of humic substances, which are the major organic constituents of soil (humus), peat, coal, many upland streams, dystrophic lakes, and ocean water.
It is produced by biodegradation of dead organic matter. It is not a single acid; rather, it is a complex mixture of many different acids containing carboxyl and phenolate groups so that the mixture behaves functionally as a dibasic acid or, occasionally, as a tribasic acid. Humic acids can form complexes with ions that are commonly found in the environment creating humic colloids. Humic and fulvic acids (fulvic acids are humic acids of lower molecular weight and higher oxygen content than other humic acids)are commonly used as a soil supplement in agriculture, and less commonly as a human nutritional supplement. As a nutrition supplement, free form (unreacted)
what is the basic function of humic acids?
1) Improve the structure of soil .For light and sand soil, it can retain water nutrient . For heavy and compact soil, working with fungi to create a crumb structure for better water oxygen and nutrients intake and improved root .
2) Adjust PH value of soil, it can neutralize both acidic and alkaline soil .
3) Stimulate plant growth, increase the yield and quality.
4) Reduce nitrate leaking into the groundwater and protect the underground water.
5) Increase the effectiveness of herbicide pesticide and fungicide, immobilize or reduce their harmful residues.
Fulvic acid is found in a liquid form along with mineral colloids. Fulvic acids are poly-electrolytes and are unique colloids that diffuse easily through membranes whereas all other colloids do not. Fulvic acid supplements consisting of a neutral pH are very weak fulvic compounds and do not deliver the benefits of free form fulvic acid (fulvic acid that remains unreacted with other substances or unboundto minerals) that exhibits a much higher concentration and lower pH[citation needed]. Fulvic acid branded as "ionic" is not free form fulvic acid, more accurately they are fulvic compounds or fulvate salts. According to the International Humic Substances Society all fulvic acids are colloids.