High grade comfortable Japanese clothes with 100% organic cotton
-Safe and secure, genuine materials made in Japan.
-High quality products made with the objective of being the most comfortable in the world.
-Highly praised by Japanese mothers who feel it's important to use genuine products.
Our objective is to become "the most comfortable in the world.
"Ikuji-Kobo" creates its products through a careful process of traditional manufacturing using safe and secure Japanese materials.
We want to deliver the best, most comfortable feeling to newborn babies.
Knowing that Japanese mothers want only the best, the absolute real thing, we have striven to create the most safe and secure Japanese brand, "Ikuji-Kobo".
Steadily building a fan base of loyal customers in Japan, we have made it possible to now deliver items from "Ikuji-Kobo" throughout the world.
We have made the front overlap abundantly wide in order to double-layer guard the belly area, resulting in a baby-friendly design for infants who are prone to upset stomachs.
The medium size innerwear is 8cm longer than the short size innerwear, and comes with 2 tie-strings.
Because babies like to move around a lot, we made the back less exposed, and less likely to expose the baby's bottom, making this product very highly rated among mothers who have used it.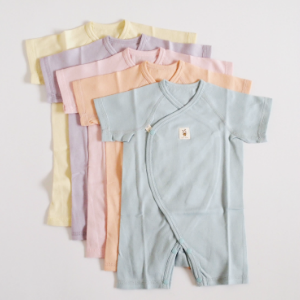 The Combi-Alls are not necessarily innerwear to be used as undergarments, but can also be worn outdoors like outerwear on a warm day, or for the benefit of visitors to your home.
And with a double-layered design to guard the belly, and a unique construction that includes a gore, not only will this design lessen exposing of the crotch area, but will ease stress on your baby's skin when supporting him or her by the thighs by spreading the stitching onto both sides of the fabric.
Even when your baby raises its legs, the fabric is less likely to stretch from the back, leaving your baby feeling comfortable.
A design to make mothers feel secure, and babies happier.
The Two-Way-Alls are perfect for those special moments when you're meeting with someone important, or for quick trips to go out.
This is a superb item for dressing your baby elegantly and adorably, and will make mothers proud.
You'll be unable to wait for your next trip outside, and everyone will be excited to see you and your baby.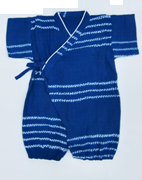 Using gentle materials to secure comfort and coolness for your baby, even in the humid Summers of Japan.
Your baby can sleep soundly, even in the uncomfortable heat of Summer.
Widely acclaimed by Japanese mothers. We are confident that mothers in humidly hot regions all over the world will be pleasantly satisfied.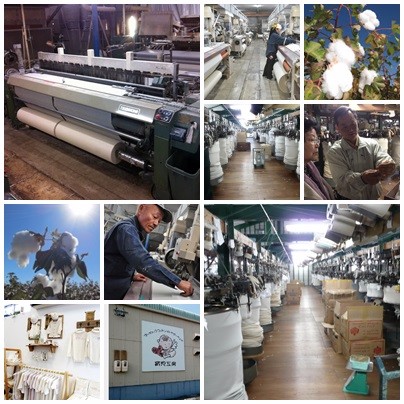 Loop-wheel knitted cotton is made with delicate care by some of the few remaining craftsmen of this knitting technique "Tsuri-Tenjiku" , on rare vintage machines that have been renovated over the years.
Because loop-wheel knitted cotton is delicately weaved without creation tension in the fibers, it allows lots of air in, creating a soft and fluffy, incredibly comfortable texture.
This cotton will gently envelop your baby and softly develop its sensory nerves which are organically integrated through sensations experienced by the skin.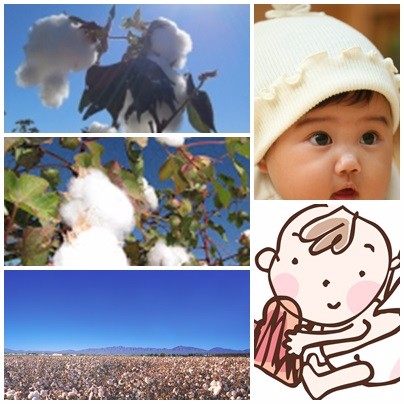 Organic cotton is cotton grown on farmlands validated by certifying bodies, and protected by strict standards regarding pesticides and fertilizers.
It is believed that because organic cotton is grown stress-free until it naturally withers, the process allows the insides of the straw-like fibers to grow large, allowing greater entry of air.
The accumulation of these tiny, natural processes makes all the difference in producing an organic and gently soft texture.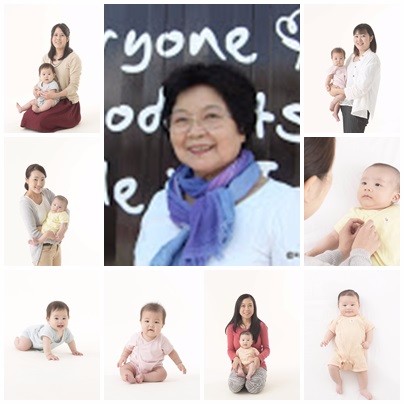 Highly acclaimed by mothers across Japan.
Slowly but surely, "Ikuji-Kobo" is gaining a growing base of passionate fans.
"Ikuji-Kobo" items are carefully and precisely crafted by traditional Japanese craftsmen.
Our products are often featured in various magazines and newspapers.
Delivery Time
If we have it in stock, we can ship within 1-2 weeks time after confirmation of payment.
Adjustments are made upon each order.