Amusement ride for kids plush stuffed electric battery operated ride animals on wheels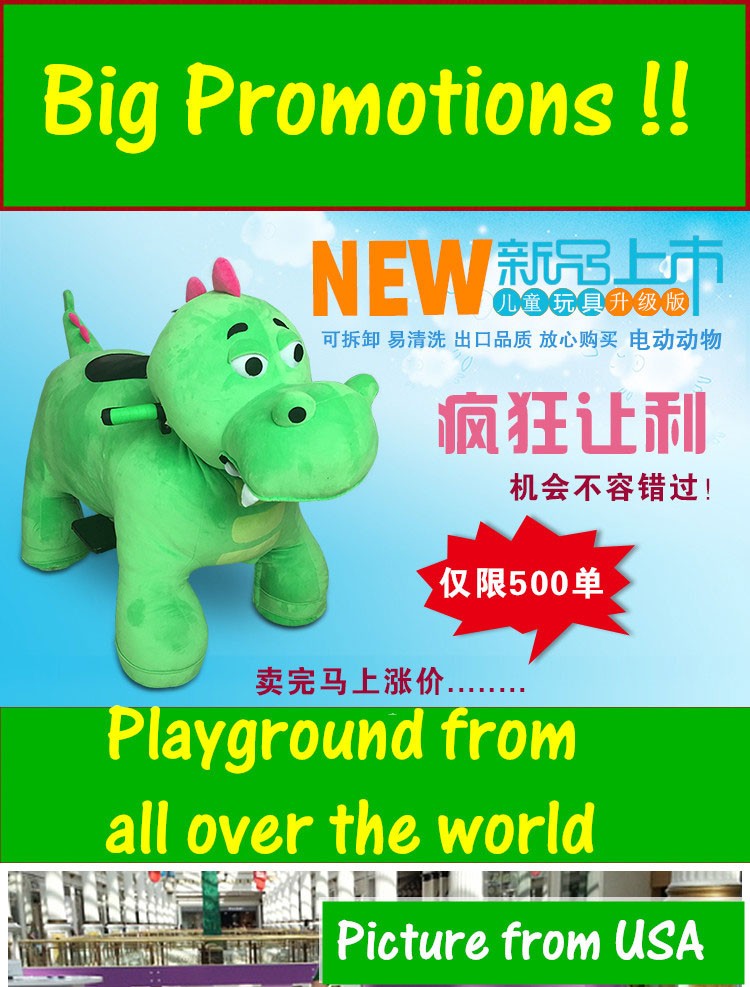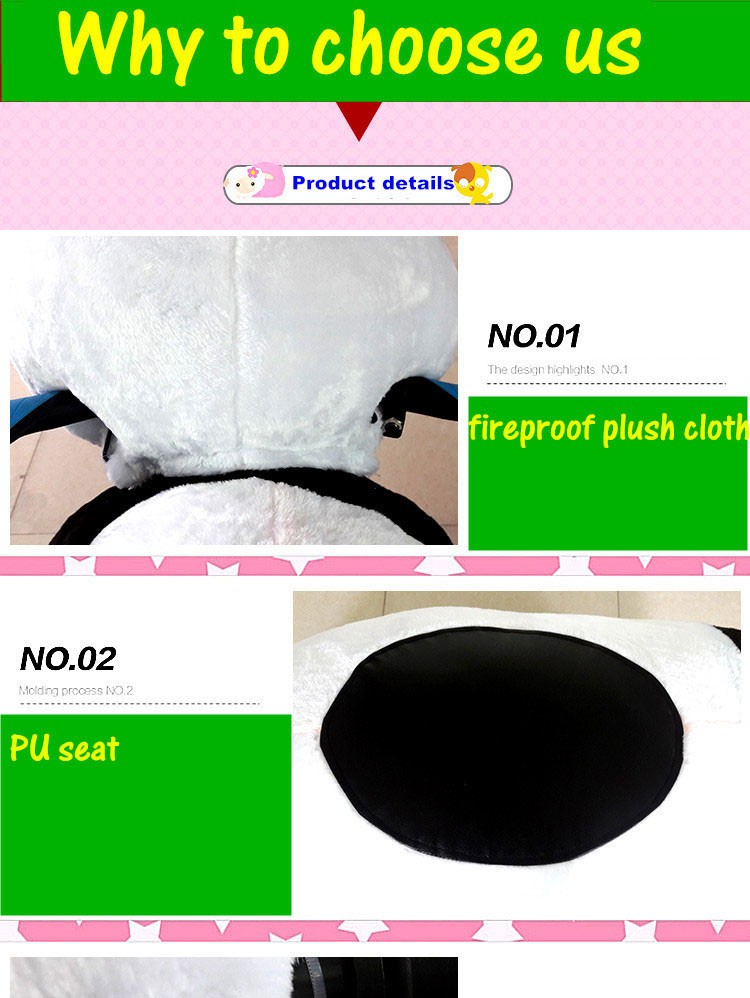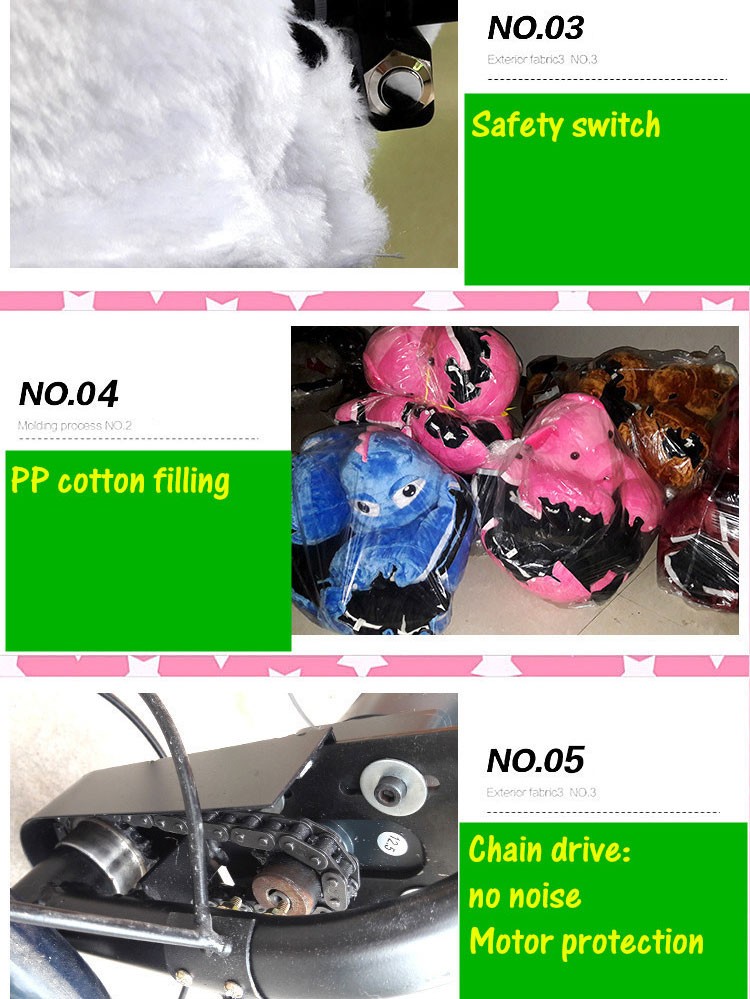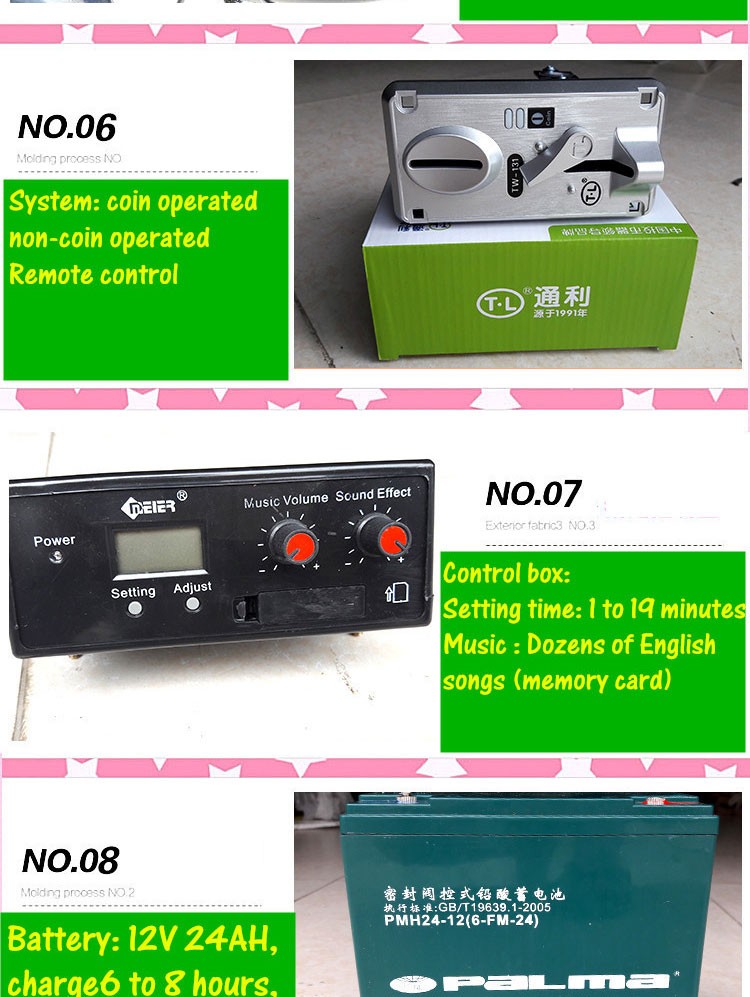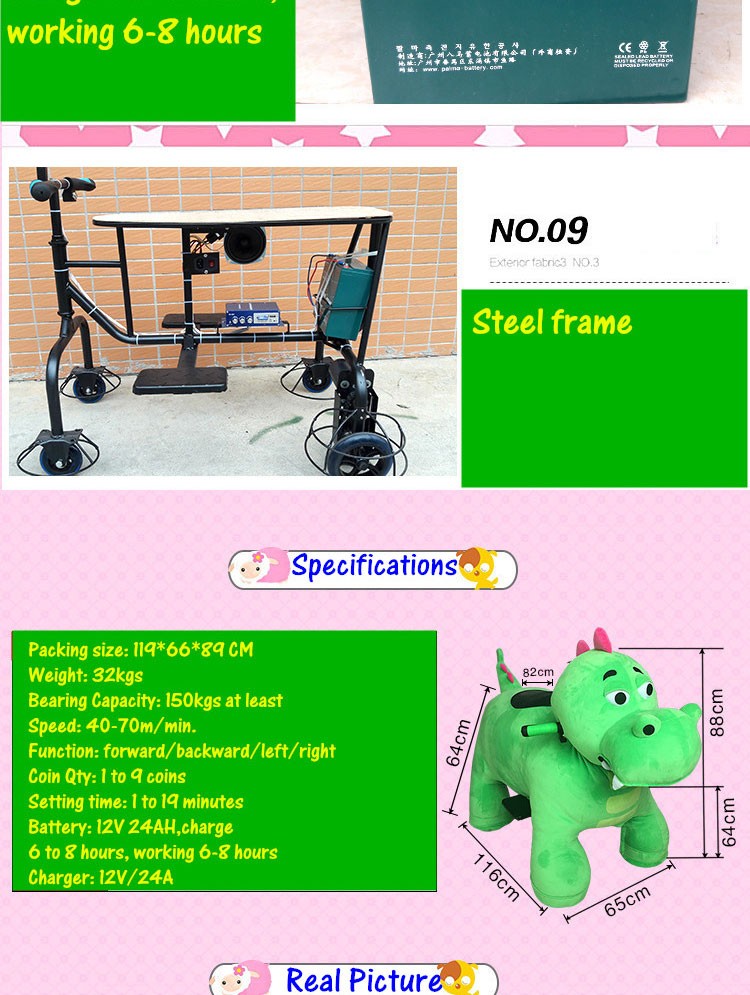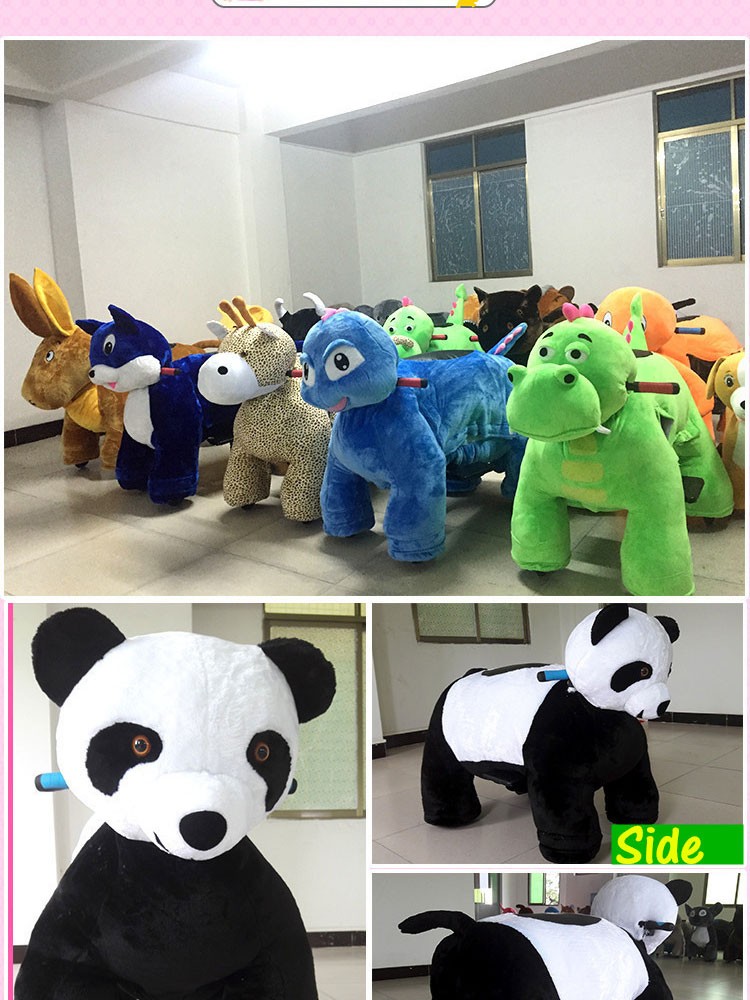 Remote control battery electric motorized plush riding animals walking animal kids ride on toy For Mall
Description:
Material: steel frame, fireproof plush product
Packing size: 119*66*89 CM
Weight: 30kgs
Bearing Capacity: 100kgs (parents can seat with their kids)
Playground: indoor/outdoor play
Style: coin operated and non coin operated
Diameter range of token:18-30mm
Thickness range of token:1.7-2.7mm
Dimension of coin box:14*11*11cm
Counter: up to 100000
Speed: 30-60m/min.
Function: forward/backward/left/right
Coin: 1 to 9 coins
Setting time: 1 to 19 minutes
Main spare parts: control box, motor, coin acceptor etc
Battery: chargeable
Charger: 12V/20A charger, one charger for one machine
Battery: 12v/1.5A charge 4 to 5 hours, working 8 hours
Music box: Dozens of songs (memory card)
Wheel: one 6" and three 4 "wheel, stable and durable
Minimum age to ride this machine: 4
Charging time: 4-5 hours, can use for 8-10 hours
Certificate: CE
Place of origin: Guangdong, China
Factory:
FAQ:
1.About electric animal scooters loading.
one 20 foot container can hold 38 pcs, one 40 GP container can hold 80pcs, one 40 HQ container can hold 93 pcs.
2.What is electric animal scooters ?
Animal kids rides is also called electronics animals,animals electric toys,children play electric operated coin toys,
electric toy cars for kids,electric animal coin,toys animal electric,stuffed animals that walk,motorized plush animals,
zippy animal plush rides on toys,electric animal,kids ride ,kiddie ride machine,walking animal and so on.
It is a newly battery operated amusement kiddies rides that looks like real animals and plays cool music for shopping malls, parties, game centers, amusement park and kids playground.
3.Why do I purchase electric animal scooters ?
Animal scooters are very hot in the world market and they are sold to over 100 countries .
These clients said kids and adults love them .So they can bring fast profits soon.Besides,it is a great way
to diversify your product line
4.The advantages of our electric animal plush rides :
A) Easy staff management
B) Easy budget to manage
C) Easy maintenance and repair
D) Small investment, short period, quick effectiveness and fund repay
E) The covering coat can be took off and washable
F) With CE certification
5.How many models of animal kids rides do you have ?
There are 54 designs ,two system (coin operated and non-coin operated walking animal or your choice.
6.How to run animal kids rides business?
a, Put it shopping mall, park, game center or playground, rent a place
b, Rent for party, meeting, advertising
c, Resale and wholesale
7.How about the quality and guarantee of your animal kids rides? What ages of children can sit on them?
Our animal kids rides have been sold to over 100 countries since 2009 and they got good reputation in the world market .Besides we will send you some free spare parts based on the order qty.
And the kids over 3 years old can play it well. Or the parent or other older kids can play with little kids because our rides can hold about 100KGS.
8.What kinds coins or tokens do animal kids rides need?
The machine is installed a CPU coin acceptor. When you set a sample of coin or token in the coin acceptor, the machine can work when it identifies same coins or tokens.
As long as the diameter of the token or coin is 18mm~30mm,the thickness is 1.7mm~2.7mm,you can use it.
9.What basic spare parts of animal kids rides will we need to purchase?
We will send you some spare parts for free according to your order quantity.
Some free spare parts will be offered when you confirm the qty. And it is better to buy some more parts for future use.. I will give you suggestions about the spare parts.
10.We want English songs with the animal kids rides.
There is a SD card; we can change the music as your request.
11.Which kinds of ground animal walking rides can work?
It can walk on any flat and smooth floor. Even some clients put them in the garden; they can also work well on the grass, though the speed will be a little slower.