Product name
automatic banknote sorter, cash sorter, cash detector 3 pockets 2+1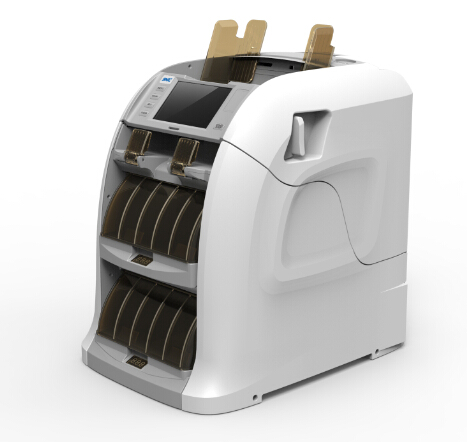 Product link
For detailed information of the product, please visit at http://www.newbeiyang.com/products_detail/productId=90.html
Product description
Automatic banknote sorter, cash sorter, cash detector 2 pockets and 3 sorters
BCP-S210 is a high performance banknotes sorter, which can be widely used for currency sorting.
Product features
Sorting Capability
§ Support up to 10 currencies, such as USD, EUR, GBP, etc.
§ Counterfeit and suspected notes
§ Fit notes for circulation and withdrawing
§ ATM notes
§ Unfit notes: Soil, Tape, Hole, Tear, Dog-ear, Missing corner, Inked, etc
§ Notes with rumors and bad social comments
Core technologies
§ Double CIS and more than 9 detection technologies: UV/IR/multispectral/Fluorescence/White light/Magnetic/Thickness/Security thread/Optically Variable Ink, etc.
§ Serial number via OCR scanning, recording and comparison.
User Friendly
§ 5 inch touch screen + hard function keys
§ Multi language
§ Multi-interfaces for connection with printer, PC, Ethernet etc.
Product parameter

Application
Banking
Financial
Retail
Industry Solution
Lead time
30days after receiving official purchase order, 45days for first order based on forecasting.