We manufacture shearing blades up to 5500 mm ( 216.54 inches ) in length for shearing and cutting lines .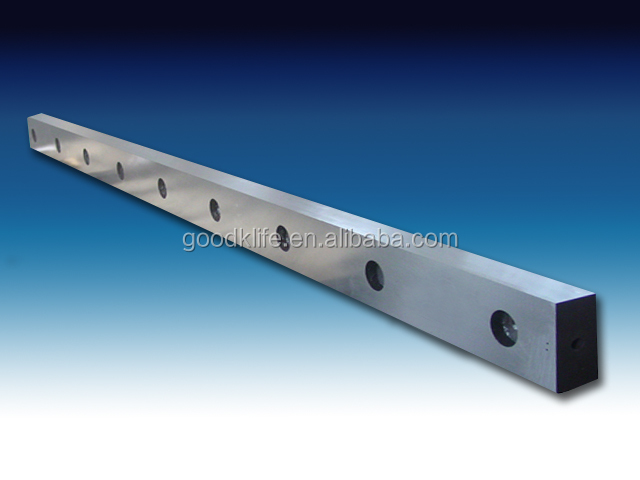 Operational Progress :
Steel-choosing→Blanking →Forging Steel →Rough Processing →Heat treatment →Finishing→Testing
Knives are available with polished side faces ,High cost performance ,Punctual delivery .
Materials : 9CrSi ,6CrW2Si , H13 ,Cr12MoV ,G1 , G2 ,G3 and etc .
Steel-making by medium frequency furnace
Goodklife company can meet special requirements for materials . In order to guarantee the quality ,the company imported the spectrometer from Germany and is equipped with various testers,such as tensile tester,impact testing machine,metallography analyzer and so on .
Electro slag remelting
The largest ingot can reach 3 tons in Goodklife company .The ingot obtained by this remelting/refining process is very homogeneous and free of internal defects . The segregation of the ingot (called macro-segregations ) are substantially eliminated and the segregations of crystals (called macro-segregations ) are significantly reduced .
The ESR remelted material improve following mechanical characteristics :
Improved toughness due to increased homogeneity and isotropy
Improved creep resistance properties
Best fatigue strength and tenacity properties as well as outstanding tensile strength
Improved purity
Forging steel
The largest electro-hydraulic hammer is 4.5 ton .And more than 6 skilled technicians work for us .After forging ,the inside microstructure becomes much closer and the metal grain size becomes much smaller . It can evevate the characteristics and quality of the knife ensuring a longer life .
Rough processing
No less than 40sets of processing equipment in the rough processing workshop of Goodklife company , including lathe ,milling machine , planer , drill machine etc. Skilled workers are employed in its rough processing workshop .
Heat treatment
Goodklife company has independent workshop for heat treatment . Couples of skilled technicians work here . Actually , most blades ( thickness ≤100mm) can be fully hardened . Thus ,the blades can be used after repairing until the size reached the minimum design dimension .
Finishing
Goodklife company has more than 35 sets of processing equipment including internal grinder , external grinder , surface grinder ,CNC grinder ,electric spark CNC wire-cut etc. The company can produce the shearing blades with 5500mm in length and slitting knives with 1300mm in outside diameter .
Testing
Various testers are put to use for testing its products in Goodklife company . They are including tensile tester , impact testing machine , metallography analyzer , harmless flaw detector , magnetic powder inspection , hardness tester , caliper rule , microcalliper , etc . Testing is carried out after each step . And every product has a unique track number . Thus it is easy to trace back anytime .
Some other flagship products as following :
1.Flying shear blades
2. Stainless steel slitting knives made of G1 material .
3. Steel bar cutting blades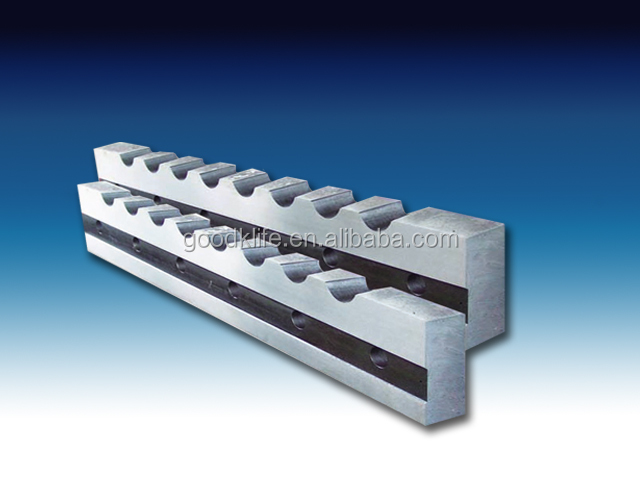 Packaging :
A. Inside packing: Applied with anti-rust oil and then packed in plastic bag
B. Outside packing: Packed in plywood case
Shipping :
FOB , CIF , DAP and etc. According to customers' requirements
Material and hardness are much important to the work life of blades ,according to over twenty years' experience ,Goodklife will provide you professional advice . We will recommend you best material and hardness according to the applications of blades .We want to know the following details :
What kind of the steel ?
The maximum tensile strength of the steel ?
The minimum and maximum thickness of the steel ?
We custom blades according to your drawing or description .In order to provide prompt and accurate quotation , it's better that you can provide us the quantity , drawings , cutting application and etc of blades .
All of your inquiry and emails , we will give reply within 24 hours . No excuse for failure ,only the action for success.
Our enterprise spirit : Mutually beneficial cooperation .
Goodklife Machinery Technology Co., Ltd Ma'anshan is located in Bowang Town which is one of the most famous town for blades in China . The company has been committed to providing knives and blades of high productivity and high precision . From raw material , heat treatment to finishing ,Goodklife keeps track and exercises strict control over every piece ,in order to improve the performance of our products and production efficiency , at the same time reduce the production cost . By working with counterparts from western countries closely , Goodklife continues to innovate and pursues the better quality . Besides standard raw materials like 9CrSi , D2 , H13 , the company also has its own special materials which are specializing processing high tensile strength metal coils . Material-choosing , cutting performance improvement , professional advices are available here . Good material , skilled producing process and responsible after-sale service make our products popular at home and abroad .
1.What's price ?
Always we will quote you price based on drawings ,or you can tell us the dimension . Then according to your application and quantity ,we will send you quotation soon. The price is differ from different materials .
The following sheet is the needed information :
Length(mm)
Width

(mm)

Thickness

(mm)

Quantity(pcs)
Specified Material
2.What's the material and hardness ?
According to your application ,we will recommend you the best material and hardness .
Optional Materials :9CrSi , 6CrW2Si , LD , D2 , Cr12MoV , H13 , G1, G2 ,G3 and etc .
Goodklife has developed some high alloy steel ,like G1 , G2 ,G3 etc . They are new materials developed independently by our company and excellent in high intensity , high hardness , high wear resistance , high toughness and so on . They can be used in both cold and hot shearing ,the life is 2-3 times longer than other blades made of normal materials .
Hardness : If hardness is high , when the blades meet higher tensile strength steel ,it is easy to crack . If the hardness is low , then the wear resistance is not good ,that means work life is shorter .