----------> Please email me <----------
General Introduction:
S60C is one of the most advanced and completed ultrasonic machine in worldwide market. S60C includes the latest Ultrasonic Cavitation at 36K Hz. and the most widely used technology Radio Frequency for tightening. Cavitation is a process by which the fat cells are disturbed by tiny bubbles formed due to the thermal effects of ultrasound. These effects caused by cavitation form a powerful synergy against cellulite and local fat deposits. Meanwhile, a high frequency (Radio Frequency electric wave) RF electric wave not only increases the effect of cavitation, but also lifts and tightens the skin. It's perfect for body shaping.
How does it work?
Classic ultrasounds at 36KHz are widely used for a long time to promote the cosmetic penetration inside the tissues and improve the skin tone and appearance.
Ultrasonic waves in a specific 36 KHz are able to cause the so called "cavitation" effect: focus high energy waves creates micro bubbles of vapor inside the adiposities and in the interstitial liquids of cellulite; thanks to the liquid's alternation of several phase, expansion and compression, the adiposities implodes with the consequent release of water and fat that is going to be metabolized by the liver.
Meanwhile, the multi-polar RF selectively heats the fat cells in the deep and superficial adipose layers simultaneously. Heating of the fat cells increases their metabolism and forces them to secrete fatty acids (liquid fat) into the surrounding extra-cellular space and on to the blood and lymph system for redistribution in the body.
Cavitation RF weightloss body sculpting slimming machine for sale
CAVITATION MACHINE Functions
l Body slimming & shaping
l Cellulite reduction, weightloss
l Metabolism increasing
l Skin Tightening
l Skin texture improvement
l Wrinkle removal
l Fine lines removal
Advantages of CAVITATION MACHINE
l Slimming and lifting without knife
l No bleeding, tumidness or bruise
l Fast, effective and safe result
l Economical for personal use
l Portable and Convenient to carry
l User friendly program display
l Ideal slimming device for circumference reduction
l Delivers optimal results for treating both the deeper tissue and skin's surface
Cavitation and RF beauty machine
Other cavitation RF beauty products
• An average reduction of 5.09 centimeters on the buttock, 2.54 centimeters on the thigh and 7.37 centimeters on the abdomen area
· Most Patients reported no discomfort during or after treatment
· Up to 60% overall improvement in skin texture(including laxity and tone due to the reduction in cellulite appearance) was visible after 5 sessions
Before & After Pictures:
body shaper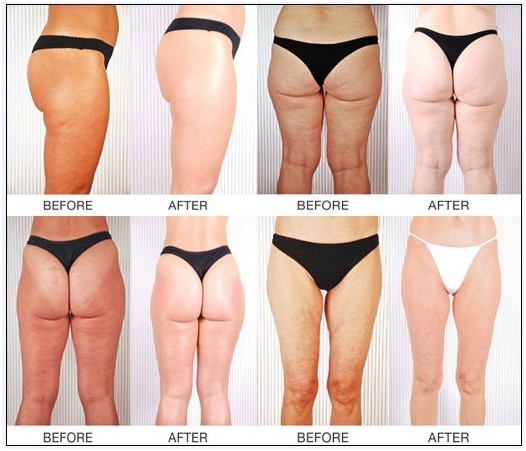 Technical Parameters:
| | |
| --- | --- |
| Control | 8" TFT touch screen |
| Cavitation Technology | 36K low frequency ultrasound |
| Cavitation Power | <=50W |
| RF Frequency | 1MHz |
| RF Power | <=100W |
| Applicator QTY | 4 |
| Cavi probe diameter | 7cms |
| tRI RF probe diameter FOR BODY | 7cms |
| Tri polar RF probe diameter FOR FACE | 3cms |
| Gross Weight | 15kgs |
| Packing Dimension | 60*50*30cm |
| Electrical Specification | 110/230V, 50/60Hz; single phase |
SUS Advancing Technology Co., Limited is a global developer, manufacturer and provider of laser, light- based, radiofrequency and ultrasound devices for aesthetic and medical applications.
Over 12 years of manufacturing experience, SUS factory covers over 2000 square metre and power with ISO13485, medical CE certificate, power with professional and experienced R & D, production, distribution and service team.
We are always dedicated to provide modular, cost-effective and high performance devices to global practitioners.
Welcome OEM and ODM. Join in and grow with us.
1. About product quality:
All of our machine have CE, ISO, and NQA certificate. Besides, we have a team of QC to control and inspect every single machine is in perfect condition before delivery. Because we fully understand that it will be a great trouble if machine have any problems during working at oversea.
2. About warranty:
It's an must-have service after you buy a machine. For Suslaser, we give full support to our customer, which including below:
1. Online customer service: customer can contact each Suslaser staff online if they meet any questions, and our staff will help to judge the situation and give our advises. Most problems will be solved at this stage.
2. Engineer Judgement: If our customer service do not work, our engineers will give their pinpoint solution to each case.
3. Warranty: Up to 12 months for repairing or replacement. During warranty period, customer will enjoy free repairing parts or necessarily replacement due to material and workmenship problem. But any men-made or inappropriate conduct damage will be excluded.
3.About instruction and usage:
We can provide a complete user manual and usage video for instruction and application. And 24/7 online consultant service ensure you whatever problem and whenever you meet, you can solve easily.

4. About Shipping & Freight:
For more options of our customers, Suslaser only give the Exw price, which factory price without shipping. But if you need, we can provide door to door express and assist to send machines by carrier, like DHL, FedEx, EMS, TNT, etc with prepay freight cost or collective account. Customer also can let your shipping agent to contact us, and we suslaser will do our best to cooperate with them.

5. About Customization:
If customer have any needs of customization or OEM service, please contact our staff for more information. For appearence change, like Logo, operating system background, outlook adding, print, language, it would be easy to achieve. For technology change, like PDT with two applicators, Lipo laser combined with cavitation, please contact us for more support.

6. About distributing:
Suslaser cherish every chance to cooperate with every distributors or willing to assist buyer develop into a local distributors. Distributors will enjoy more supports from us, regarding of price terms, technical support, customization, technical cooperation, exclusive policies, etc.

For more information, please feel free to contact us!!