Please copy the URL below
You can see our factory in Shanghai, only 38km from Pudong Int'l Airport!!
URL:
http://www.youtube.com/watch?v=cDTTrvU_cww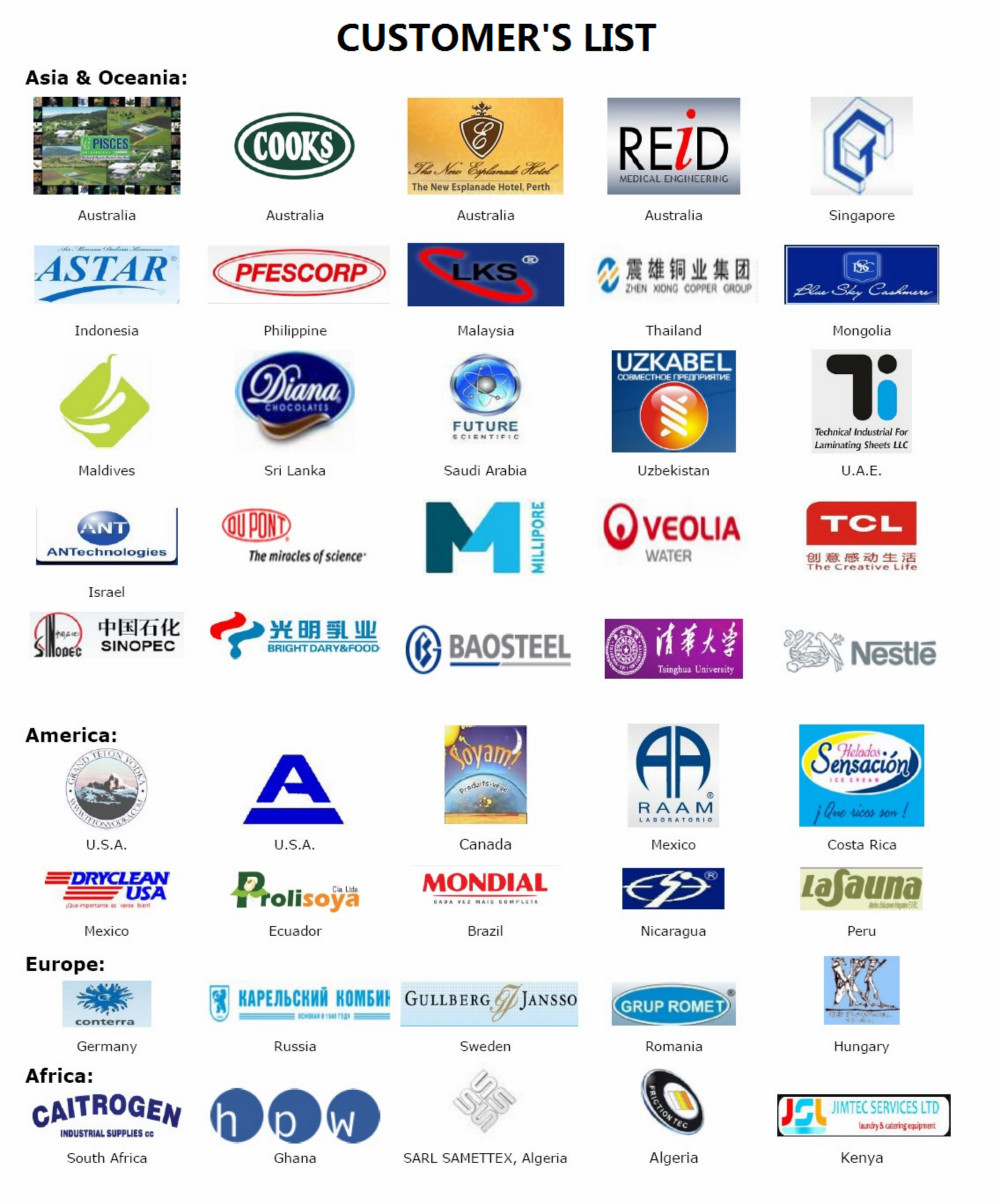 FEATURES:
Each product is tested before ex-factory:
SGS test report (extension test, bending test and material test of steel plate, tube and welding rod)

Strength calculation report

X-ray inspection report (welding seam)

NDT(non-destructive inspection) report of steel plate, tube and welding rod

Hydraulic test

Third-party inspection report

:

Shanghai Institute of Special Equipment Inspection & Technical Research
Good material:
The most important part, ELECTRIC HEATING ELEMENT, made in our own workshop, using high grade nickel chrome alloy (temperature above 1000

°C

), magnesium rod and stainless steel. Seamless welding ensures 5-10 times of using life than usual products in China.

Higher grade material of the pressure parts.
| | | |
| --- | --- | --- |
| Comparison | Our product | Usual products in China |
| Using life (Electric heating element) | >2 years | 3-12 months |
| Thickness (main body) | 6 mm | 3 mm |
| Thickness (flanges) | 20mm | 8mm |
| Bolts on flanges | High strength | Ordinary type |
| Low water cutoff device | 3 probes | 1 probe |
| Safety valve | Cast steel | Cast aluminium |
| Pressure control | CE verified | Ordinary type |
3. The electric parts and water pump are CE verified and different brands available.
4. Leakage protector for each heating element assures electrical safety.
5. Simple programme control ensures automatic water feeding, low water protection and alarm, extremely low water emergency stop, pressure protection, safety valve pressure relief, etc.
6. Special type available- stainless steel 304/316(L)
FULL STEAM OUTPUT WITHIN FIVE MINUTES
High grade nickel chrome alloy (temperature above 1000°C) in the ELECTRIC HEATING ELEMENT ensures fast heat transfer.
DRY STEAM
(Patent No. 517378) Unique cyclone steam-water separator ensures dry saturated steam output. (99% water off)
POPULAR ALL OVER THE WORLD
Customers in China: DUPONT, VEOLIA, MILLIPORE, Panasonic, TCL, CGET, LONHON, SEA-LION, etc
Customers in 89 countries & regions:
Europe: U.K., Germany, Belgium, Holland, Sweden, Norway, Spain, Russia, Hungary, Romania, Bulgaria, Lithuania, Estonia, Slovenia, Slovakia, Ukraine, Georgia
America: U.S.A., Canada, Mexico, El Salvador, Costa Rica, Nicaragua, Jamaica, Colombia, Brazil, Argentina, Ecuador, Chile, Paraguay, Saint Lucia, Netherlands Antilles, Peru
Africa: South Africa, Egypt, Algeria, Niger, Nigeria, Senegal, D.R.Congo, Congo Brazzaville, Ghana, Tunisia, Botswana, Swaziland, Uganda, Zimbabwe, Sudan, Ethiopia, Zambia, Tanzania, Kenya, Angola, Gabon, Mozambique, Madagascar, Lesotho
Asia: China, Japan, Singapore, Malaysia, Philippines, Indonesia, Thailand, Myanmar, Vietnam, North Korea, South Korea, Mongolia, India, Sri Lanka, Maldives, Pakistan, Turkmenistan, Kyrgyzstan, Uzbekistan, Kazakhstan, U.A.E. , Saudi Arabia, Kuwait, Qatar, Iraq, Israel, Lebanon, Turkey, Jordan
Oceania: Australia, New Zealand, Papua New Guinea
FACTORY ASSURANCE
Electric heating element two year warranty

One year parts warranty

Spare parts available at ex-factory price

Different voltage available

Electric steam generator, electric steam boiler size ranging from 3.5KW to 2800 KW

100% tested before delivery

Minimum installation on site, electrical hook up, water pipe connection, steam pipe connection and drain only

Skid-mounted complete system available

Complete system in container available
SPECIFICATIONS:
Model

Items

LDR0.1-0.7

LDR0.1-0.7

LDR0.1-0.7

Output power

54 KW

60 KW

72 KW

Maximum working pressure

(manual reset)

<0.7MPa / 102PSI

<0.7MPa / 102PSI

<0.7MPa / 102PSI

Rated steam output

78 KG/HOUR

86 KG/HOUR

100 KG/HOUR

Saturated steam temperature

< 172°C

< 172°C

< 172°C

Electric heating element

4 pieces of 13.5KW

4 pieces of 15KW

4 pieces of 18KW

Efficiency

> 98%

Material of main body

20# carbon steel

Thickness of main body

6mm

Voltage

380V/made to order

Dimensions after installation

L

770mm

W

650mm

H

1570mm

Shipping dimensions

L

1050mm

W

770mm

H

1630mm

Weight

400 kg
PICTURES:
Commissioning Services 2014:
April 19-29 in El Salvador
July 31-Aug.5 in Australia
Aug.1-4 in Hongkong