KingTouch Technology Group Limited is specialized in producing Surface Acoustic Wave(SAW) touch screen, Multi-touch Infrared touch screen/IR Touch Panel frame, Optical touch screen, LCD Touch Kiosk, Interactive touch foil, resistive touch screen, LCD touch Panel PC/ Computor/ bezel Monitor, Touch Tablet PC, Optical touch screen and Capacitive touch screen, Any size of touch panel we can customized for you. Just let us know the requirement. For Multi-touch IR Panel, we can offer Dual-touch(2 points), 6 points, 8 points, 10 and 12points, 16 points and 32 points, No ghost point. Etc.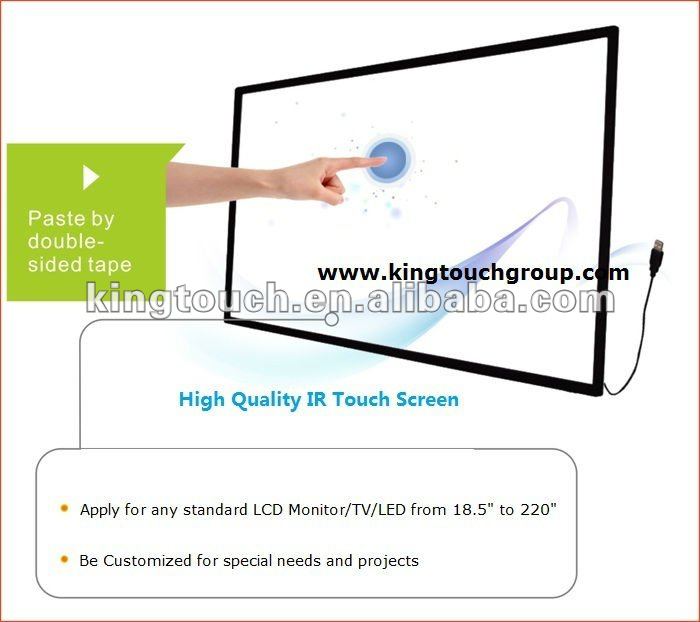 Product Description:
Infrared(IR) touch screen operate on the mechanism of infrared LEDs arranged in arrays on two adjacent bezel edges of the PCB with photo sensors placed on the two opposite edges functioning as transmitters and receivers. The LEDs emit infrared rays simultaneously to form a grid of rays across the display. When the user wishes to send a signal through touch, he/she can do so by interrupting the light beams with a physical object. Since every infrared LED is independent, the touch screen is able to achieve positioning by analyzing the decrease in light at the corresponding photo sensors. The signal is then processed by the control circuitry and sent to the PC for the coordinates of the touch event to be displayed on screen or to be utilized by other software for relevant signal operation.
Advantage:
1. Single-touch and Dual-touch
2. IP65 Available
3. Support zoom in/out, display rotation
4. Withstands severe environments
5. Stable, no-drift calibration performance
6. Vandal- and abrasion-resistant screens, ideal for rugged applications
7. Parallax-free performance for LCD displays
8. Sealable against contaminants
9. Operable in various light conditions, indoor and outdoor
Application:
1. Point-of-information kiosks
2. Electronic catalogs
3. Gaming, POS, ATM, lottery, and amusement
4. Industrial control rooms
5. Computer-based training
Specification:
Size

General Size

15 inch to 220 inch

Fit in with

Panel display device

Performance

Touch Mode

Single-point touch, Multi-touch, drag, draw-line, rotate, zoom in/out

Resolution(Interpolation)

4096*4096

Linearity Error

<1.5mm

Response Speed

<15ms

Mechanical

Input Method

Finger or gloved hand (rubber ,cloth or leather)

Touch Times

Unlimited

Touch Activation Force

No minimum touch activation force is required

Minimum Touch Object

2.5 mm X 2.5 mm

Vandal-proof

No break by 1-pound steel ball dropping from 130 cm high

Surface Durability

Surface durability is that of glass, Mohs\' hardness rating of 7

Optical

Glass:

Without glass, 4mm glare, AG (anti-glare), or AR (anti-reflective) glass optional

Light Transmission

92%

Gloss

Antiglare surface (curved or flat): 95 ± 15 gloss units or 65 ± 15 gloss units

Environmental

Temperature

Operating Range: -20°C ~ 70°C;

Storage Range: -40°C ~ 85°C

Relative Humidity

Operating Range: 0%~90% RH (no dew falls)

Storage Range: 0% to 95% RH (no dew falls)

Altitude

Up to 3,000m

Ambient Light

Direct sunlight 90°to ±30° to the display surface Touch detection operational

Direct sunlight all angles to display surface Free of false touch reports

Electrical

Operation Voltage

Typical +DC 5V, +4.75V to +5.25V

Power Supply

Size under 52"(include 52")USB or PS/2 Interface, power ripple max.200mV rms

Size above 52"(52" not included): external AC-DC power adaptor

Interface

Full Duplex USB 2.0 (Full Speed) Plug and play compatible

Serial RS-232. Baud Rate: 9600, 8 Data Bits, 1 Stop Bit, No Parity

Current

Typical 150MA@+5VDC; 350mA, maximum

Power

<1.5W, operating current<300mA

Electrostatic Protection

15 kV air / 8 kV contact discharges (EN61000-4-2,1995 :Level 4)

Controller

Integration inside touch panel

Agency Approvals

CE, FCC, Rohs

Operating System

Operation System: Perfectly Support Windows XP / Windows 7 / Linux