tainless Conical Fermenter Beer Making Manufacturing Equipment Brewery Unit
1.

Company introducation
We Kuangbo is a production enterprise of pharmaceutical, dairy, food and beer-making equipment, alongside biological engineering, chemical containers, and bespoke products. Our products are widely used in beer production, pharmaceuticals, beverage industries, biotechnology and other fields.
Usage
it is used for beer fermentation
Material
1.SUS304, 316L
2.jacket: dimple jacket
3.insulation layer: PU
4.as to the thickness, we can make it according to your requirement.
Configuration
safty valve, CIP spraying ball and pipe at the side of the tank, outlet with valve and racking arm as your requirement, temperature gauge and sample valve
Our advantage
1.we can supply various kinds of volume, minimum 50L, maximun 10,000L and even larger.
2.PU insulation is adopted, jacket will be dimple jacket
3.interior surface is 3A finish and exterior is 2B finish
4.we also can equip you with a cooling system as your requirement.
5.competitive price and also higher quality tank.
Minimum order
one unit
Payment term
T/T or L/C
Package
export standard package
Market
at home and abroad
2.
Technical Parameters

Working Volume (L)

Dimension of Tank(D*H)mm

Total Height(H)mm

Diameter of Inlet&Outlet(mm)

PU Insulation(mm)

Man Hole Size(mm)

500

800*800

1750

Dia 38

50

440*320

1000

1000*1200

2200

Dia 38

50

440*320

1500

1100*1400

2500

Dia 38

50

550*430

2000

1200*1500

2700

Dia 38

50

550*430

3000

1400*1700

3150

Dia 51

50

550*430

4000

1500*2100

3450

Dia 51

50

550*430

5000

1600*2200

3590

Dia 51

50

550*430

6000

1700*2200

3690

Dia 51

50

550*430

8000

1800*2700

4350

Dia 51

50

550*430

10000

2000*2800

4450

Dia 51

50

550*430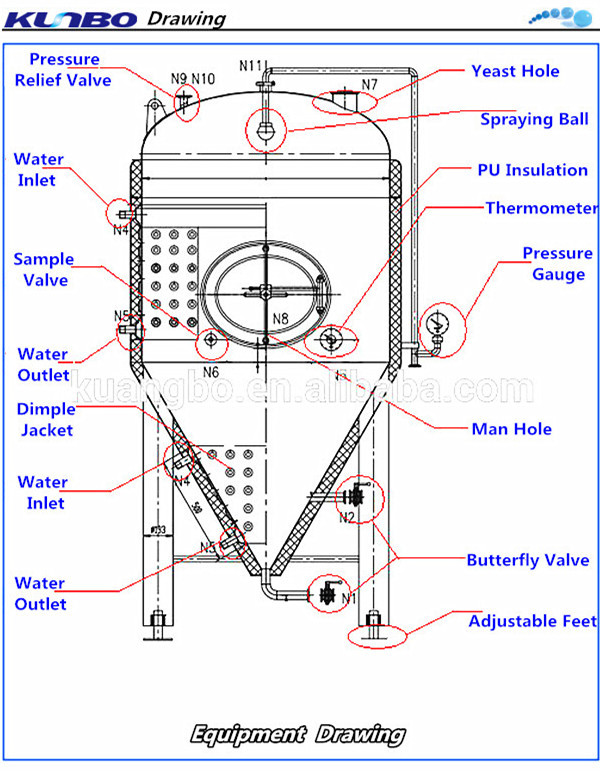 4.

5. Accesorries:
6. Main products:
1. Soft protection material wrapped outside the product.
2. Mounted on iron stand if product is too tall and have to lay down for loading.
3. Packed by export standard crate (usually for LCL, but can also for FCL if customer required).
4. After loaded into containers, products will be well fixed to the containers.
1. Can your brewing equipment make both lager and ale?
A: Yes, our beer brewing equipment can make both lager and ale.
2. How to achieve temperature control?
A: The PLC or digital dispalyer could control the temperature by connecting with the PT 100 sensor.
The brewing tanks with rock wool to keep warm, the fermenters and bright beer tank with PU as
cooling jacket to keep cool.
3. Is it possible to supply installation in our country?
A: Yes, we could supply our clients over sea service and direct the installation and brewing.