CGT natural looking artificial grass garden grass decoration
Applications:
indoor futsal court floor for garden, balcony, swimming pool, children playground, pet activities area, roof & wall decoration
Characteristics:
indoor futsal court floor provide excellent rebound and softness performance, ensure the safety of kneels and skin.
Achieve sports standard of natural lawn, comparable with natural turf fields.
Good drainage, anticorrosive, anti-moldy, fastness and UV resistance.
Excellent anti-wear performance can increase artificial grass use frequency of field.
Easy install and maintain.
All weather usability.
Detail specification:
Model

40L59Q33G2-D4

Specification

Pile height

40 mm

Grass yarn

PE & PP

Detex

PE 9600 + PP 6600

Gauge

3/8

Stitch rate

130 to 250

Density

13650 to 26250

Color

3 colors

Packing

Roll width

2m, 4m

Roll length

25m or on request

20ft quantity

about 2000-2500 SQM

40ft quantity

about 5000-5600 SQM

Certificate

Labosport, SGS, CE

certificate

Guarantee

5 years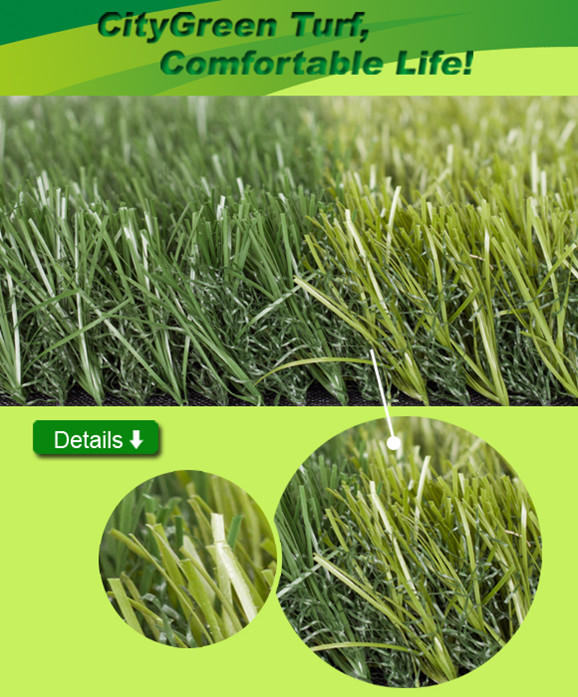 Packing & shipping
indoor futsal court floor standard packing size:
2m*25m/roll or 4m*25m/roll or as design
Standard loading quantity
1*20GP: 2000 to 2500 sqm
1*40GP: 4500 to 5000 sqm
1*40HQ: 5000 to 6000 sqm
Installation
Prepare and test the base ground:Inspect the foundation to ensure it has a flat and smooth surface and appropriate slopes, making sure the foundation is qualified for installing indoor futsal court floor .
Measuring line:Locate the centers of the ground and the two semicircles, and according to these three centers locate the intersecting point of half-way lines and touchlines, and then determine the positions of functional lines and spot by using Pythagorean proposition.
Palletising turf roll:According to drawing, position the turf rolls on the exact places along the touchline.
Cutting the edge:Cut white turf piece into strips(width to be as per actual need) for white functional lines(half-way lines, base lines etc.), and put them aside preparing for installation.
Cutting white line:Measure and re-position the white line on the turf that has been all well joined on the ground. Cut the turf out and place the seam tape beneath the cuts.
Infill rubber granules:After sand infilling, Place the rubber granules piles on the lawn on different spots evenly at a distance of 4m from each other, then spread them evenly on the lawn(the quantity of sand depends on the pile height of the turf). Afterwards, use the combing machine to sweep the sand into the fibers and to comb up the fibers. Do this process once longitudinally and transversely.
Brushing: to brush the grass in the vertical and horizontal one time by the grass-brushing machine
Check and Acceptance:Inspect the entire finished lawn as per concerned standards and requirement. If any defects found, correct it.
Acceptance: cooperate to check and accept
CGT company Imformation
Founded in 2003, Citygreen is a leading turf grass swimming pool rubber flooring golf mat manufacturer in China, and is a major supplier to Middle East, Asia and South America markets. We are dedicated to manufacturing reliable grass for sports, landscape and leisure applications. Also, Citygreen manufactures superb quality multifunctional floors for events.
Partnership
CGT attaches great importance to work with the international industry giants. In 2013, CGT starts the cooperation with Tencate and Mattex, launching characteristic products to lead the industry development trend.
1. Raw materials:
Only brand-new and qualified Fake Grass Carpet For Soccer Fields materials are allowed to be used for
our production, no recycle or wastage material allowed. Only qualified products are allowed to release
out of our factory. Proper guarantee from 5 to 10 is given to every product.
2. Production facilities:
Our factory possesses an area of 80,000 m2 and is equipped with advanced high-tech facilities
including American TUFTCO tufting machine, British COBBLE tufting machine, Australian CTS
two-way coating machine with 20 meters length. We provide good and stable quality Fake Grass
Carpet For Soccer Fields and punctual delivery. You are welcome to visit Citygreen factory!
3. Certificates:
We get Labosport certificate; SGS certificate (chemical data test-nonhazardous proof); UV resistant test
(1200 Hour); CE certificate ; CTA certificate of quality inspection(issue by China testing alliance);
ISO9001 quality system qualification, ISO14001 Environmental certification, and etc for our Fake
Grass Carpet For Soccer Fields.
4.Good service:
We respect any requirements from customers, no matter daily inquiry, request or complaints; we
respond quickly and do not escape from responsibility for our Fake Grass Carpet For Soccer Fields.

5.Our pursuit
We are honest, responsible and reliable to every customer and the whole society; we will not release
any unqualified product to the market.At the same time, we still have shortages to overcome; we
hope that you can give us support and suggestion.

6. Our development:
We become the Chinese agent of two world famous artificial yarn material suppliers:
The Netherland Royal Tencate Group and Saudi Arabia Mattex group(Green Vision company).
Ensuring our customers will have the best quality and highest performance Fake Grass Carpet For
Soccer Fields products available in the market.
FAQ:
1. What's the MOQ of your indoor futsal court floor ?
500 sqm/model.
2. What's your production time?
About 5 to 15 days.
3.Do you have export license?
Yes, we can finish export clearance process by our own.