Title:

China Wholesale Market Kitchen Cleaning Cloth Super Absorbent Sponge

Material:

Melamine Sponge + PU sponge

Item No.:

SH-K3

Size:

100x60x30mm/pc or customized

Retail Pack:

bag/paper box/bulk packing

Density

10 kgs/m³

Usage:

Kithchen cleaning
The kitchen is the heart and center of the home — but it gets dirty fast. (Cleaning up is the downside to cooking at home!) If neglected, aside from basic washing up and wiping down, the kitchen can get out of hand very quickly. But forget weekend cleaning marathons — you can deep-clean the kitchen from top to bottom (and keep it clean!) more quickly by the Magic Kitchen Sponge.
------Easy to Use! Contains NO Chemicals! Use Only Water!
Water-activated micro-scrubbers like countless mini vacuum cleaners
Remove the stubborn stains in the surface grooves quickly.
Safe and eco-friendly, no chemicals residue
Abrasion-resistant, almost unbreakable
Working principle
Through the latest nano-technology, the special structure foamed by micro-fibers smaller than ten thousands of human hair, will be activated by water as the capillarity, absorbing the stains just like countless micro-vacuum cleaners.
Wet this Eco-friendly Magic Sponge by clear water and squeeze out gently to be half-dry, do not twist.

Gently rub sponge on dirty surface in the same direction to remove the dirt and smudges.

Wipe off the upfloated dirt on the surface by dry cloth or paper towel.

Rinse the dirty sponge with water after use and dry it, don't need press hard. Can be used repeatedly.
Tips: Better effect with warm water.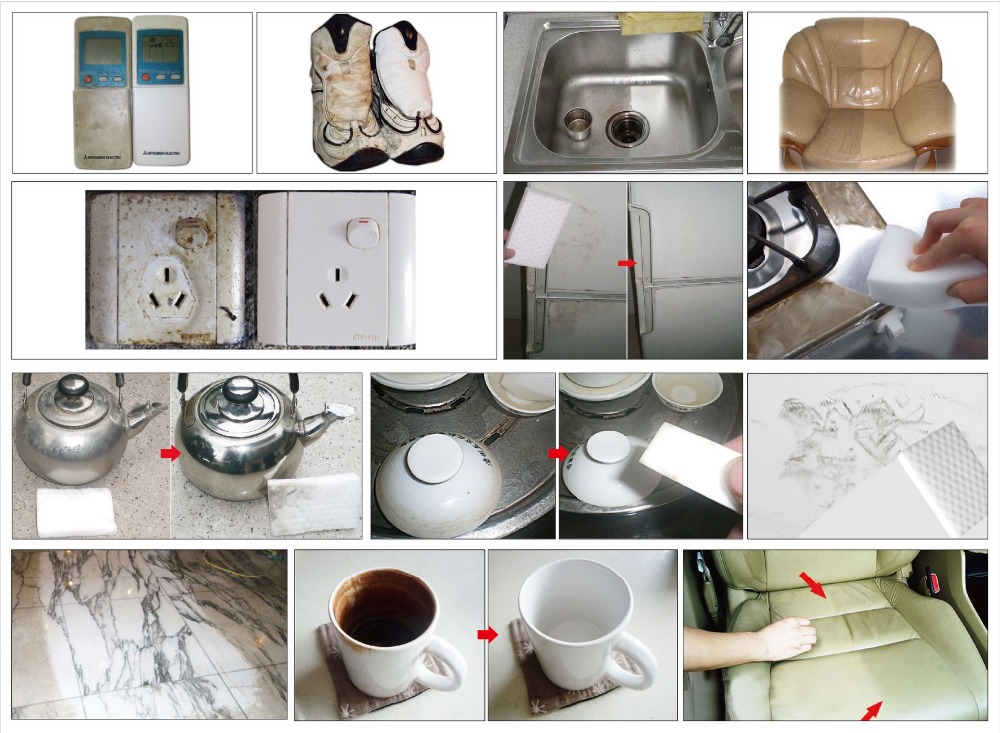 Applicable to clean the kitchen appliances, kitchen stoves, dishes and other kitchen ware.
Because of the powerful absorption ability, please use the sponge with caution in the following conditions, in order to better care your stuff:
China Wholesale Market Kitchen Cleaning Cloth Super Absorbent Sponge
SHARE's Compressed Melamine Sponge VS Ordinary Melamine Sponge

Features

SHARE'S

Ordinary's

Appearance:

Fine

Incompact

Density:

10/12/16kgs/m³

8-8.5kgs/m³

Durable:

Stronger

Easy to broken and drop dregs

Toughness:

Stronger

Easily deformed

Abrasion resistance:

Stronger

Qucik wear and tear

Cleaning Effect:

Powerful

Good

Eco-friendly:

Better

Good

Service life:

Usually more than 5 times

One-off

Economic:

Higher price.

Save more time/detergent/labour

Low price.

Cost more time/detergent/labour

Distribute Competition:

Little - High profits

Big - Low profits
SHARE NANO Technology Co.,Ltd. was founded in 2010, focus on manufacturing quality compressed melamine foam and developing the application as much as possible. We devote ourselves to exploring the better cleaning solution to help life easy and fresh.
Certificated Safe and Eco-friendly material

T

ypes of Unique Products with excellent competitiveness in quality and price
Flexible production, accept private labelling and trial small orders, fast delivery time
Rich experience of exporting to substantial buyers