moblie jaw crusher station introduce:
moblie jaw crusher station

---Application:
zirconium sponge roller crusher is suitable for crushing materials including granite,basalt,limestone,river stone,sandstone,shale,iron ore,copper ore,etc. And It is widely used in mining,metallurgy,building materials,road,railway,water conservancy,chemical industries,etc.

moblie jaw crusher station advantages:
1.Big capacity and energy saving: no dead zone, feeding and crushing efficiency is greatly improved.
2."V"-shape structure: the actual width of feed is the same as nominal width.
3.Good performance and good stability.
4.Lubrication system: safe, reliable and convenient, easy to maintenance.
5.Work long time: the internal structural precision greatly extend the life of equipment.
6.Adjustment device: increase the flexibility of the equipment.
7.Low noise and less dust.
8.Easy operation and maintenance, low operating costs.
moblie jaw crusher station

W

orking Principle:
The motor will drive V-belts and transfer power to the pulley. The pulley will drive the eccentric shaft to make the upper jaw around eccentric shaft movement caused the whole mobile jaw plate movement up and down. When the moving jaw plate rises, the angle between bracket and the moving jaw will become large, which will promote the dynamic jaw plate to the fixed jaw close. At the same time, the materials will be crushed. When the moving jaw plate moves to the downward, the angle will become smaller and the moving jaw plate will leave the fixed jaw plate. At this time, the crushed materials will be discharged from the crushing cavity.
moblie jaw crusher station--Common maintenance problems:
Lubrication is very important for jaw crusher, add grease periodically to ensure the normal operation of the jaw crusher and increase the service life.
Besides, check the jaw crusher spares and parts. check the toggle plate, spring, the jaw head are tight and are not worn out, to ensure and maintain jaw crusher's working well. If the jaw plates shake and produce bump sound, may be the bolts of jaw plate is loose, or bolts of plate broken.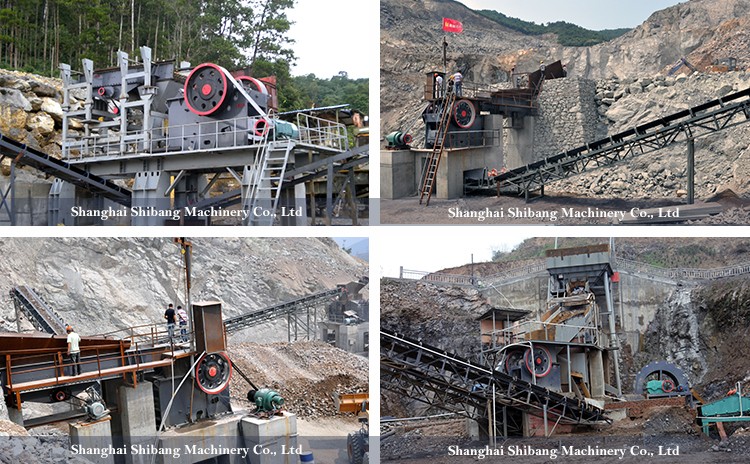 moblie jaw crusher station

---Parameters:
| | | | | | | | | |
| --- | --- | --- | --- | --- | --- | --- | --- | --- |
| Jaw crusher Model | Feed Opening (mm) | Max Feeding (mm) | Discharge Opening (mm) | Capacity (t/h) | REV (r/min) | Power (kw) | Motor Model | Machine Size (mm) |
| PEW250×1000 | 250×1000 | 220 | 20-40 | 15-50 | 330 | 6-37 | Y250M-6/37 | 1400×1850×1310 |
| PEW250×1200 | 250×1200 | 220 | 20-40 | 20-50 | 330 | 6-37 | Y250M-6/37 | 1400×2050×1310 |
| PEW400×600 | 400×600 | 350 | 35-85 | 15-70 | 250 | 6-37 | Y250M-6/37 | 1920×1460×1840 |
| PEW760 | 760×1100 | 620 | 75-200 | 150-350 | 270 | 6-110 | Y315L1-6/110 | 2600×2500×2200 |
| PEW860 | 860×1100 | 720 | 100-225 | 200-500 | 240 | 6-132 | Y315L2-6/132 | 3300×2320×3120 |
| PEW1100 | 1100×1200 | 930 | 150-275 | 300-650 | 210 | 8-185 | Y355L1-8/185 | 4140×2660×3560 |
The line design of 40-60 t/h - Small stone crushing line is simple for our sales manager with so many quarry customers/ clients.
The crushing line can be widely used in mine ore mining, construction buiding materials, chemistry industry, suitable for crushing quarry rocks and mineral ores such as iron ore, river stone, feldspar, basalt, dolomite, barite, limestone, slag, marble, quartz, granite, cement, clinker, coal and so on. Stone crusher machines are featured with large crushing rate, high yield, equal product size, simple structure, reliable operation and easy maintenance, economic operating costs etc.
Here is a sample of 40-60 t/h - Small stone crushing line for limestone crushing process.
List of all typical equipment and products
| | | | | |
| --- | --- | --- | --- | --- |
| NO. | Equipment | Model | Motor(KW) | Number |
| I | Hopper | LC3000X4000 | | 1 |
| II | Vibrating Feeder | GZD-300×90 | 2.2 * 2 | 1 |
| III | Jaw Crusher | PE-500×750 | 55 | 1 |
| IV | Impact Crusher | PF-1010 | 55 | 1 |
| V | Vibrating Screen | 3YA1860 | 22 | 1 |
| VI | Belt Conveyor | 800mm | | 5 |
| VII | Packaging Machine | PM60 | 30 | 1 |
Ways of Packing:
1.Sand blasting, coat with high quality paint;
2.Product wrap by PP-Bubble
3.Load container, Spear Parts in wooden case.
Transportation:
1. By sea Freight;
2. MSK/MSC/APL/EMC/WANHAI/KLINE
3. We will remind you before boat arrival
Our factory covers an area of more than 600,000 square meters, all kinds of facilities equipped with a strong production research and development capabilities, our company is specialized in mining crushing, building crushing, industrial milling. Set research and development, production, sales and service as one of the international enterprises. Products are exported to more than 160 countries and regions, with 23 overseas branches and business organizations. My company exports for eight consecutive years in China's mining industry first.
Q: Why we believe in Shanghai shibang company?
A:
1. More than 20 years experience.
2. SBM is the leading professional supplier of solution, equipments and service for crushing and grinding industry.
3. All products achieved ISO9001:2000 quality management certificate and EU CE certificate.
Q: Delivery time
A: The lead time is 10-30 days, Delivery time will vary depending on the type of the machine, shipping method selected and
part availability.
Q: Payment terms
A: Accepted Payment Type: T/T, L/C, Western Union, Cash
After sign the contract, pay the 10%-30% deposit of total purchase price and pay the full payment before delivery.
Q: what will you do if the machine is broken down?
A: The Products warranty is one year. We will provide the technical advice and find the solution immediately for you when
the machine is in trouble. For those wear parts, we guarantee the high quality parts for long-term supply.
Q: What should i do if I want to get a best quotation?
A: If you want a suitable type for you ,please let us know your material and capacity.
According to the customer's order, we strictly produce, before ordering, each customer has the opportunity to visit the production of the machine site.For the convenience of each visitor in the field visit, especially the first visit of customers, we will provide free and thoughtful service, including the invitation to prepare, hotel reservations, airport transfer, city traffic, sightseeing guide and so on. Our engineers will be dispatched to the quarry to help customers with an outfit, while also providing the necessary training for the local workers ' daily maintenance machines.After-sales service by well-trained staff and installation engineers, installation engineers, special and professional school members, they are now strategically based on overseas, for our work done a positioning.
How to contact us?
You can contact SBM by sent a email or chat with me directly, In order to recommend suitable design for you, please kindly tell me:
♥ What is your raw material do you want to process?

♥ What is per hour capacity you want?
Send your inquiry Details in the Below for Free detailed quotation, Click "send" Now!