Newest technology with high oil output engine oil distillation plant
Contact:Anne Wu Whatsapp:+8615215080377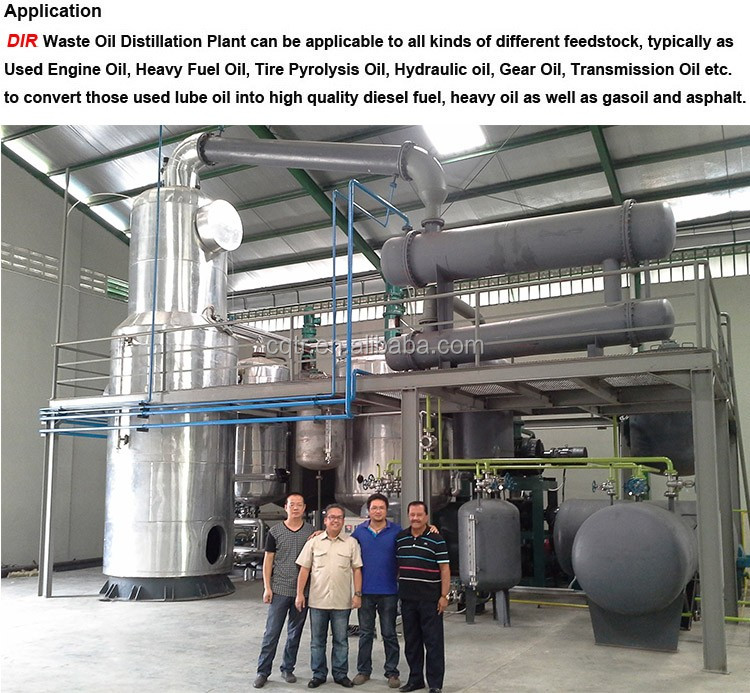 W Working principle
Waste oil is pumped to mix with the catalyst after being pretreated to remove large impurities, and mixed enough via the special mixing pipe. The mixed waste oil flows into the distillation kettle, meanwhile the waste oil is circulating heated by the heat exchanger. Start the vacuum unit. The components by distillation pass through three-stage cooling systems, then collected into "water receiver, gasoline and diesel receiver, light lube base oil receiver, heavy lube base oil receiver" . The waste gas is firstly handled by the water seal, then handled by our waste gas processor system. The water distilled from waste oil can be used to blend the catalyst, no any pollution water produced. The gasoline and diesel oil distilled from waste oil can be used as fuel blended with oil residue. Therefore, our equipment has no any secondary pollution to the environment.
Advantage:
Our Vacuum and Oil Distillation plant is the newest technology with high oil output engine oil distillation plant, the physical separation of components of lubricating oil by boiling range. Depending on the type of distillation, the boiling ranges can produce gases and gasoline at the lower boiling points with heavy lubricating oils being distilled at higher boiling points. Distillation is the core process for a facility capable of producing re-refined base-oils to virgin base-oil quality. And the machine is easy to operate,only 1-2 workers is enough to control the machine.
Features:
1. Easy to operate, low operation cost
2. Environmentally friendly, without secondary pollution.
3. The machine can recycle gasoline oil, diesel oil, engine oil, rubber oil and other lubricant oil to clean oil.
4. High quality refined oil, no any discoloration caused by oxidation, no any bad smelling.
5. Low cost contain:
1) only need the catalyst chemical, the cost is less thanUS$30 to refine one ton waste oil.
2) Heat consumption: 105kcal per ton waste oil
3) Power consumption: 40Kwh to recycle 1 ton waste oil
6. High degree of automation.
Main Components:
1. Catalyst system: Catalyst Reactor, blender;
2. Chemistry treatment system: Chemistry reactor, blender, oil pump
3. Heating distilling system: distilling tower, distilling kettle, heater, circle pump;
4. Cooling system: refrigerating machine, water pump, water tank, cooler I, cooler II, Condenser;
5. Vacuum system: Vacuum water receiver, vacuum pump, vacuum cooler
6. Degasification system: vacuum exhauster, exhaust fan, degasification plant, water pump, radiator, deodorizer.
7. Oil storage system: distilling storage tank
8. Control system: all kinds of gauge( vacuum gauge, pressure gauge etc.) and electricity controller tank.
Recovery Rate:
| | |
| --- | --- |
| Component | Percentage(%) |
| water | 1.5% |
| Gasoline/diesel oil | 7% |
| Light Lubrication oil | 42% |
| Heavy Lubrication oil | 43% |
| Residue | 6.5% |
| Total | 100% |
Treated Oil Analysis (take the waste diesel engine oil for example)
| | | |
| --- | --- | --- |
| Item | Heavy Lube oil | Light Lube Oil |
| Appearance | lucidity | lucidity |
| Color ≤ | 1.5 | 1 |
| Viscosity (40°C)mm2/s | 49.57 | 26.86 |
| Viscosity Index ≥ | 96 | 95 |
| Anti-oxidation 150°C,min ≥ | 180 | 180 |
| Deemulsification,54°C | 5min | 5min |
| Flash Point(Open)°C ≥ | 228 | 224 |
| Pour Point °C ≤ | -12 | -16 |
| neutralization value (mgKOH/g) ≤ | 0.02 | 0.02 |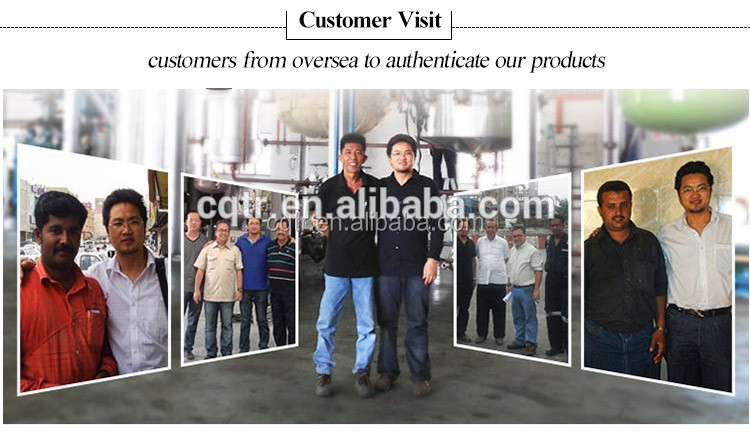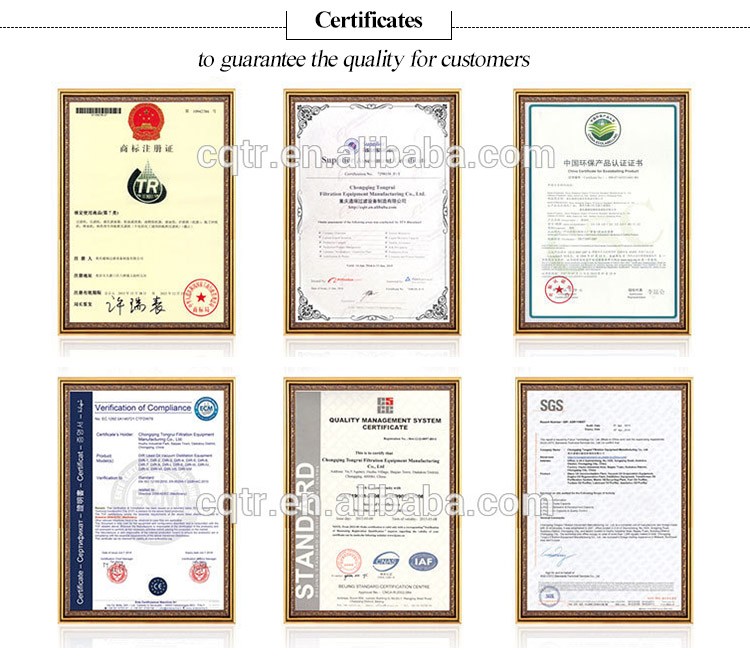 More Products and Configuration
Here are our main categories below:
ZJB Single stage vacuum transformer oil purifier
ZJA Double stage vacuum transformer/insulating oil purifier
ZJA-M Mobile Trailer type transformer oil purifier
IIJ-II Insulating/transformer oil dielectric strength tester
ZJD Lubricant/hydraulic/turbine oil purifier
ZJF Cooking oil purifier
NRY Waste engine oil regeneration system
ZJD Coalescence and separating oil purifier
ZJR Phosphate ester fire-resistant oil purifier
ZJD-K Plate pressure oil purifier, Portable oil purifier
AD Air dryer for drying electric equipments
ZJD-S Oil water separator
DIR Waste engine oil distillation plant
DDR Diesel oil distillation plant
NKEE-36 Oil moisture sensor
BDV Oil tester
Contact Anna Wu for more details. whatsapp/wechat/mobile:008615215080377