Wholesale bulk price 16gb ram ddr3 1600mhz memory for pc
Memory Type: DDR3
Memory Speed: 1066/1333/1600MHz DDR3
Memory Size: 1GB/2B/4GB/8GB
Memory Channels: Dual
Memory Socket: LONG DIMM
Memory CAS Latency: 4-4-4-12
Memory Timing:4-4-4-12
Pins:240pin
Voltage:1.5V
Function: Non ECC Memory
Chip: Original chips ( brand new )
Warranty:Life time
Detail Description:
1) DDR 400/333 & DDRII 533/667/800 & DDR3/1066/1333/1600 MHz.
2) 168/184/240-pin socket type dual in line memory module (DIMM) .
3) 2.6V power supply
4) Data rate: 400/333/533/667/800M1066/1333MHZ/1600mhz (max).
5) 2.5 V (SSTL-2 compatible) I/O for DDR I products, 1.8Vpower supply for DDR II products
6) Double-data-rate architecture, two data transfers per clock cycle.
7) Bi-directional, differential data strobe (DQS) is transmitted/received with data, to be
used in capturing data at the receiver
8) Data inputs and outputs are synchronzed with DQS.
9) DQS is edge aligned with data for read, center aligned with data for write.
10) Differential clock inputs (CK and CK).
11) DLL aligns DQ and DQS transitions with CK transitions
12) Commands entered on each positive CK edge: Data and data mask referenced to both edges of DQS.
13) Four internal banks for concurrent operation (component).
14) Data mask(DM) for write data.
15) Auto precharge option for each burst access
16) Programmable burst length: 2, 4, 8
17) Programmable/CAS latency (CL): 3
18) Programmable output driver strength: Normal/weak
19) Refresh cycles: (8192 refresh cycles/64ms) .
20) 7.8US maximum average periodic refresh interval.
21) Posted CAS by programmable additive latency for better command and data bus efficiency
22) Off-chip-driver impedance adjustment and on-die-termination for better signal quality .
23) DQS can be disabled for single-ended data strobe operation
24) 2 variations of refresh
25) Auto refresh
26) Self refresh.
1. Poor contact
Remove the memory, wipe the golden finger with eraser. then put into the motherboard to further check. If still does not work after memory been wiped for times and memory slop replaced. the momory should be deffective in this case then. You can take another memory stick to try again, or put the memory into another motherboard to further test.
2. Boot up failure
Turn off the computer, check the memory carefully to see if any defect on surface like golden finger, chips and boards, If no damage found. then should be install issue. So take out the momory. wipe the golden finger with eraser or alcohol carefully. after the alcohol evaporate, put the memory into the slot correctly. Also the defected memory slot will aslo lead to boot up failure.
3. Windows often switched to safe mode automatically
Mainly because the motherboards and memory are not compatible, high frequency of the memory does not support on the motherboards, should try to slow down the written speed in the CMOS. if still does not work. then plese replace the memory.
4. Computer random crash
Mainly as a result of the adoption of different chips of memory, the speed of memory differences a time lead to the crash, this can be solved in the CMOS setup by reducing the memory speed, otherwise, can only use the same memory. Another possibility is memory do not compatible with the mainboard,this rarely happens. poor contact also might lead to random crash.
5. High temperature on the memory
Under this condition. you can add a fan in it to improve the air flowing. Or you can add aluminium or cooper heatsink on the memory for better heat dissipation.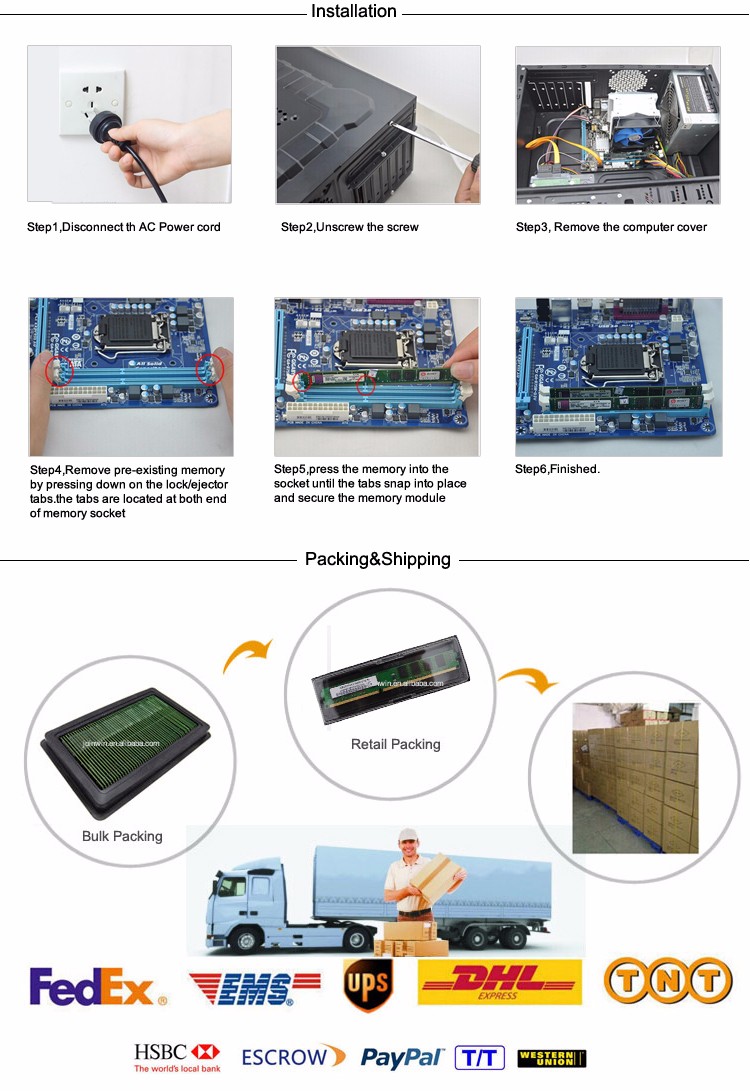 JOINWIN Industrial Development Limited, founded in 2004 in Hong Kong. We began by supplying memory for PC and laptop. Later in 2010 we built subsidiary Shenzhen JOINWIN Technology Ltd in Shenzhen, which integrates R&D, production and selling. As a leading global manufactuer of memory and Solid-State-Drive (SSD).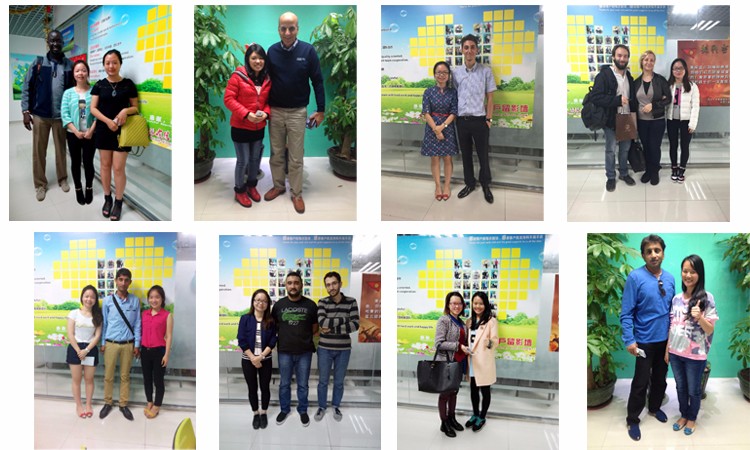 1.Q: Has Joinwin been running for a few years then?
A: Yes. 12th years ram memory manufacturer and recommend supplier on alibaba and made in China.
2.Q: Is this ram original or copy?
A: We get original ETT chips , and could make your brand Logo in rams
3.Q: Your price is nearly our local market price , how can I buy from you with this price?
A: We are ram memory factory, specializing in this line for many years. We focus on the quality, and believe in only good quality support long time business. From outlook there isnot any difference with them, but they have price gap, as they have difference inside, same price has different price level.
4.Q: May I pay with paypal, I feel unsafe with T/T?
A: Currently, our customers enjoy T/T or Western Union , as it is fast and cheap way in nowadays. Pay with paypal will take extra handing fee for you ,if you insist on paypal method, we will satisfied you.
5.Q: Do you give spare ram (against warranty) in this order?
A: Sorry ,we do not have spare rams for new order for you, Usually , if your rams are not workable, we will try to find the problem and solve it for you, or you can send back to us, we will renewed it in your following order.
6. Q: On testing of memory, do you batch test a certain percentage, or test all?
A: our technical will test all. And we call it Memtest.
7.Q: What should I do if my rams get some problems?
A:You can send back the bad rams, we will repaire for you and send back with your next order.
8. Q: How long can I get my rams?
A: The goods will be sent out with in 2-3 working days after confirming your payment. But sometimes the delivery will be delayed due to the shortage. However, we'll inform you in time by email.
9. Q:How can you guaranty the warranty? If your rams are dead in warranty time?
A: All our rams are fully tested before shipping, enjoy lifetime warranty, with original ETT chips, If rams are not workable in warranty time , please check the motherboard and voltage if they are suitable for rams. If really can not work , please send back rams we will test it and resend you again in your next order.
DDR SDRAM LONGDIMM

333MHZ(PC2700)/400MHZ(PC3200) 184PIN

Capacity
Specification
Compatible

512MB

1GB

1GB

32MB*8/16C

64MB*8/16C

128MB*4/16C

Work with all motherboards

work with all motherboards

work with AMD motherboards
DDR2 SDRAM LONGDIMM

667MHZ(PC2-5300)/800MHZ(PC2-6400) 240PIN

Capacity
Specification
Compatible

512MB

1GB

1GB

2GB

2GB

2GB

2GB

4GB

4GB

32MB*8/16C

64MB*8/16C

128MB*4/16C

128MB*8/16C

256MB*4/16C

256MB*4/32C

128MB*4/32C

256MB*8/16C

256MB*4/32C

Work with all motherboards

work with all motherboards

work with AMD motherboards

work with all motherboards

work with AMD motherboards

work with all motherboards

work with AMD motherboards

work with all motherboards

work with AMD motherboards
DDR3 SDRAM LONGDIMM

1333MHZ(PC3-10600)/1600MHZ(PC3-12800) 240PIN

Capacity
Specification
Compatible

1GB

2GB

2GB

2GB

4GB

4GB

4GB

8GB

8GB

8GB

64MB*8/16C

256MB*8/8C

128MB*8/16C

256MB*4/16C

256MB*8/16C

512MB*8/8C

512MB*4/16C

512MB*8/16C

1024MB*8/8C

1024MB*4/16C

work with all motherboards

work with all motherboards

work with all motherboards

work with AMD motherboards

work with all motherboards

work with all motherboards(No G41)

work with AMD motherboards

work with all motherboards

work with all motherboards

work with AMD motherboards