1). OEM Services Provided;
2). Excellent Quality Assurance;
3). Fast and Prompt Delivery;
4). Worldwide Dealer or Agent wanted.
Batte Melt Pump Zhengzhou Co., Ltd is one of the biggest manufacturer for melt pump, gear pump or metering pump products in China. Being a professional supplier for melt pump products, we have been accumulating adequate experience on the application-specific technique. In addition to providing services and spare parts for our own pumps, we also provide comprehensive service packages for melt pump produced by other manufacturers.
Batte melt pump is mainly used for metering, transfer and pressure boosting of low or high viscosity polymer melt. The pump parts can be selected to counteract abrasion, and conform to various materials characteristics of the pumped media.
ZB-B series standard melt pump is mainly used for extruder or pressurization, stabilizing flow and transportation of medium or high viscosity polymer. This series of melt pump adopts electrical heating, and applies to PS, PP, PET, PVC, PC, PMMA, PA, ABS, PE-LLD, etc.
Technical Parameter for BATTE Standard Melt Pump (ZB-B Series):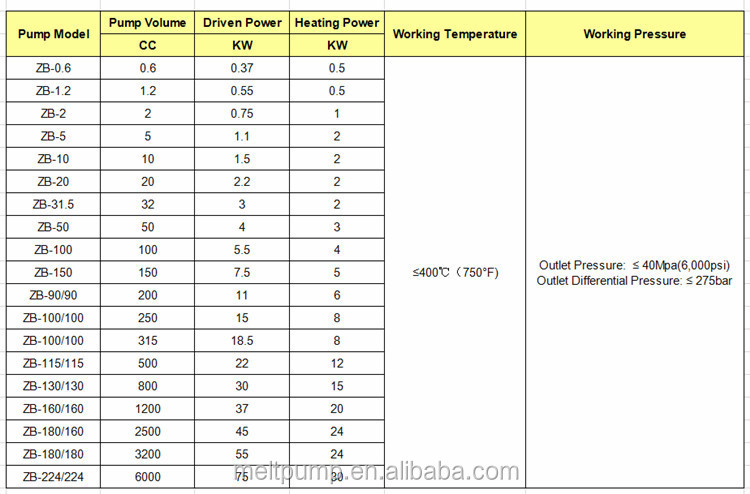 Construction Materials for BATTE Standard Melt Pump (ZB-B Series):
Material for Melt Pump Body: High Temperature Tool Steel or Chrome-Nickel Steel
Material for Gear: High Temperature Tool Steel or Nitrided Steel
Material for Sliding Bearing: High Temperature Tool Steel
Structural Drawing for BATTE Standard Melt Pump (ZB-B Series):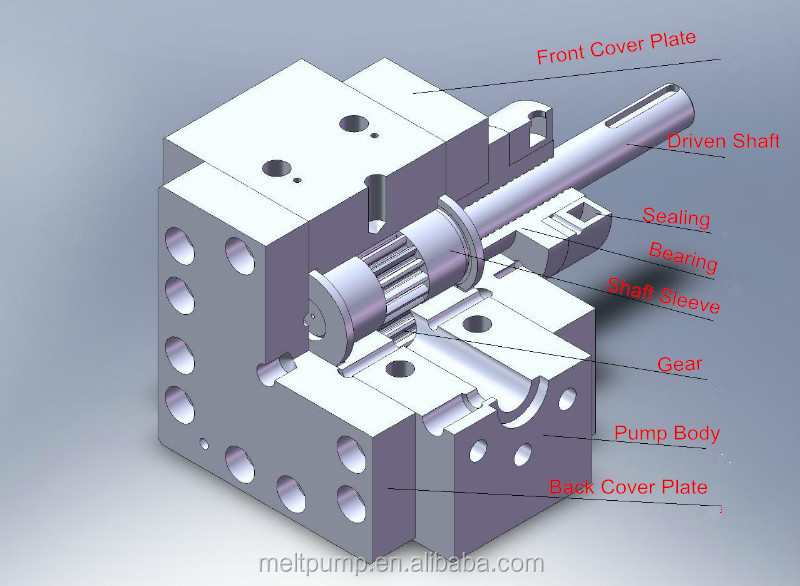 Working Principles of BATTE Standard Melt Pump (ZB-B Series):
This type of extrusion melt pump is mainly used in conjunction with extruders or kneaders. It reduces the natural pulsation and irregular conveyance, particularly in single-screw extruders, added to which, the build up of pressure in the gear pump is more efficient in comparison to the extruder. Because of this, less energy or heat is transferred into the polymer and the product is conveyed in a gentler manner. This type of extrusion melt pump is indispensable for the manufacture of precision films or micro granulate.
One Whole Set of BATTE Standard Melt Pump (ZB-B Series) Comprise :
1. Melt Pump
2. Driven System: Motor + Reducer
3. Control System: PLC Control System
The Performance Advantage of BATTE Standard Melt Pump (ZB-B Series):
1. Reducing stress on the extruder by means of shifting the job of building pressure to the melt pump;
2. Increasing the hourly output;
3. Removing the output variations and pressure pulsations, thus greatly improving the product quality;
4. Saving raw material by means of tighter manufacturing tolerances;
5. Improving the the dimensional accuracy during the production of sheets and profiles;
6. Optimizing the surface and optical quality during the production of films, sheets and profiles;
7. Improving the product quality with regard to homogeneity and pellet size in compounding;
8. Extending the lifetime of the upstream machinery;
Production Workflow Chart for BATTE Melt Pump
The Installation of Our Melt Pump
Installation Method: Motor+Reducer+Universal Coupling+Melt Pump
You can use control or direct current governor for the motor, and can adjust the flow to your demands optionally. Please well check our installation method below: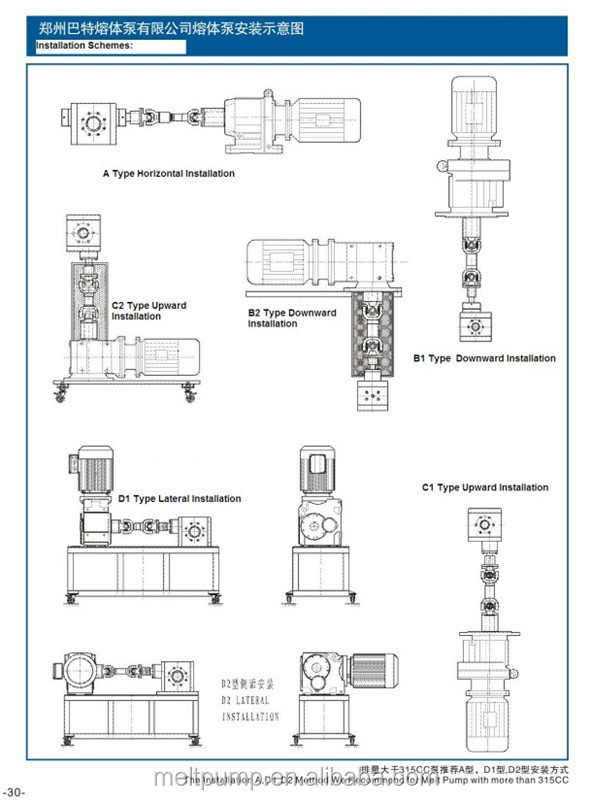 Quality Control System
• Fixed Q/C Equipments;
• Materials Qualified before Reaching Warehouse;
• Randomly Checking before Shipment.
Our Value-added Service Package
1. Installation Services: During the period of installation and debugging, we shall offer training about effective operation and maintenance.
2. Technical Services: We can assist our clients to solve all kind of technical problems with our capable technical team, and we own adequate experience for production line transformation project.
3. Warranty Services: We offer free after sale service except the engineers' traveling expense for any quality problem occurs during our 12 months warranty period.
CE Certificate for BATTE Melt Pump Products
BATTE melt pump products have been awarded CE Certificate, please check it below: