Moontree MBS-1110 Luxury Hotel lounge bar wooden bar chair
1

Wooden finish:

Walnut, oak, maple, beech, zebrano, mahogany, ebony, cherry, ash, teak, sapele, sycarmore, rosewood, mahogany crotch, golden leaf, silver leaf, white / black lacquer, etc;
2
Solid Wood:
Kiln-dried hardwood with moisture between 8-12% moisture;
3

MDF & Plywood:

Environment-friendly MDF & plywood with E1, E0 and F4 Star for options;
4

Veneer:

High quality veneer with thickness no less than 0.6mm;
5
Foam:
High density(resistance) foam, with CAL117 FR and BS5852 FR for opitions;
6

Fabric/Vinyl/ Leather:

With CAL117 FR and BS5852 FR for opitions;
7

Glue:

E0 high quality glue, Formaldehyde

≤

3mg/100g;

8

Painting:

High scratch-resistant PU environment-friendly finishing;
9

Hardwares

:
With Hafele, Hettich, Blum,etc international brand, and DTC etc China local brand;
10
Metal finish:
Stainless steel finish, brass finish, bronze finish, powder coating metal finish, etc;
11
Other materials:

Natural stone, quartz, clear/tempered glass, baboo, rattan, mother of pearl, etc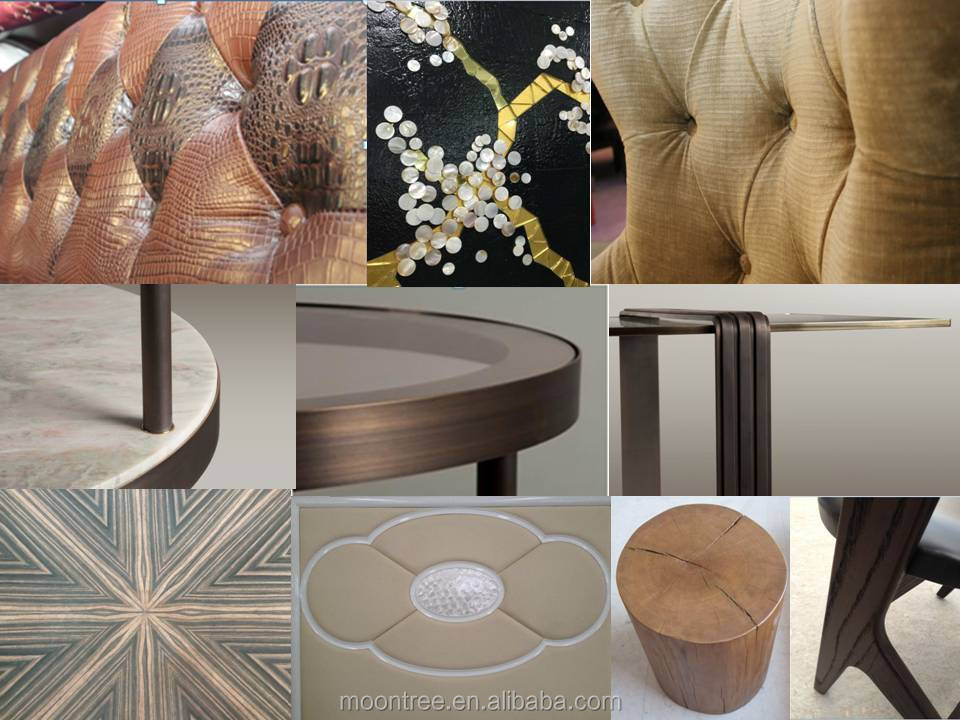 Moontree have strictly implemented ISO 9001 2008 & ISO14001: 2004 management systems for luxury hotel bedroom furniture. We care for the clients from the very beginning to completion of each project, incl. FF&E schedule, specs, pricing, tech communication, prototyping, sourcing, production, COM fabrics/leathers, delivery, after sales service, etc.
We are proud to advocate our mentality:
² Clear, concise & complete communication.
² Positive, efficient & real-time coordination.
² Detail-oriented & result based project management.
1)Every Moontree product will be strongerly packed by carton box with inner packing material including. EPE wrap, bubble wrap, EPS foam panel and paper corners.
2)Closed plywood boxes will be used for fragile items like glasses, mirrors, marble tops, etc.
² Detailed shop drawings for client's approval before production.
² Optional site measuring, drawing & installation supervision within fitted joinery
scope.
² Furniture proposal when required by client.
² Customization of products based on sketch, image or concept design.
² Detail oriented manufacturing of hotel loose furniture & fitted joinery.
² Outsourcing service when required by client.
² Moontree provide 1 year warranty for our products
Since 1993

Moontree is specializing in producing loose furniture (casegoods & seating) and fitted joinery for 5&4 star hotels & resorts, high-end villas, unique restaurants, bars, brand shops, cruise ships, SPA, etc.
Passed the ISO9001 and ISO14001
Provide OEM and ODM service to overseas customer
Export to more than 25 countries in North & South Ameria, Europe, the Middle East, Southeast Asia, Africa, etc.
Our mission is to Showcase Moontree Products in Every Prominent Place
Our clients have been hotel developers, interior designers, general contracots, brand shops, whole sellers, etc from all over the world.
Q: How long it takes for making samples(mock-up room )as well as mass production?
A: -For mock-up samples, it takes around 30 days after receiving payment and approved the drawings.
- For mass production, it takes around 45-60 days depends on your order volume.
Q: What service Moontree could provide if I want to make fitted joinery?
A: We can send our engineers going to your job site to do the measurement and installation supervision to ensure all the products could be well fixed properly into the site. We have doing
this for many countries.
Q: Could we make small items of public areas in Moontree?
A: Though every company prefers to make volume orders, we would support our clients for small items of public areas as after clients know our ability and capability doing a high quality job, they will make more and more future volume orders with Moontree.
Q: What is the Most Competitive Products from Moontree?
A: Since Moontree have been in high-end furniture business for more than 20 years, our main competencies are hotel/villa case goods, seatings and fitted joinery works.