Touch lamp qur'an speaker
New design with new features
Can freely transform different lighting scene mode by hand touch. Support the Multiple reciters and multilingual Qur'an learning environment.. Support a number of different light effects scene selection. Large voice and give you the different perfect experience.
Specifications
1.Connection:Bluetooth 2.1
2.Battery-powered:lithium battery 2200MA/H.
3.Using time:4-5hours.
4.MP3 payer:TFcard interface & Bluetooth mobile phone connection
5.USB charge:5V 1000MAH
6.Light:white & RGB+glare.
7.lllumination parameter : 160LM.
8.The Qur'an :35 reciters and 30 languages.
9.Remote control.
10.Can touch to control light and change RGB lights.
11.External audio input interface.
12.Automatic emergency lighting function when power off.
13.Remote control to select the timingshutdown time.
Sifat produk
1.Kontro dengan sentuh tangan, mampu tukar modus pandang cahaya berbeda dengan sewenang-wenanhnya.
2.Dukung lingkungan belajar Quran dengan banyak pembaca dan banyak bahasa.
3.Pilihan situasi efek cahaya berbada
4.Suara super besar ,dapat beri pengalaman sempurna berbeda untuk anda.
Spesifikasi produk
1.Cara sambungan:Bluetooth 2.1
2.Suplai baterai:Baterai Lithum 2200MA/H
3.Waktu penggunaan:6-8jam.
4.Pemainan MP3: Outlet kartu TF sambung dengan bluetooth ponsel.
5.Pengecasan USB:5V 1000MA.
6.Cahaya:Cahaya putih RGB+cahaya sebar.
7.Parameter penerangan :160LM
8.Quran: 30jenis bahasa 35orang pembaca.
9.Dapat kontrol dengan jarak jauh.
10.Dapat kontrol cahaya dengan sentuh, pengubahan lampu berwarna RGB.
11.Outlet masuk sudio luar.
12.Dilengkapi dengan fungsi penerangan darurat otomatiam putus listrik.
13. Waktu pematian mesin frekuensi tetap.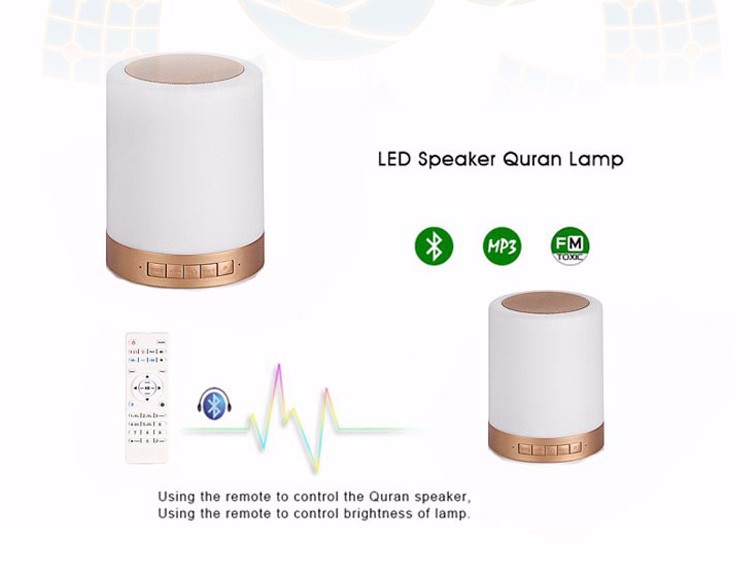 LED Speaker Quran Lamp Specification:
Lamp Specification
| | |
| --- | --- |
| Lamp Power | 1.6W |
| Lumen | 160lm |
| color | warm white |
| Color Temperature | 3000 K |
| Audio Output Power | 25 |
| Audio Distortion | < 0.5% |
| Frequency Response | 80 - 20 Hz |
Feature
1.Playing any Quran surah by pressing button on remote
2.Playing Quran audio word by word. Easy for learning Quran by this way.
3.Playing Quran translation. Select your native language for understand Quran meaning.
4.Playing MP3 audio. Support any audio MP3 files.
5.Combine and single mode available. For listening Quran audio and any translation together, please press the MODE button, for single mode, press again.
6.FM radio function
7.3 level Lighting by remote.
8. Touch the golden place can control the light.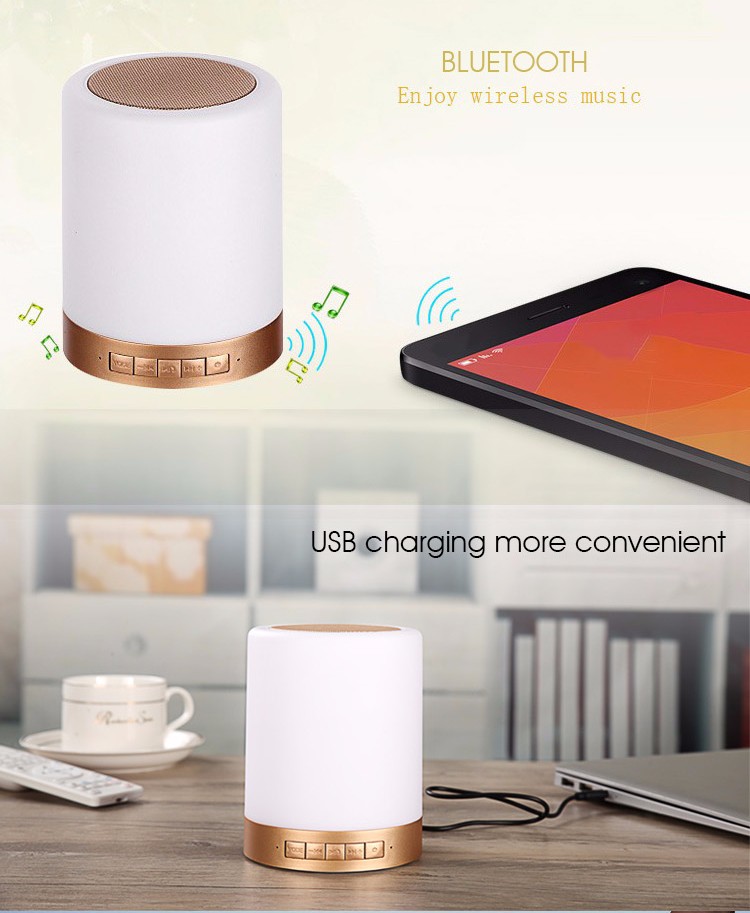 Translation and Famous reciters support
P
Famous reciters support
1)Abdulah Matroud 2)AbdulBasit
3)Abdullaah 3awwaad 4)Abdullah Basfer
5)Abdurrehman Bukhaatir 6)Abu Baker Shatery
7)Ahmad Neana 8)al Tablaway
13)Al-Husari 14)Al-Mishawi
15)Al-Sudais 16)Hani Rifai
17)Khalefa al tunaij 18)Mahir Mouiqlee
19)Mahmoud ali al banna 20)Mohammad Siddique Mishawi with children
21)Muhammad Jibreel 22)Qari Barkatullah Saleem
23)Saad Alghamdi 24)Salah Al-Budair
25)Saood ash Shuraym 26)others
Translation languages support
1)Azerbaijani 2)Bangla
17)Persian(Farsi) 18)Portuguese
Company Information
Address:
2 Floor, No.A6 Building, Bao Ying Industrial Park, LongXi Village, Longgang District, Shenzhen,China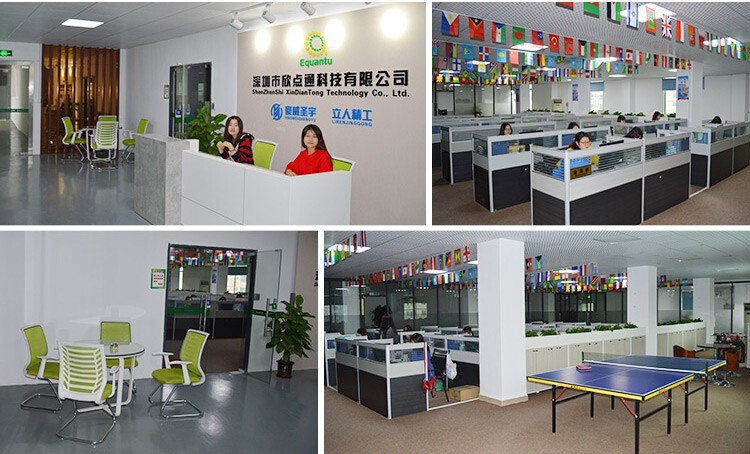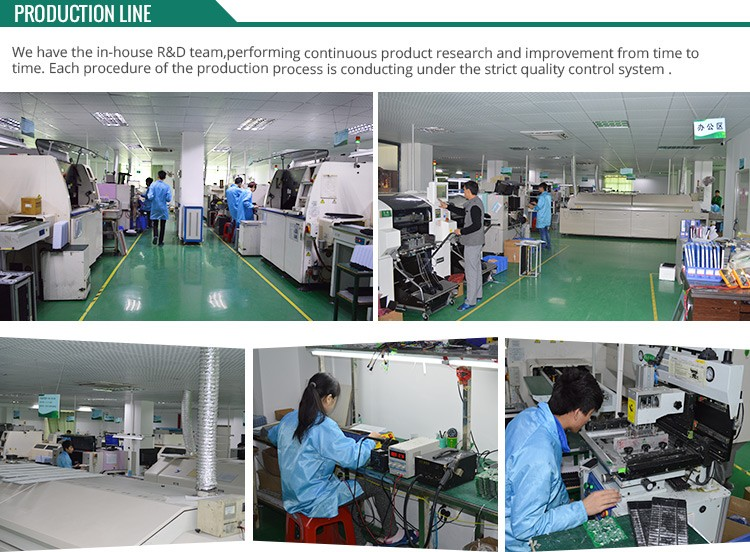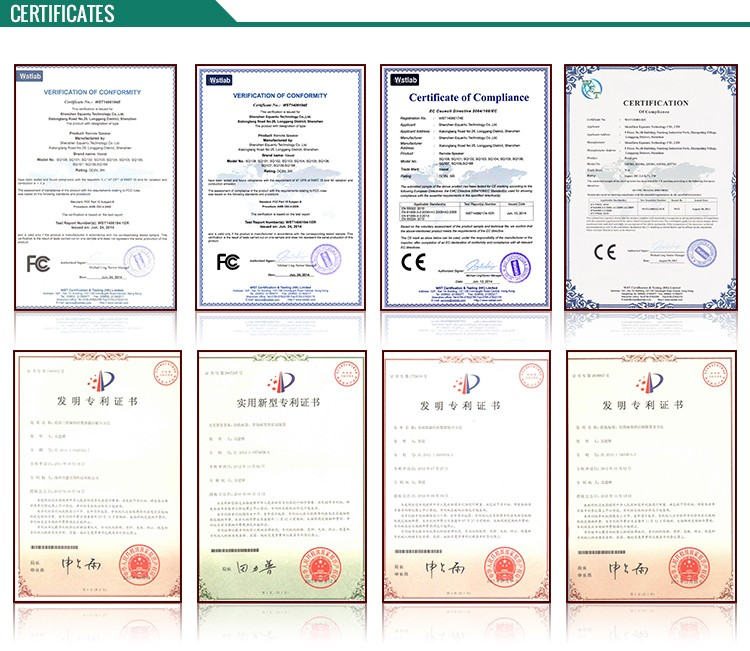 Skype ;sales101019
Whatsapp: +86-17727443016
Wechat: +86-17727443016

Telephone : +86-17727443016

QQ: 2850857971