UV3342 is a kind of UV coating adhesive(one-component). This product is dual curing by UV light and moisture.
Advantages:
It has low viscosity so easy for spraying. It has good heat resistance, good waterproof ,easy for application,operation safety etc..
Green and saving in material compare with solvent type coating.
PROPERTIES OF UNCURED MATERIAL
Item

Typical Value

Range

Test Standard

Appearance

Fluorescent blue transparent

Liquid

Chemical type

Urethane acrylate

Viscosity (mPa.s@25°C)

120-350

GB/T2794-1995

Density (g/cm3)

1.0 5

1.0 -1.1

GB/T13354-1992

Cured by exposure to UV light, light strength is of 100mW/cm2.

Tack free time (s)

3

Performance

c ured

≥1200mJ/ cm2

The moisture curing time(H 25°C 55%RH)

48

Physical Properties

Typical

Value

Range

Test Standard

Hardness (Shore A )

85

GB/T2411-1980

Work temperature( °C)

-50-15 0

Electric Properties

Typical

Value

Test Standard

Dielectric

constant (1MHz)

3.4

GB/T1693-2007

Dielectric

loss (1MHz)

0.04

GB/T1693-2007

Dielectric

strength (KV/mm)

29

Volume resistivity ( Ω.cm)

1.1×1015

GB1410-1989

Surface resistivity(Ω)

3.9×1015

GB1410-1989
Conformal coating by UV 3342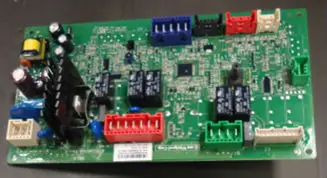 UV3342 coating image is more visible than coating by other UV adhesive under UV light.
SEAYU UV3342 (good fluorescence)
There was good wetting performance by UV3342,comparing with other UV glue

The Surface to be bonded should be clean and dry. Spread the adhesive onto the surface to be bonded.
Exposed to UV light measured @ 365nm, make sure the material to be bonded is light transmittable.
Curing rate is dependent on UV light intensity, distance form light source, and curing time. Close the lid as soon as finish the operation. Spread the glue with black container, keep away from daylight, UV light and artificial lighting.
Notice
Keep far away from children.
In case of contact with skin, rinse with soap water immediately. If contact with eyes, rinse with a plenty of clean water immediately and go to the hospital for an examination. For further information, please refer to MSDS.
Package
Carton and Barrel
Storage
Store at 8 -28°C,keep away from light and moisture.
Shelf life:12 months.
About us
Our transportation
contact details