2013 RK- ATA custom made 70" plasma road case accessories
Item is available
Pro plasma screen cases are the smart choice when it comes to transporting your plasma/LCD/LED/TV screen. The Plasma Cases are engineered to provide maximum cushion protection from shock and vibration, smooth and stable handling, convenient access, and all at an affordable price.
Dimension(WxDxH):1982*388*1126mm
Features:
-Each case is custom made for each display
-Heavy Duty WHEELS for easy of handling
-Heavy-duty, spring-loaded, recessed twist catches
-High-strength, non-separating, stucco finish fiberglass laminate
-Heavy-gauge steel, recessed spring-loaded handles w/ large rubber grips placed for easy handling
-Extra wide, full-length, heavy-duty piano-type hinge is standard issue on ATA -3/8" Cases.
-Inner & outer wall aluminum angle extrusion provides superior skeletal strength to case framework
Description:
LED Screen LCD Plasma Flight Case Designed to protect and transport single 70" Plasma, RK plasma flight case makes sure that the show will go on. Our unique universal fit design fits various models and secures your plasma in place to provide the ultimate protection during transport. And to make transportation a breeze we included a rugged caster board for easy mobility! FITS ALL PRODUCTS WITH DIMENSIONS 3 3/8 - 5 1/2" WIDE
Solid Plywood Of 70" Plasma Flight Case
Other Related Plasma Flight Case: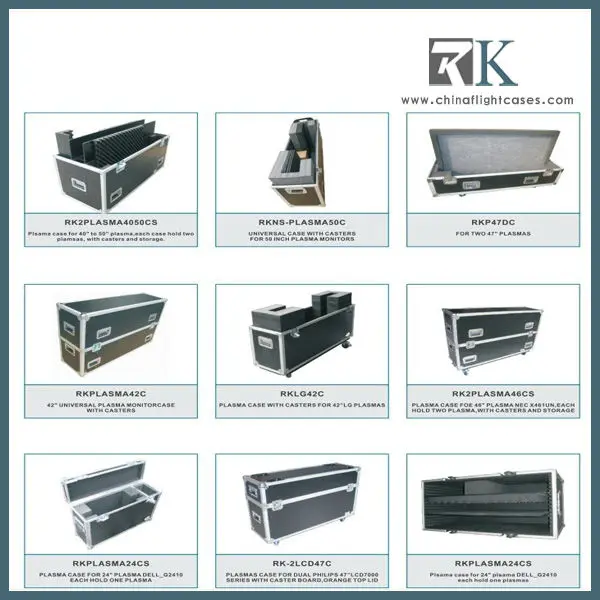 RK Flight Case Factory With Manufacturing Process: