NW1346 New Arrival Elegant Muslim Women Dress Dubai Abaya Real Sample Evening Party Gown
Muslim wedding dresses tend to honor the beliefs of Islam through simplicity and modesty. The dresses vary from country to country, but all feature several layers of clothing, as well as a head covering. The colors vary with the styles, with a bridal white preferred in some countries and different colors in others.

Significance
A Muslim wedding dress is often a dressier version of the accepted dress for women in that particular country. In many countries, such as Saudi Arabia and Iraq, women wear an abaya in daily life, as well as to their wedding. While a daily abaya is usually a plain black garment, a wedding abaya is often in a lighter color, with more details. A wedding abaya can be white, pink, blue or something different, according to regional tastes and customs. Some wedding versions have a contrasting lace color over the abaya, or embroidery on the top layer.
Features
In some regions, a wedding dress that is closer to the Western wedding dress style is allowed. These dresses are white silk or satin and feature a high neck and long sleeves. These dresses use a head wrap or headpiece that is separate from the dress to fulfill the Islamic need to cover the hair. The wedding veil is attached to the head covering, creating a Western-style sheer veil in the back.
Note
1.Ninuobasha wedding dress company is one of the best manufacturers specializing in wedding dresses and evening dresses with more than ten years experience.
2. All our dresses are made of top imported materials.
3. Each dress is designed by experienced designer.
4. When you receive your dresses, you are surely amazed by their high quality.
5. For any special requirement, please contact us by email or MSN.
6. All dresses are not including any accessories.such as jacket and veils.If you need,contact with us.
7,you can choose any express company(UPS,TNT,DHL,FEDEX,etc.) that is convenient to you.
Color Chart
Standard US Dress Size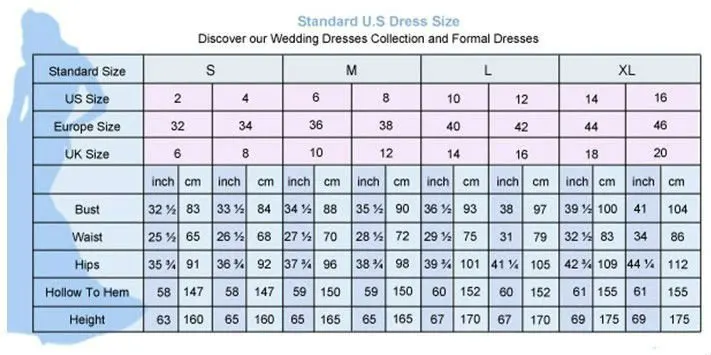 How to Measure Your Dress Size
In an effort to make the wedding dress a perfect fit for you, we strongly recommend having your measurements taken by a professional seamstress in accordance to oursizing guide.However, most people are able to take these measurements with the help of another person and a tailor's tape measure. You can also contact us if you have any questions.

Keep your body relaxed while you're measuring and stand straight. Measurements should be taken snug to the skin, but not tight. and should be taken in the undergarment you plan to wear with your dress.Remember to double check your measurements before you send them to us.Please do not take measurements by yourself!!