Taichuan Suppliers High Speed Baby Diaper Sanitary Napkin / Sanitary Pad Packing Machine
Applications:
Packaging various kinds of regular objects like biscuits, pies, chocolates, bread, instant noodles, moon-cake, drugs, daily appliances, industrial parts, paper boxes, plates, etc.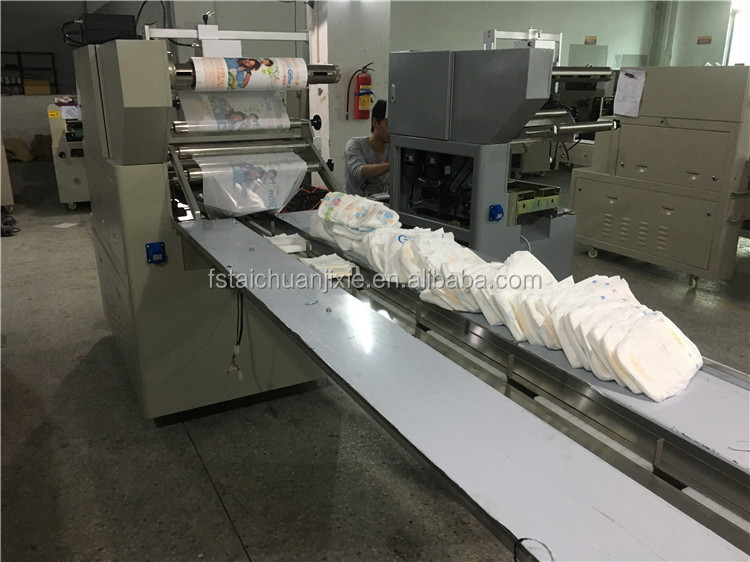 Feature:
1.Easy operation
2.Durable with compact structure
3.Save energy and manpower saving
Specification:
1.Dual frequency conversion control, bag length can be cut in one step, saving time and film.
2.interface features easy and quick setting and operation.
3.Self failure diagnosis, clear failure display.
4.High sensitivity photoelectric eye color tracing, numerical input of cutting sealing position for estra accuracy.
5.Temperature independent PID control, more suitable for packaging deifferent materials
6.Positioned stop function, without sticking knife of wasting film.
7.Simple driving system, reliable working, convenient maintenance.
8.All controls is realized through software, easy for function adjusting and technical upgrade.
Details
Film bag forming part
Packing conveyor and pusher
Designed according to the required of customer and the material ready to pack.
Bag cutting knife
Welcome to visit our factory!
Foshan Taichuan Packaging Machinery Co., Ltd have professional technical team in developing, designing and producing high efficient packing machinery in Guangdong China and also available services machinery oversease.
Our product major in VFFS, small vertical type packing machine, pillow packing machine etc. Our products are widely suitable for packing food, medicine, chemicals, fodder, toys, hardware fittings, etc.
Our office and the factory
The wooden case is customized according to the dimension of the machine for the long time shipping and transfering.
Shipping a whole set of the machine:
1. Preparing and checking the toolbox wearing part and the manual book.
2. Cleaning the dust and the scrap after testing the machine with the air pump.
3. Apply rust-proof liquid.
4. Disassemble some certain part of the machine.
5. All the disassemble part, toolbox, main machine package by film
6. There will have screw fix the machine at the bottom of the wooden case
A small spare part:
The film first than delivered by the DHL,UPS,TNT,EMS etc.
1) Which machine suitable for me? How can I chose?
All our machine is customized for a big factory or a small business.
1. To figure out the product you will pack
2. The dimension of the product or the dimension of the packing bag
Length, width and height? Weight per bag?
3. Bag type
If you are not sure, we can help you to fine a perfet bags and provide you a project for you to choose.
2) It's the machine durable or ensure long-time use?
1. We have spare part production department most of our spare part is producing by our factory and our engineers master every part will good to the running of the machine.
2. Well maintain is not to be ignored
3) How long the delivery date?
The small machine is 15-20days and the large machine will be 20-45 days.
4) How about the After-sale service?
We have professional after-sale technical team, we can make you a video to show you how to fix and installation.