QTJ4-25D automatic brick making machine
PRODUCT DISPLAY
Video link on Youtube: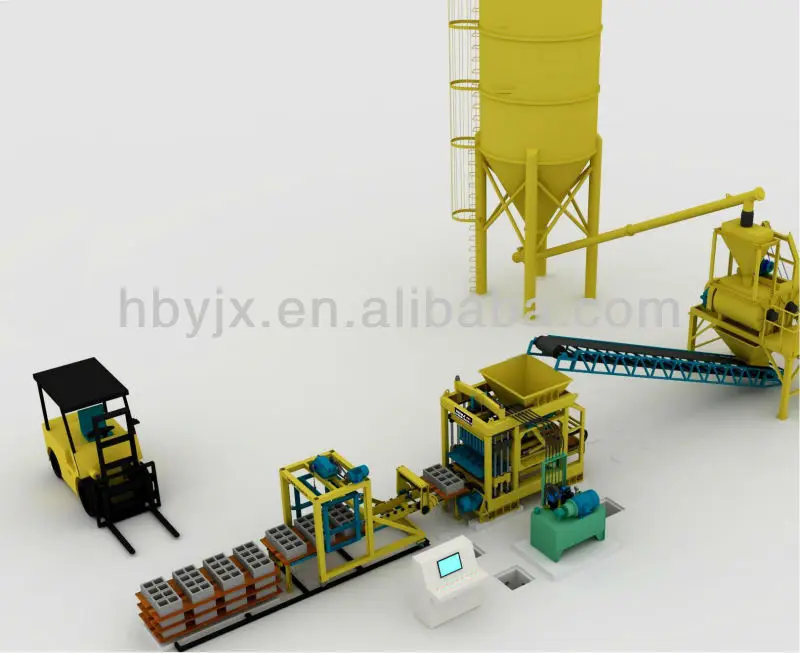 PRODUCT ADVANTAGES
1. QTJ4-25D Block Machine is a new model developed by our company.For this machine,all the advantages of medium and small sized block machines of similar types have be absorbed.It is cheap in price,easy in operating,and durable in use.
2. This machine is automatic in material feeding,martial distributing,material scraping and carriage plate placing.This machine is equipped with a power:driven decoupling device and a specialized stacker,which can stack 3—5 layers of the blocks.For this machine,there is the specialized carriage cart for block discharging,with which the automatic production with small sized block machine,under the conditions to reduce the labor intensity of workers,can be achieved,and the output of the blocks can be increased substantially.So,it is an ideal alternative of the similar machines.This machine is suitable for the small and medium sized block factories for mass production.
MAIN TECNICAL SPECIFICATIONS
Forming pieces

390*190*190 4pcs/mould hollow brick

240*115*90 12pcs/mould cellular brick

240*115*53 26pcs/mould standard brick

Total Weight

4.2T

Forming Cycle

25-30s

Size of host Machine

5000*1650*2200mm

Size of Carriage Plate

850*550*30mm

Daily production capacity for hollow bricks

4000pcs

Daily production capacity for standard bricks

28000pcs

Daily production capacity for cellular bricks

10000pcs
It includes
1 set host machine
1 set PLC control box

1 set conveyor belt of 5 meter
1 set piler, 1 set mould of free
1 set concrete mixer of HY500
PLC Control box
Belt conveyor
HY500 Mixer
Moulds
Brick Yard
1.Q:Can you make our size bricks?
A:Yes,we can design different brick mould according to your size.
2.Q:How to sure your brick making machine quality?
A:Our machine use strongth hight -strength steel structure,the total weight much bigger than others,hollow block machine mould all by heat treatment ,can use thirty million times.
3.Q:How about your hollow brick making machine price?
A:The showing price only reference price ,please sent us inquiry email,we will send you the lastest hollow bricks machine quotation and will give you a best price accroading to the order quantity.
4.Q:If you have need technical help,what should do ?
A:please just call 0086-18306506031, 24 hours service.
AFTER-SALE SERVICE
1.One year warranty for the critical component.
2.After one year, we can help you to maintain the machine and the accessories are provided only on the cost rice.
3.We can help you train the operator and mechanic.
4.We can help you to design the production line, workshop and provide turn-key project.
Doris Yang
Whatsapp/Mob: +86 18306506031
WeChat: 18306506031
Tel:0086-539-8309839
Email: blockmachine01 @ hongbaoyuan.net
Welocme to visit our factory at any time!!