Specifications :
| | |
| --- | --- |
| Item | PP Portable French Press Bottle |
| Size | 66mm*66mm*260mm |
| Material | food grade PP, food grade Silica gel |
| Weight | 270g |
| Gross Weight | 310g |
| Coffee Powder | less than 28g |
| Color | black, red |
| Volume | 350ml/12OZ |
Advantages of the PP Portable French Press Bottle :
1) The material is food grade PP , makes it lighter & price becomes much more competitive .
2) The lid does not leak .
3) Multiple & bright color optional , specializing in the market of young generation .
Product Details :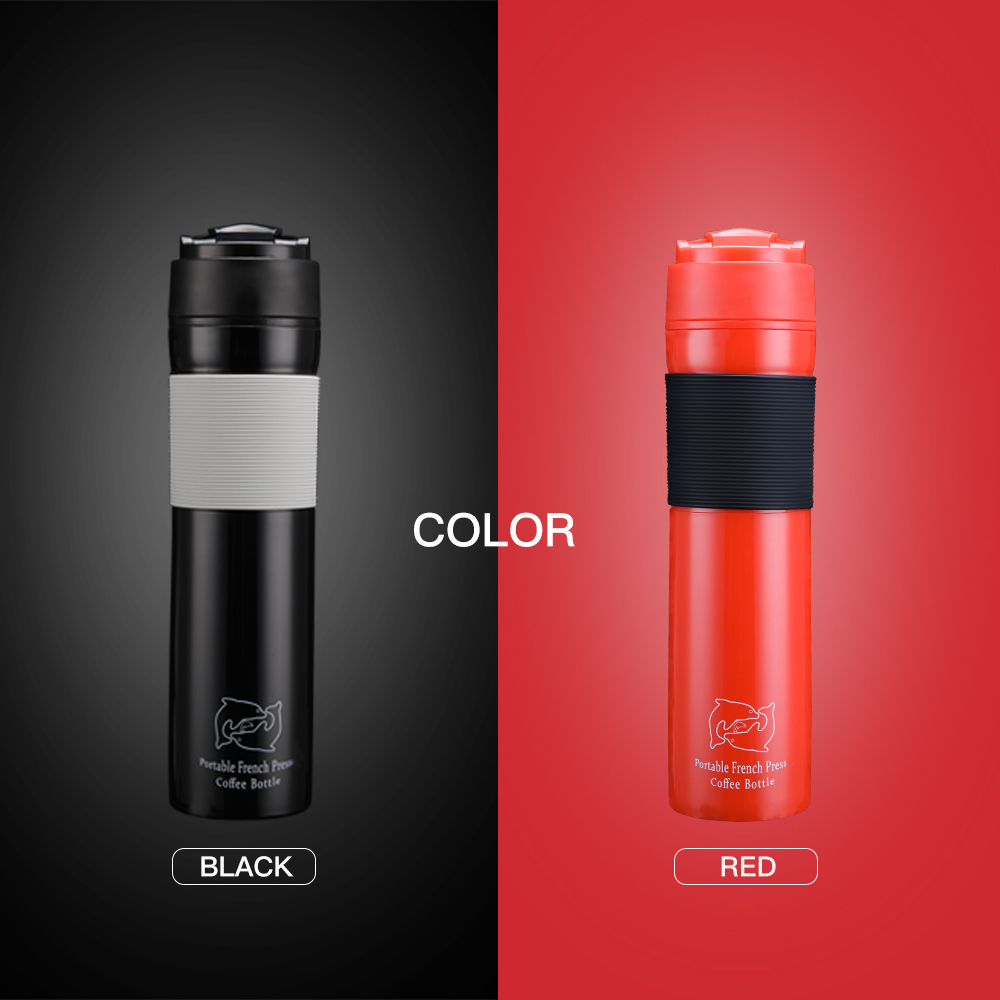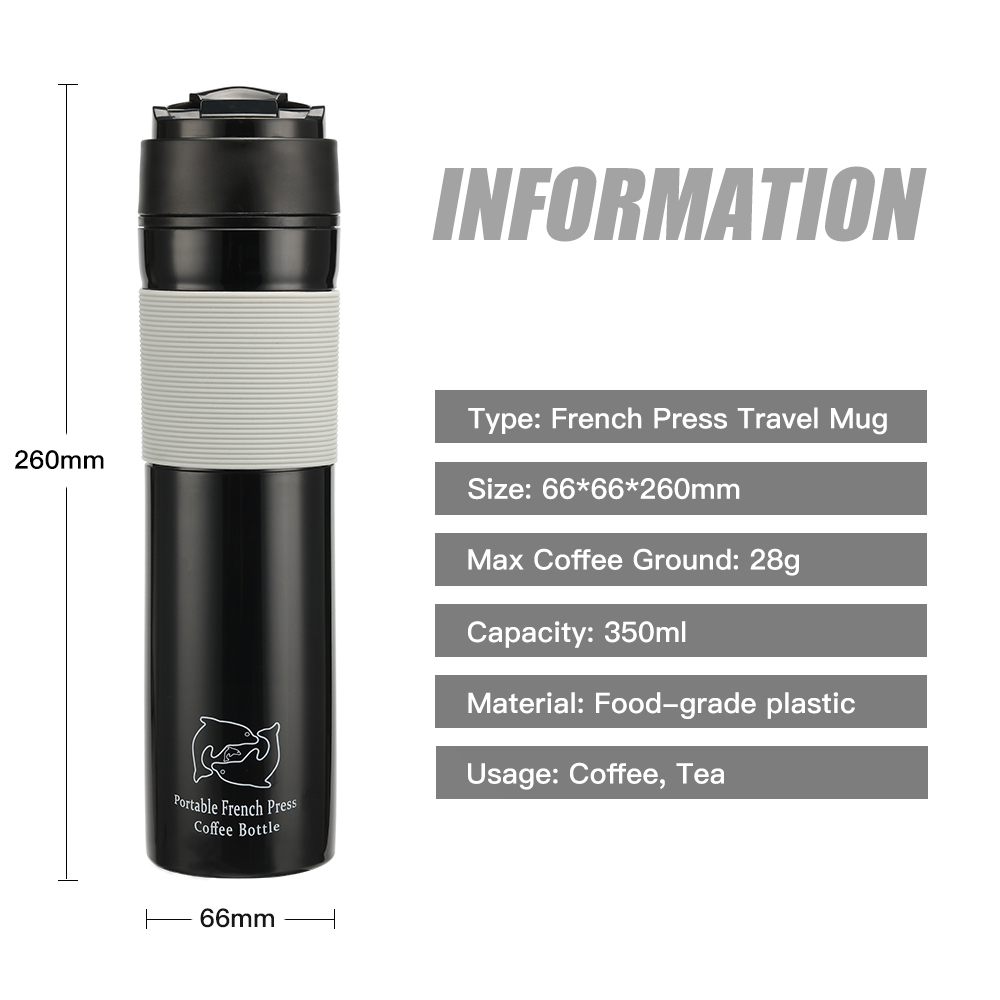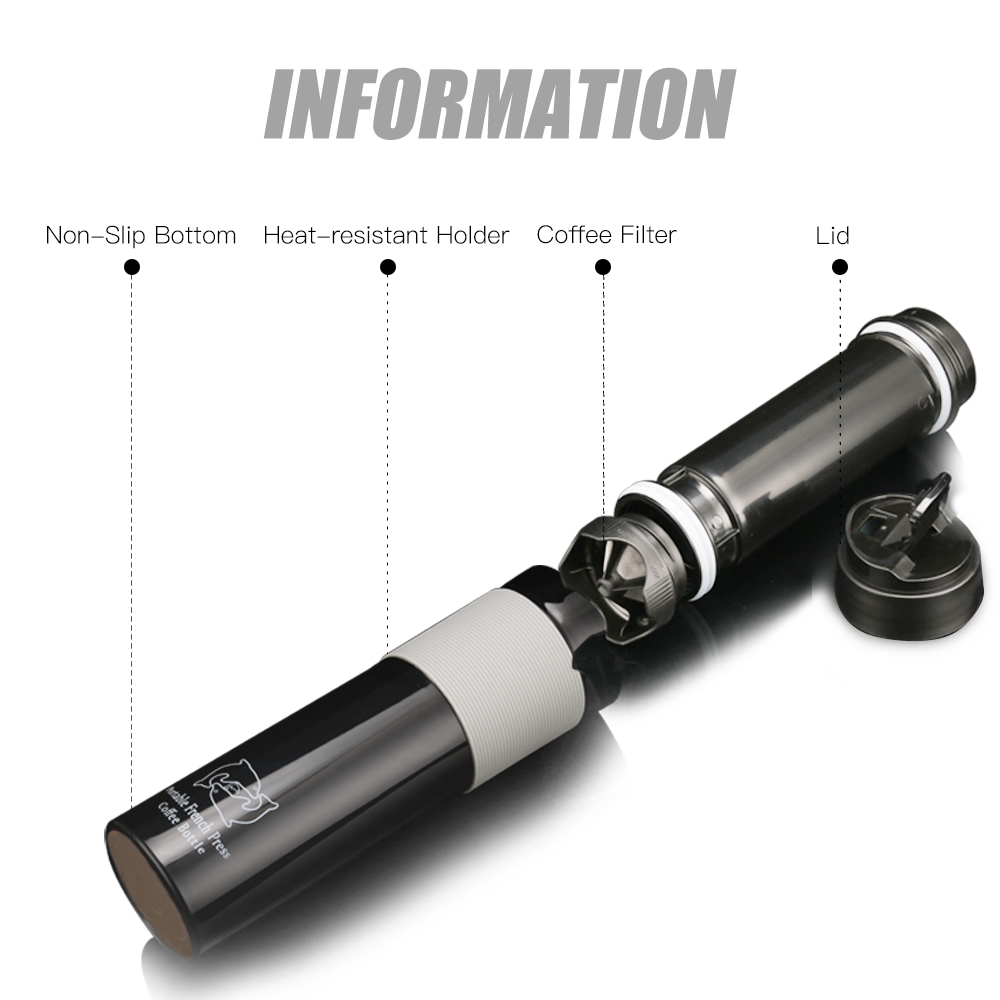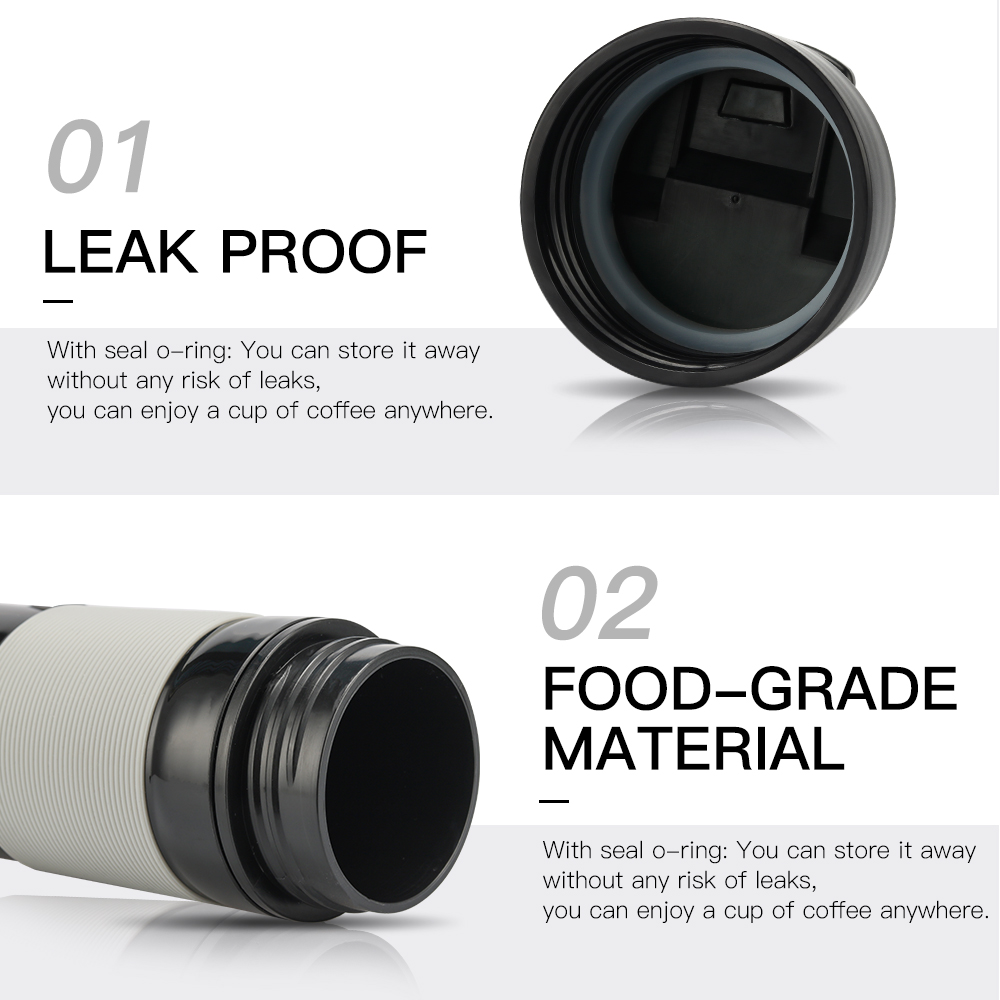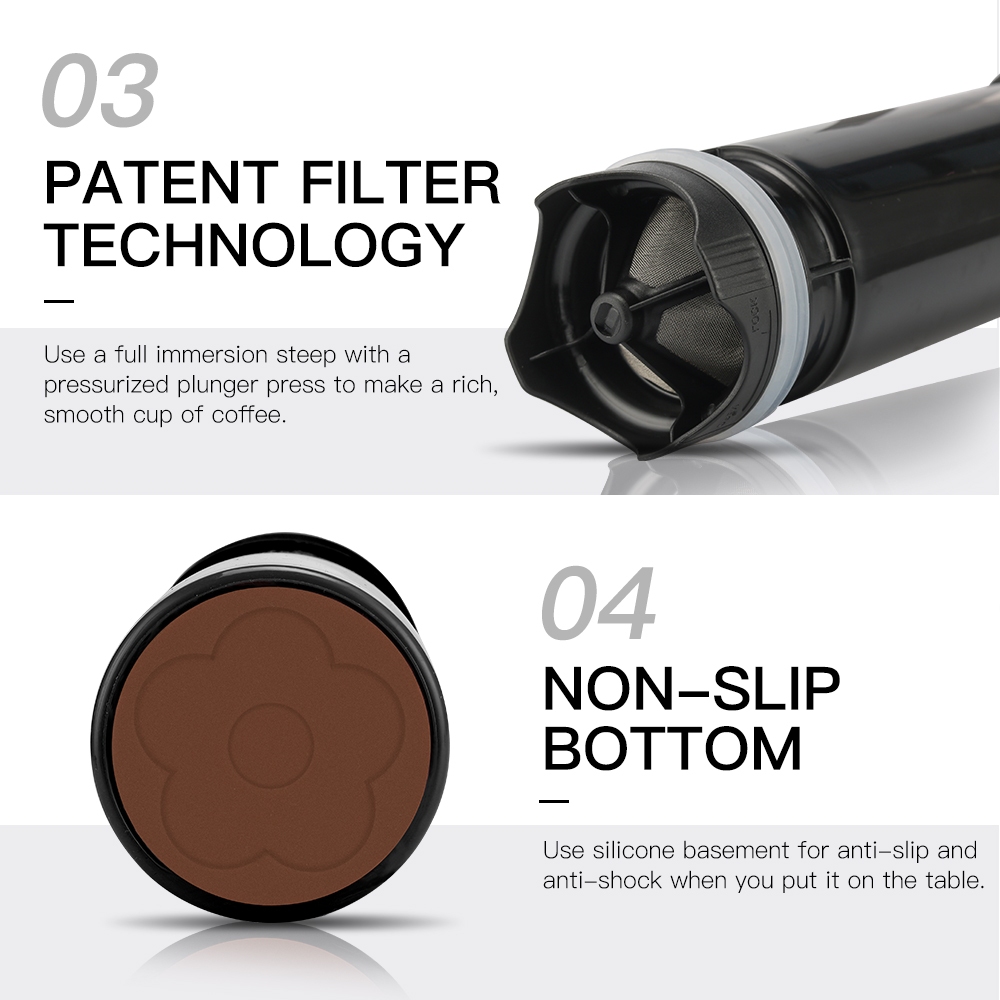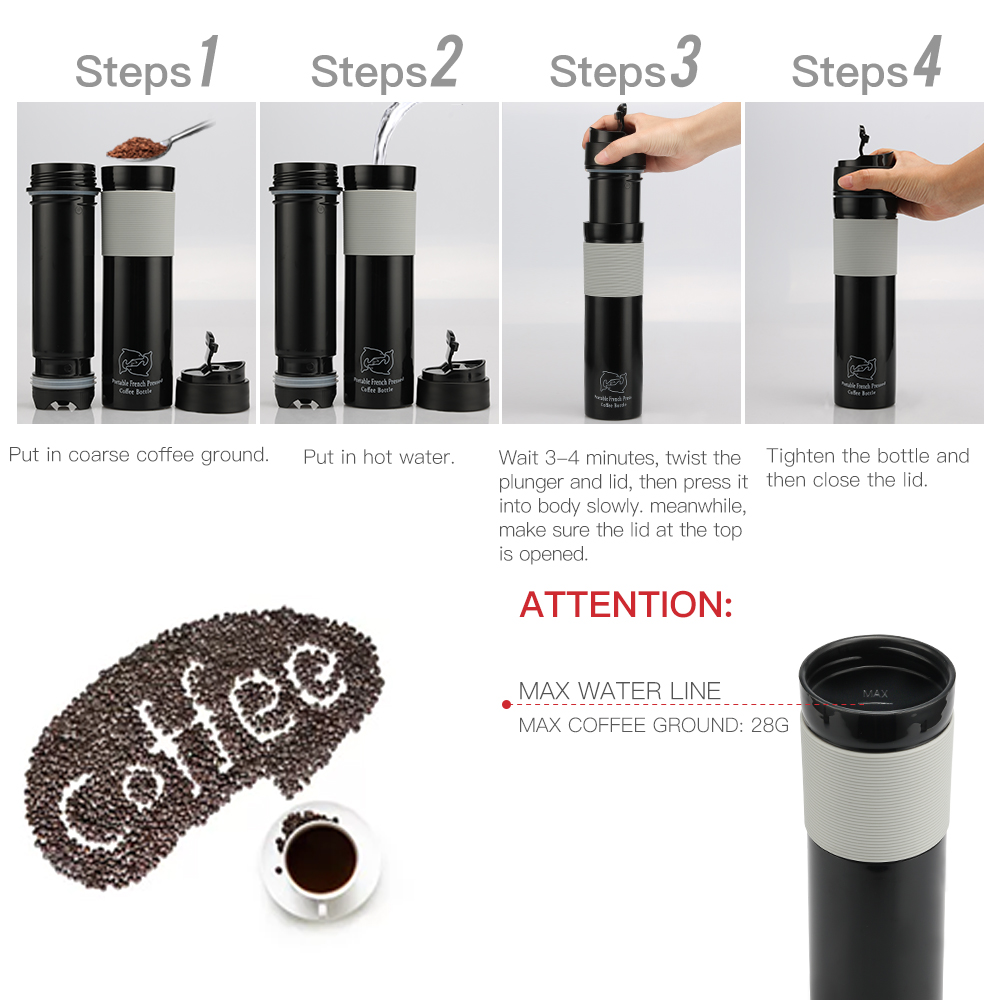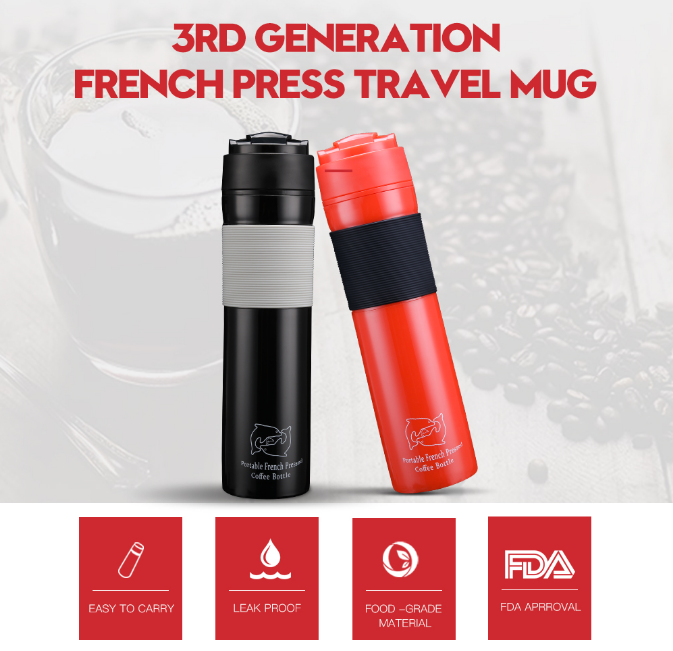 Product informations:
Portable Espresso Maker Stainless Steel With FDA SGS Approved Plastic Coffee Maker 350ml
1. A Look at the French Press – Is It Right for Your Caffeinating Needs?
For most of us, a standard drip coffee maker or a single-serve coffee brewer like Keurig is all that's needed to get the morning cup of motivation. However, it's rumored that a French press might be the better option, particularly for those who want the ultimate in control over brewing conditions and who truly savor amazing coffee. What's the truth here? Is a French press the best way to get delicious hot java or is it all just hype?
Actually, there is some truth to it all, but we'll let you judge for yourself.
To be subjective, we will provide you most of the pros and cons of a current french press
2. Pros of French press & We keep these traditions
You have complete control over water temperature, which is a good thing considering that many coffee pots aren't capable of getting water to the optimum temperature range (200 – 205 degrees F).

There are no filters to dispose of, and there's no papery aftertaste to your coffee from a filter




(some people can taste the paper residue, but others don't or are completely accustomed to it).

Coffee is more full bodied than what's possible with a conventional coffee pot due to the sediment in the cup. Sediment is also a good source of fiber (if you can bring yourself to drink it).

The simplicity of the design means that cleaning your French press isn't a huge deal.
3.Cons of a French press and We conquer them all
With the rotatable filter ,sediment has to seat well no space to them to become messy.
You can't let the coffee sit – it needs to be consumed immediately. There is no warmer on a French press, and even if there were, the coffee grounds at the bottom of the beaker would make the coffee too bitter to really enjoy.
Automatically filter system isolating the sediment and finished coffee ,you can enjoy the coffee anytime.
With the thermos carafe conquer this disadvantage of the tradition beaker of the current French press.
Portable Espresso Maker Stainless Steel With FDA SGS Approved Plastic Coffee Maker 350ml
All of our staff have thorough knowledge of coffee filterand rich experience in marking,we will alway provide the most professional opinoin and best service for you!
Your satisfaction is our final goal,please feel free to contact us anytime if you have any questions,we will try our best to help you and looking forward our pleasant cooperation soon,thanks!