Manual DIY Rectangle Fridge Magnet Maker Machine
We not only produce fridge magnet making machine ,
we also produce various size blank rectangle fridge magnet materials.
If you want to make fridge magnet by yourself,you can buy magnet maker machine,fridge magnet materials from us;(About machine we have manual /
pneumatic/
full-automatic machine you can choose
).
If you want make
customized
fridge magnet
, please send us your picture,our factory will make for you.
We can give you a discount if your order is large enough.
Good quantity, good price.
We still have more,
if you are interested, please email me and I will send you the details, including the
w
holesale
price, pictures,video and complete

catalog.
About fridge magnet maker ,our factory produce hot size:
80*53MM,90*65MM,63.5*63.5MM,120*50MM,127*41.5MM,115*40MM,170*50MM,50*50MM,80*80MM,ect.
1.This is a complete set for making 90*65mm magnet.

Include the items as below:
One Magnet making machine size 90*65mm

One Paper cutter size 90*65mm

1000pcs Magnet components (Metal Shells,Magnet ,Cardboard & mylar ) to make 1000 fridge magnets
2.Other Magnet maker systemRectangle Magnet Button Maker Machine,cutterand magnet supplies.


| | | |
| --- | --- | --- |
| Magnet Component Size | Net Weight | Prices |
| 80*53mm | 23.1g/pc | US$150/1000pcs |
| 63.5*63.5mm | 22.0g/pc | US$150/1000pcs |
| 90*65mm | 32.4g/pc | US$156/1000pcs |
| 115*40mm | 27.0g/pc | US$156/1000pcs |
| 120*50mm | 35.5g/pc | US$168/1000pcs |
| 127*41.5mm | 30.0g/pc | US$160/1000pcs |
| 170*50mm | 50g/pc | US$170/1000pcs |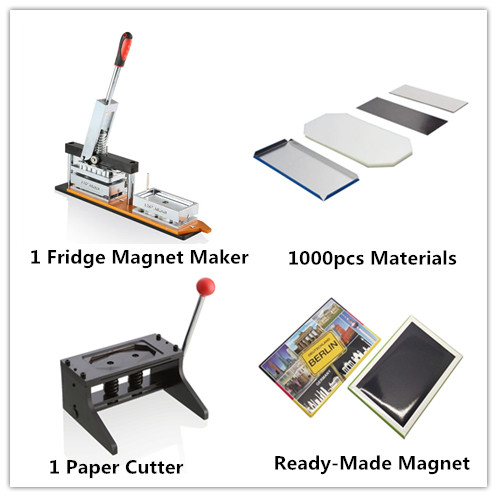 The fridge magnets are popular ornaments in the world. They are young people's favorite. With this fridge magnet making machine, you can transfer your personal pictures into the popular rectangle tin fridge magnet, making personalized fridge magnet which is an amazingly unique and fashionable ornament and gift.
By using our fridge magnet making machine,you can make several kinds of your own artwork.It can produces different size of fridge magnet Our hot sizes 53*80mm,63.5*63.5mm,65*90mm,115*40mm,120*50mm,127*41.5mm,170*50mm,etc.
You can print pictures, photos, portraits you like and put the pictures on the surface of fridge magnet adding coating then press it with the fridge magnet making machine. The finished products are personal, beautiful and modern.
Application
Advertising promotion souvenirs
Personalized gifts for family or friends
Christmas gifts
Tourist souvenirs
Symbolizes for schools, organizations, communities, and enterprises etc.
How to use
Step 1. Prepare pictures
(1) Print out the pictures on normal paper. Usually recomend use 120 to 157grm color picture paper.
(2) Cut the picture to proper size by paper cutter, the size of picture should be the same as transparent film.
Step 2 .Set handle on the magnet maker .
Step 3. Make rectangle fridge magnet
(1) Put the metal shell into the A mold .
(2) Put the picture on the metal shell at A mold.
(3) Then put the transparent film on the picture, press the handle down of the Magnet making Machine .
(4)Rotate the B Mold.
(5) Stick the Cardboard to magnet.Then put Magnet with cardboard into the B mould.
(6) Rotate th B mold to the cover mould, press down the handle of Magnet button making machine.
Feature
· Secure and durable
· Simple to install and operation easy to learn
· Solid die-casting aluminium frame work
· Steel handle and reliable mould base
· Extensive application
· Metal slide plate, more accurate, fast slide track operation
Specification
· Operation way Manual
· Material Cast iron and injection
· Speed 200-300 pcs per hour
· Gross weight 60kg
· Color gold and black
· Package Individual white box
· Packing 40*16*29cm
| | |
| --- | --- |
| Selling Units: | Single item |
| Single package size: | 40X16X29 cm |
| Single gross weight: | 60KG |
| Package Type: | Three Carton For One Set |
OUR PRODUCTS SALE IN LOUVRE PARIS IN ITALY STORE AND SO ON