Hot Sale EL-1166 Fast and Easy Fill Tires Machine 12v Car Air Compressor Dragon Portable Air Pump
| | |
| --- | --- |
| Port: | ningbo/shanghai |
| Supply Ability: | 1000000 Piece/Pieces per Day Portable Air pump |
| Payment Terms: | L/C,D/A,D/P,T/T,Western Union,MoneyGram,Portable Air pump |
| Packaging Details: | Portable Air pump : color box and carton |
| Delivery Details: | 5 days |
View All
Pingyang Songen Crafts Factory
China (Mainland) | Trading Company
Response Time

<24h
Response Rate

93.1%
8 Transactions

3,000+
Supplier's local time is 02:53
Buyer Protection
Trade Assurance protects your orders

Multiple safe payment options
Worry-free shipping & quality
Build your credibility
Product Name:
Hot Sale EL-1166 Fast and Easy Fill Tires Machine 12v Car Air Compressor Dragon Portable Air Pump
| | |
| --- | --- |
| Port: | ningbo/shanghai |
| Supply Ability: | 1000000 Piece/Pieces per Day Portable Air pump |
| Payment Terms: | L/C,D/A,D/P,T/T,Western Union,MoneyGram,Portable Air pump |
| | |
| --- | --- |
| Packaging Details: | Portable Air pump : color box and carton |
| Delivery Details: | 5 days |
Hot Sale Fast and Easy Fill Tires Machine 12v Air Pump Dragon Portable Air Compressor
Inflates tyres in minutes- it's your handy roadside saviour!
Plugs into your 12-volt car outlet so no need to charge batteries
14-foot power cable reaches all your tyres easily
Programmable Digital PSI display with 'auto-cut' off so you never over-inflate
Perfect for all those 'holiday' and outdoor inflatables
LED light takes the guesswork out of late night emergencies
High pressure hose, and additional balloon and ball adapter pins included
Mechanical Pointer Panal Type:
LED Display Screen Digital Type:
Manual Instructions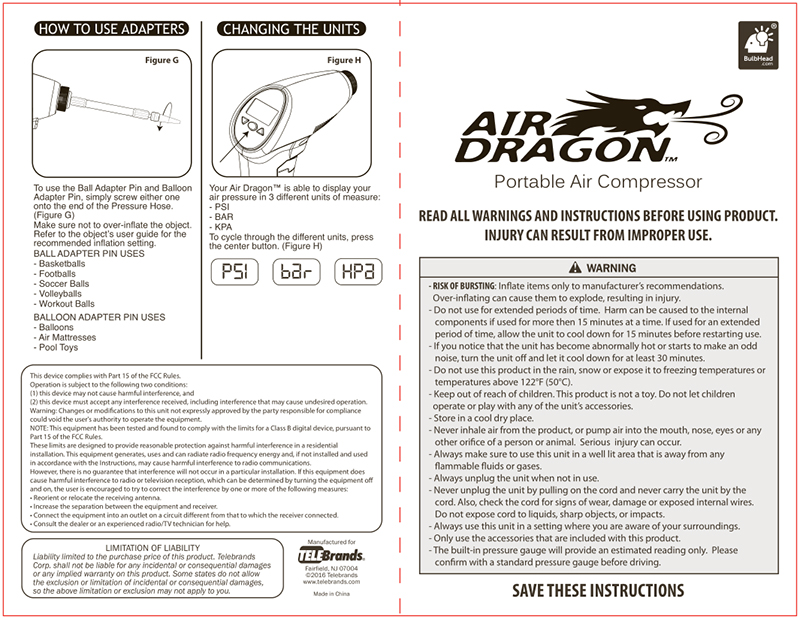 Product Description
The portable, powerful air compressor that's powered by your car!
It is your own personal, portable pressure pump! This super-handy, hand-held air compressor is powered from the 12v outlet in your car so it's always ready to go!
There are few things more frustrating than a flat tyre when you're in a rush and need to get to work, school or an important appointment. You don't want to turn up covered in wheel dust and grime from forecourt air pumps. And THAT's assuming there's a garage nearby with a working air compressor AND you have the right change in your pocket!
Low tyre pressure is not only an inconvenience, it's also dangerous!
Before any long-distance trip, especially fully-loaded with family and luggage, it's VITAL to check your tyre pressure while your tyres are still COLD- but how do you inflate BEFORE you've even moved your car?
Just plug Air Pump into the 12V outlet socket in your car, set the PSI you need and connect to any tyre, thanks to the extra-long 14ft cable that reaches even the biggest wheels. Then pull the trigger and stand back.*
Air Pump takes the fear and guesswork out of inflating your tyres because you can set the correct pressure and the 'auto cut-off' does the rest!
And, because there are no batteries to charge you'll never be left stranded, as long as your car has power, so does your Air Pump.
Inflating at night? There's even a LIGHT!
So forget fumbling with dirty valve caps and threaded hose connectors in the dark.
But that's not all! Air Pump comes with additional adaptors for all your inflatables!
Those long trips often involve all manner of inflatable fun at the beach or in the park. Everything from paddling pools, footballs, beach balls, paddle boards, swimming aids and of course, bicycle tyres for family bike rides in the country. Not to mention inflatable mattresses and even dinghies!
Having a party? Blow up all the balloons you'll ever need, quickly and easily, without blowing a gasket! There's even a balloon adaptor too!
Once you've got the handy powerful Air Pump in your car or caravan you'll never feel 'let-down' or worry about inflation again! It's your personal, powerful, pump for all your pressure problems!
*power hose is for standard Schrader type valves only
Dimensions:17.5cm x 7.8cm x 25cm
Set includes:1 x Air Dragon, 1 x High pressure hose (with Schrader valve connector), 1 x Balloon Adapter Pin, 1 x Bonus Ball Adapter Pin, 1 x Car Power Cable 14' Long, 1 x Instruction Leaflet
Weights:Gross Weight 1kg / Net Weight 0.92kg