DPT611-C INFRARED TEMPERATURE SENSOR
Description of DPT611-C low temperature infrared temperature sensor
DPT611-C is integrated infrared temperature transducer with standard Two-wire connection. Transducer, optical system and circuit portion are integrated in the same stainless steel housing; DPT611-C of temperature transducers are with standard thread on the metal casing and can quickly connect with the mounting portion; at the same time, there are various types of options in DPT611 (e.g. purge, adjustable mounting bracket, purge protective sleeve) to meet the needs of all kinds of working conditions.
Specification of DPT611-C low temperature infrared temperature sensor
DPT611- C Infrared Temperature Sensor

Model: DPT611-C

Category: Infrared Temperature Sensor

Range: -20 ~350c, 0-800c, 0-500c, 200-1000c

Sensor: Infrared laser, 8-14um wavelength

Signal output: RJK type,0-5vdc, 0-10vdc, 4-20mA

Application: Nor-contact solidity, melt temperature measure

Characteristic: Infrared temperature sensor, Non-contact temperature sensor

Ref pic

Technical parameters:

Capability range:

-20 ~350c, 0-800c, 0-500c, 200-1000c

Measurement wavelength

8-14um

Distance coefficient

8-12:1 /16:1/ 30:1 (Optional microwave special type)

System accuracy

±1% or ±1.5centigrade (Take the maximum)

(Ambient temperature:23±5centigrade )

Repeat accuracy

±0.5% or ±1centigrade (Take the maximum)

(Ambient temperature:23±5centigrade )

Temperature resolution

0.1centigrade

Response time

200ms (95%)

Environmental Class

IP65 (NEMA-4)

Ambient temperature

0-60centigrade

Storage Temperature

-20-80centigrade

Relative humidity

10-95%, No condensation

Weight

120g

Analog output

4-20Ma (Can be customer-made 0-5V)

Maximum loop impedance

750Ω (24VDC)

Power supply:

12-24VDC (100mA)
Installation of DPT611-C infrared temperature sensor
DPT611-C metal housing with M18 X 1 screw can be used to directly install, and can also be installed by using the mounting bracket, and adjustable mounting bracket enables the adjustment of the measuring head is more convenient. Adjusting the measured object and the measuring head must ensure that the optical path is unobstructed.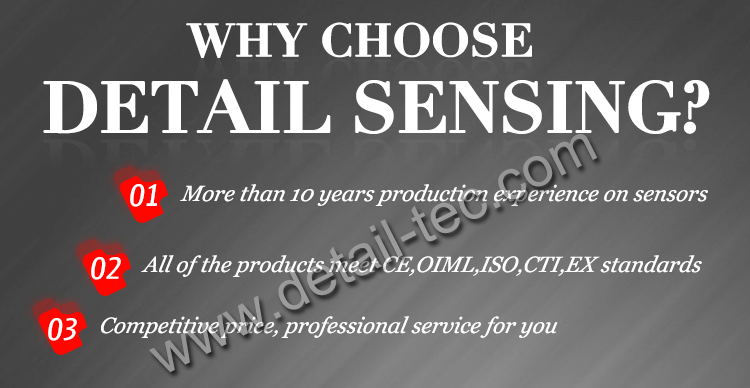 1. Customized Product
Detail Sensing provides OEM Pressure Sensors and Custom-Design services.
With know-how technique and mass production capability, we are able to provide the specified sensing solution according to customer's application.
2. Quality Guarantee
We guarantee product quality for 12 months starting from the date of delivery. For any unproper situation, please feel free to let us know.
3. Shipment & packing
Pressure sensors are generally shipped by International Express including UPS, FedEx, DHL and TNT as you required. By plane or by ship is available, too. Please discuss details with our sales.
All products will be well packed in hard paper box properly and security. Packing list will be enclosed inside the box. Please take care of this when you unpack the package.
4. Contact us
We have an active and experienced sales team to serve you on technical questions and business issues.
Just leave us message or click the Online Service for questions and enquiries.
Within 24 working hours, we will come to you at the first time!
How to place an order
In order to recommend you the most suitable sensor , please show us following necessary info according to your practical situation.
1.What is your medium ? Water, fuel, or other.
2.Working temperature ? -40°C~100°C or other
3.Pressure range ? 0~10m H2O or other
4.Output signal? 4-20mA, 0-5V or other
5.Electronic connection ? antiseptic Cable or by order