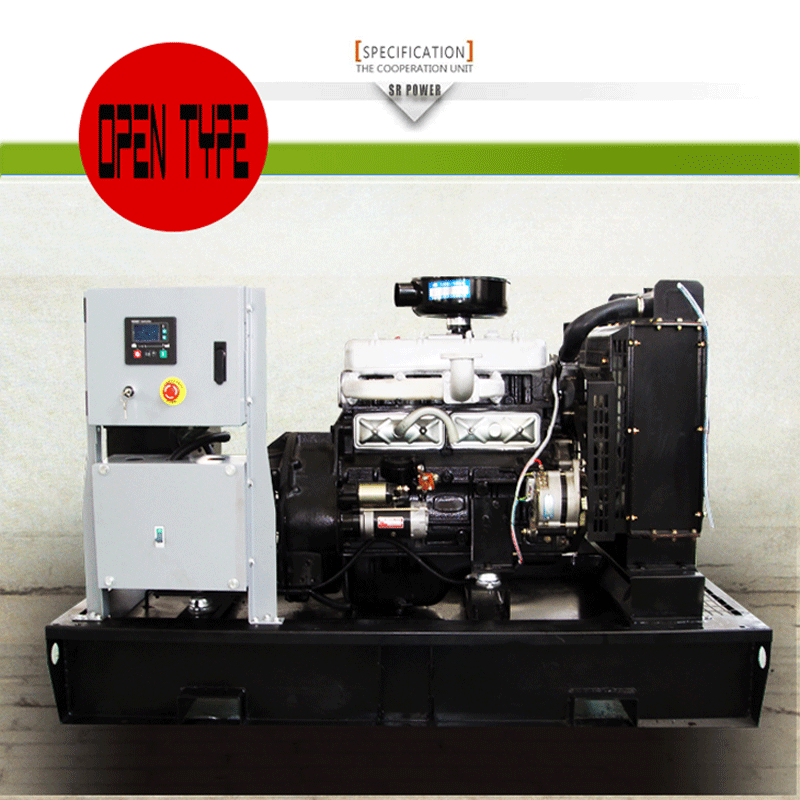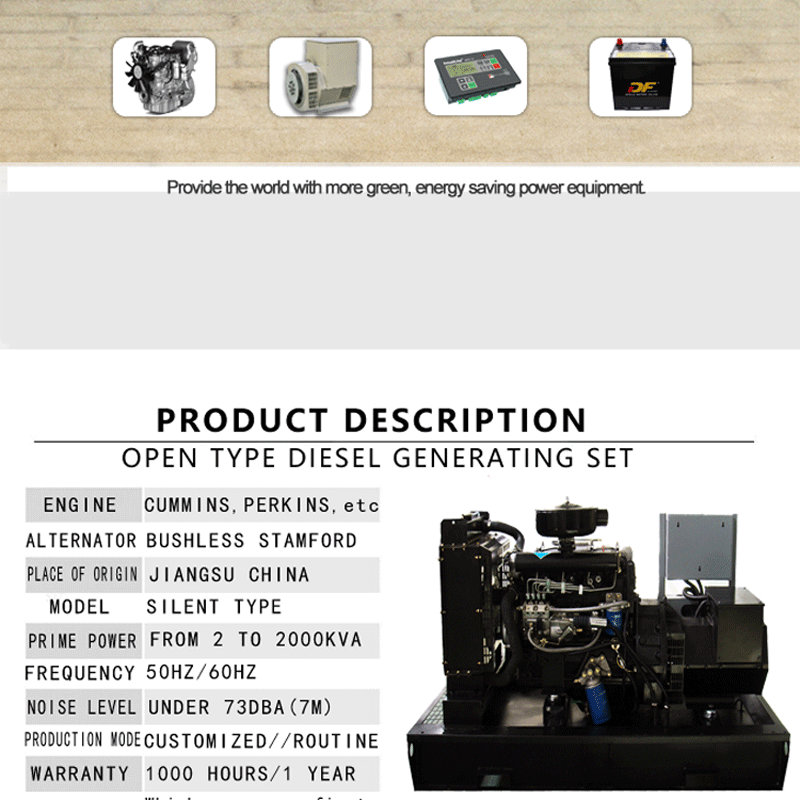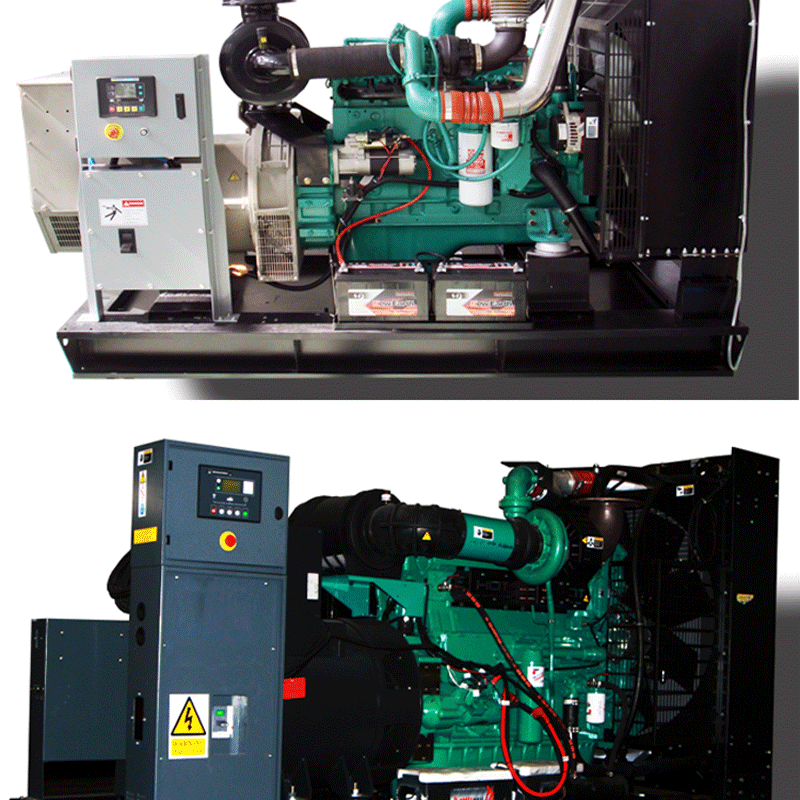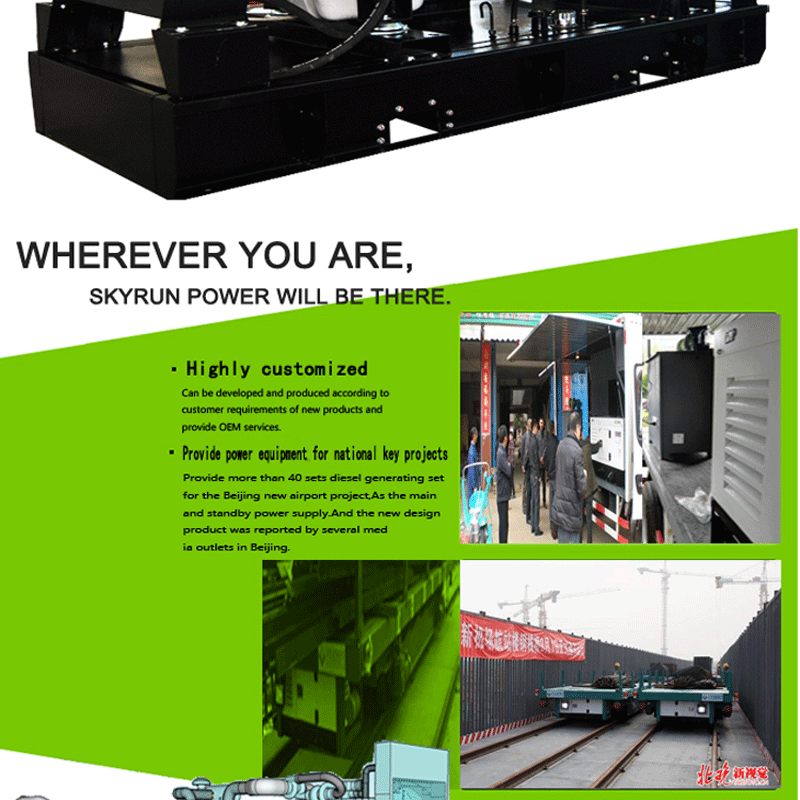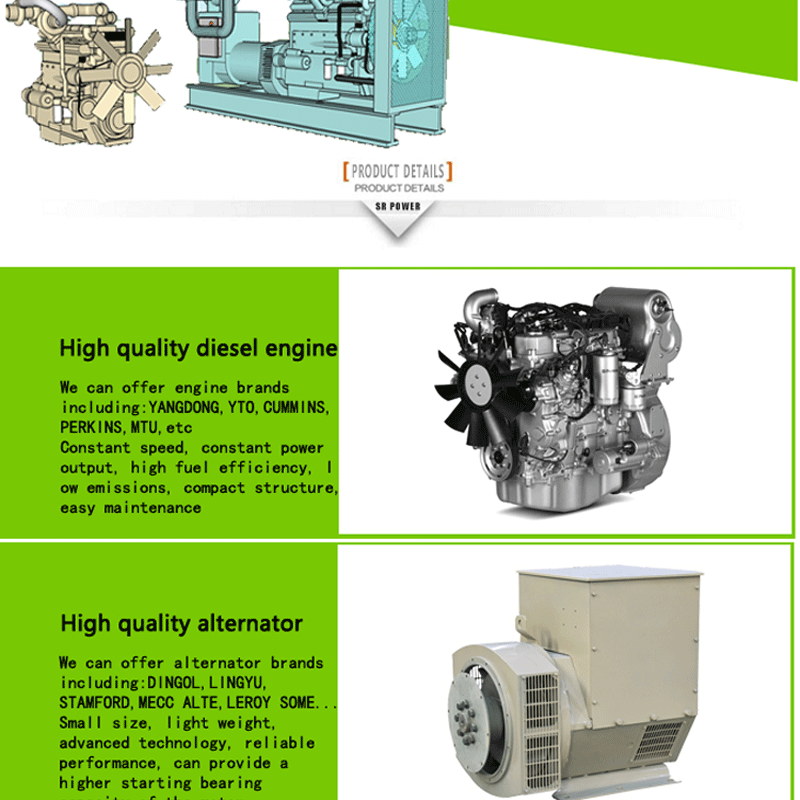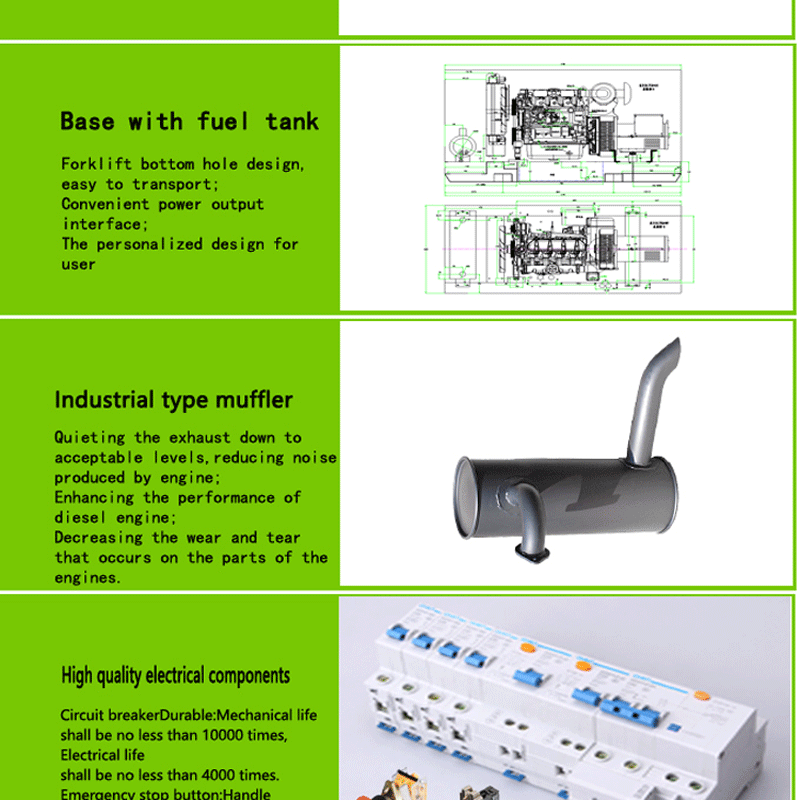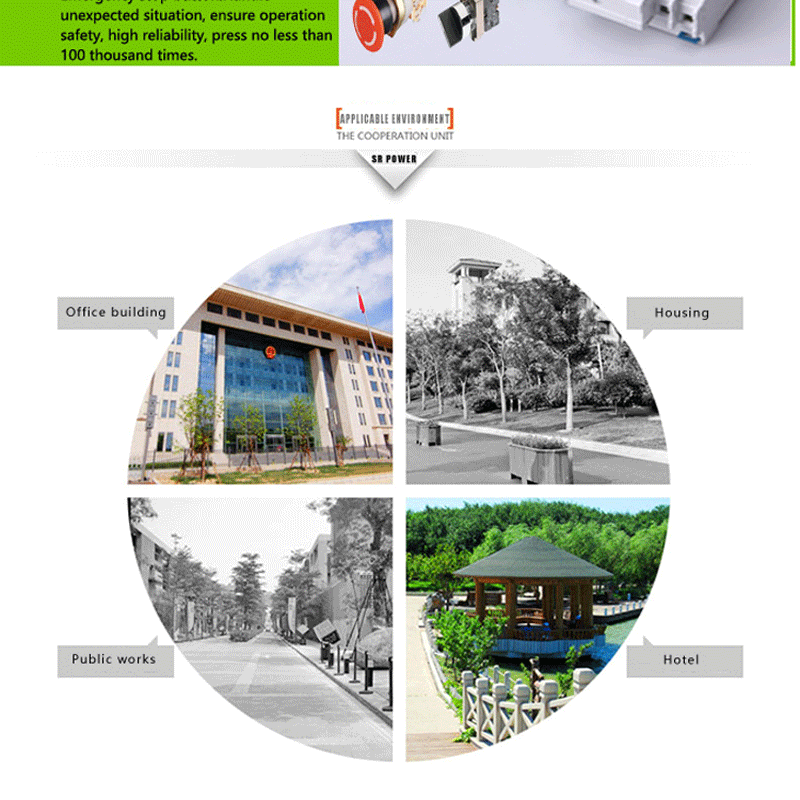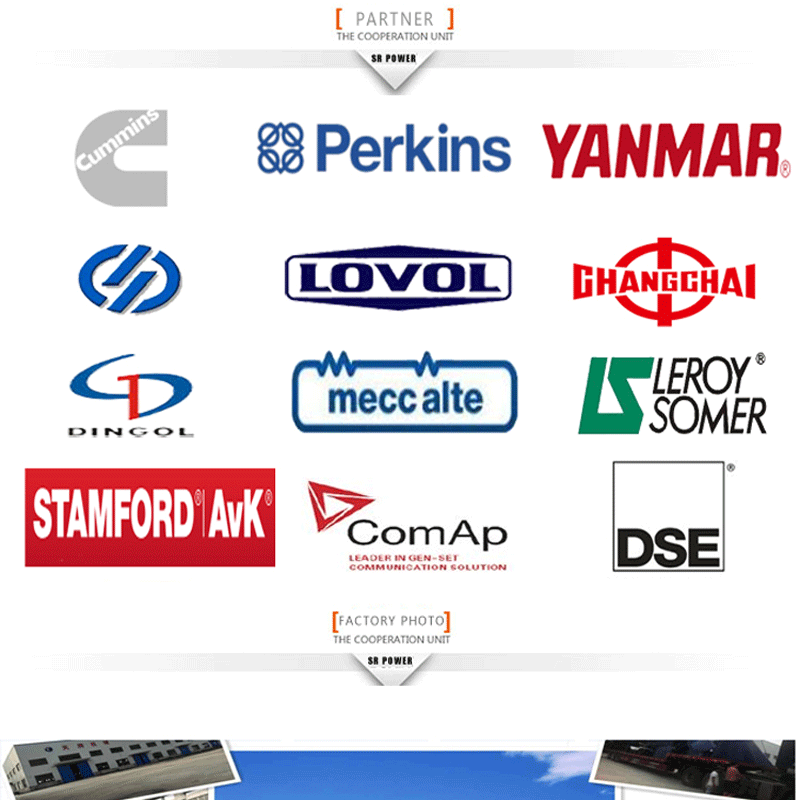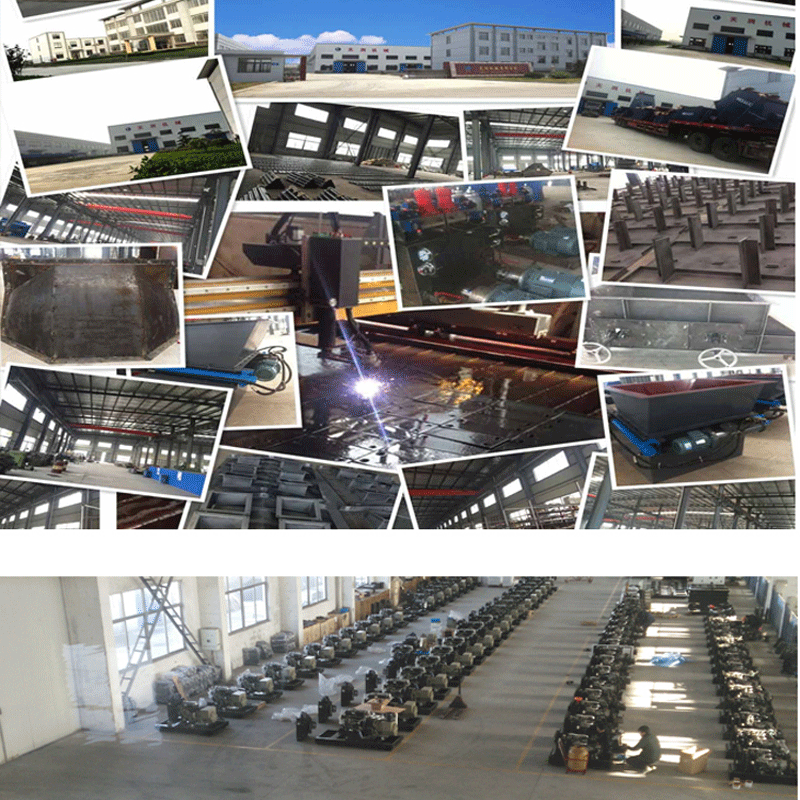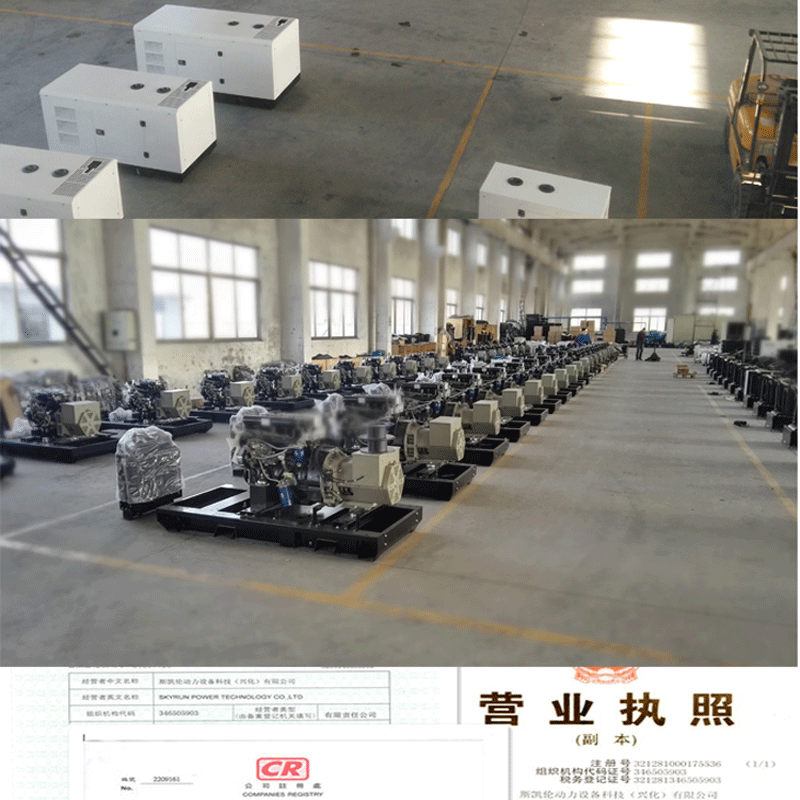 750KVA Open Type Generator Diesel Generating Set powered by Perkins engine
Diesel Generator Model
SDG750P
1
Prime Power
KVA
750
2
KW
600
3
Standby Power
KVA
825
4
KW
660
5
Power Factor
0.8
6
Frequency
Hz
60
7
Rate Voltage
V
440/254
8
Rate Current
A
984.15
9
Controller
Il-NT MRS 10
10
Control Voltage
V
DC24V
11
Battery Capacity
AH
120×2
12
Coolant Capacity
L
105
13
Fuel Tank Capacity
L
NA
14
Fuel Consumption
L/Hour
163.3
15
Running Time
Hour
16
Sound @7 meter
Db
17
Open Type Product size
L×W×H
4000×1800×2300
18
Open Type Weight net
kg
4075
19
Canopy type product size
L×W×H
ISO 20ft
20
Canopy Type Weight net
kg
NA
Diesel Generator Engine
21
Model
4006-23TAG2A
22
Prime power
KW
632
23
Structure
6 Cylinders,inline
24
Fuel type
Diesel
25
Fuel consumption
L/Hour
163.3
26
Lubricant consumption
L/Hour
0.4899264
27
Governor
Electrical
28
Coolling
Water
29
Lubricant capacity
L
80
30
Air intake flow
m³/min
64
31
Exhaust gas flow
m³/min
180
32
Exhaust gas temperature
ºC
430
33
Exhaust gas back pressure
Kpa
5
34
Compression ratio
13.6
35
Aspiration
Turbocharged intercooled
36
Bore
mm
160
37
Stroke
mm
190
38
Displacement
L
22.9
39
SAE
0/18
40
Dimension
L×W×H
3027×1706×1964
41
Net weight
Kg
2663
Diesel Generator alternator
42
Model (stamford)
HCI5444F
Prime power
Kw
775
43
Model (Dingol)
544E
Prime power
750
44
Structure
1 Bearing
45
Excitation mode
Self-excitation
46
Insulation class
H
47
Protection class
IP23
48
TIF
m³/s
<50
49
THF
<2%
50
Air flow
0.071
51
AVR Model
AS440
Perkins engine
Perkins with a history stretching back more than 80 years, Perkins is one of the world's leading providers of diesel and gas engines. We aim to set standards of engineering excellence, providing the most comprehensive range of innovative and reliable power solutions, tailored to meet the precise requirements of our customers.
We're proud of our reputation as a socially responsible company, enhancing the lives not just of our employees but of the communities in which we work.
The Perkins mission statement sets out our business philosophy: 'We create value for our customers and distributors by providing competitive and dependable industrial power solutions.'
We have always focused exclusively on the design and manufacture of engines. Now, our range is aimed at the agricultural, construction, industrial, power generation and material handling sectors in the 4-2000 kW (5-2800 hp) range.The Perkins industrial engine product range extends from the compact 400 Series engine, producing 50 kW (67 hp), to the 1200 Series, producing up to 240 kW (320 hp) and offering enhanced productivity and low cost of ownership.Beyond that, the Perkins electric power and gas engine range includes further models up to the 4000 Series, which produce up to 2500 kVA (2000 kWe).Across the ranges, there are Perkins engines designed to meet all emission standards and performance requirements in more than 800 applications. All of them can be tailored to meet the specific requirements of individual equipment manufacturers.Precisely tailored technology means applications you can depend on.
At Perkins, our customers are at the heart of everything we do.
We design engines that you need, and we listen carefully to your voice to understand your specific requirements.
Then, in our unique technology integration workshops (TIWs), we work alongside you to establish how best to integrate the engine into your specific machine. This saves you time and money, and provides a robust, reliable and precisely optimised package.
This close customer relationship reflects our key business values of integrity, commitment, excellence, teamwork and sustainability - the highest international standards in everything we do for you.
Quality products delivered by quality people.
Perkins and its global network of 100 trained distributors work with Original Equipment Manufacturers (OEMs) to deliver the right engine and aftermarket service solutions.
These local distributors offer access to detailed local knowledge about operating conditions, emission standards and other issues. They provide the services of highly trained application engineers, either from Perkins or from their own team.
Either way, customers enjoy the benefits of dealing with highly skilled professionals, armed with the latest information, and committed to the same Perkins values.
Since December 1997, Perkins has been part of Caterpillar, creating the world's largest diesel engine manufacturer - and putting the seal on our role as a global company at the forefront of engineering technology.
Stamford Alternator
Cummins Generator Technologies is part of Cummins Inc,. a global power leader and Fortune 500 corporation that designs, manufactures and distributes engines and related technologies, including fuel systems, controls, air handling, filtration, emission solutions and electrical power generation systems. Cummins, having it's headquarters in Columbus, Indiana (USA), employs approximately 48,000 people worldwide and serves customers in approximately 190 countries and territories through a network of more than 600 company-owned and independent distributor locations and approximately 6,800 dealer locations. Cummins earned $1.48 billion on sales of $17.3 billion in 2013. For further information on Cummins Inc,.
Cummins Generator Technologies (formerly Newage AvK) has nearly one hundred years of experience in building electrical machines on its main manufacturing site in STAMFORD, United Kingdom. Prior to the merge with AvK, Newage (the name created from the full title, Northern Electric Wireless and General Engineering Company) was founded in Manchester, UK in 1935 to manufacture alternator sets and air compressors. Through manufacturing and international expansion of distribution in the 1960s and 1970's and acquisition and corporate restructuring in the 1980s and 1990s Newage was acknowledged as the world leader in alternators in the range 8 kVA to 2000 kVA.
AvK
AvK was founded in Frankfurt/Main, Germany by Mr. Arthur van Kaick to manufacture electrical machines. AvK grew quickly during the 1920s and 1930s through the application of innovative solutions to power generation problems of the time. With the development of special electrical windings AvK were the first company to solve the problem of power generation and transmission across the regions of Germany using different mains voltages. In 1938, AvK developed and launched the world`s first self regulating alternator.

From homes to hospitals and beyond, our power generation products inspire confidence and keep the lights on.We provides efficient, fully-integrated power generation systems built for reliability in uncertain circumstances. We're here to keep you up and running, no matter what.
Our product lines are designed with state-of-the-art technologies and provide standby power, distributed power generation and auxiliary power for a wide range of needs. . Products include diesel and alternative-fueled electrical generator sets from 2.5 to 3,500 kW, alternators from 0.6 kVA to 30,000 kVA, transfer switches from 40 amps to 3,000 amps, paralleling switchgear and generator set controls.
DP series unit selects the Perkins engine.DP series unit high reliability, low applied cost has won the military, traffic engineering system, industrial and mining enterprises and other industry preference.DC series power section of the product has excellent transient corresponding sacrifice, advanced economy, power performance and reliability, long service life etc.
About Skyrun Power
Skyrun (SRP) is a company focus on develop, design, manufacture diesel generator sets and APU for truck.
Our team engaged in sales and service, technology and support, purchasing and logistics, quality and production, and we have been in this industry for more than 10 years. The assembly line is both for generator and APU. We strictly enforce ISO9001: 2008 quality management system. We always believe in that only strict quality control, stick to input of research and development, continuously improve product design and process, get customers approval, success in the industry.
The company will seize the opportunity of China's rapid growth in the use of auxiliary power equipment market, constant innovation, provide the world with more green, energy saving power equipment. To become the world's leading power equipment and service providers.
We mainly produces and sells diesel generator set, for land use diesel generator set from 10-2500 kVA, and kinds of imported land use diesel generator set, movable, soundproof, , remote monitoring and etc. We have a lot of loyal crafts and technologies and testing procedures. Our company is proud of good reputation, high credit, precise technology and advanced equipments.
We focus on continuous development based on our credit, go up steps by our reputation, create a strong enterprise by seeking pragmatic spirit, lay stress on quality by seeking greater perfection according to the rule of market development and policy of enterprise developmental orientation...We provide certification, testing report, connection testing data, ex-factory qualified certificate, marine inspection certificate after inspection. We established good reputation by convincing quality and services in the global diesel gen-sets industries, and our products have been exported to more than 80 countries on five continents, and have got a lot of praise from our customers.
We surviving on quality, developing on innovation; Client-focused, technology-based. Striving for continuous development and never satisfied professional spirit inspires SKYRUN people to push enterprise to a new stage co-operatively.