HY-4300 Structural Silicone Sealant is a high modulus one-component, shelf-stable, neutral cure, elastomeric adhesive specifically for formulated for silicone structural grazing, exhibiting the following features:
1. One component, neutral room temperature curing, high strength;
2. Superior properties of high and low temperature resistant, anti-aging, weatherproof, waterproof, ozone resistant and anti-ultraviolet;
3. Superior adhesion and excellent compatibility for most building materials.
4. Non-corrosive to metal, coating glass, concrete and marble etc.;
5. Form superior silicone elastomer after cured, keep excellent adhesion between the temperature of -50℃ +150℃;
6. Have good compatibility with neutral series silicone sealant.
Color

Black or Clear

Application Temperature

Apply between 4℃ (40℉) and 40℃ (110℉

Appearance

Lump-free paste

Odor

Alcohol

Base

Alcohol Silicone

Tack-Free Time

40 to 50 minutes

Specific Gravity

1.37

Cure Time

24 hours

*Cure time is dependent on temperature, humidity and amount of product used

Shelf Life

Hardness,

Shore A

43

Tensile module MPa (23℃)

1.13
Foshan Kingdeli Viscose CO.,LTD was established at 2001in Guangdong province China. We are a professional sealant & adhesive manufacturer. Hong Ying, as main brand of our company, is a Chinese well-known brand. At the beginning, we just produced silicone sealant and cartridge of silicone sealant. Today, we are a leading manufacturer of sealant, adhesive and HDPE cartridges, with a factory cover 66,000 square meter and 100,000 toneannual production capacity.
As a Industrial and Trading Company, we have the following advantage:
1. Affordable price: As a manufacturer, we give you factory price.
2. Stable quality: Benefit from the modern production scale and advanced management methods, we provide standard quality to our customer.
3. Responsive service: We reply your inquiry within 24 hours.
4. Short Lead Time: OEM - 20~25 days / Our brand - 7 - 10 days.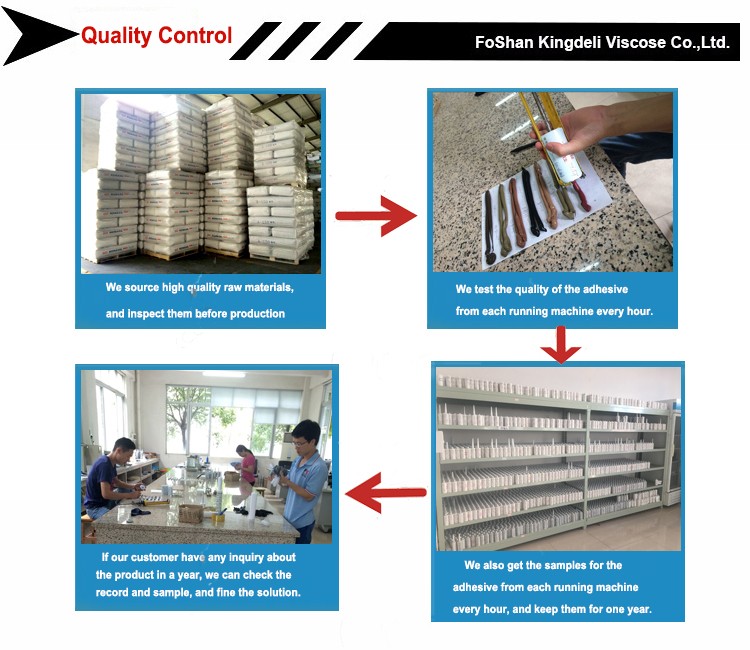 There are five staffs in our quality control department. They responsible for the quality from the raw materials to a year after sales.