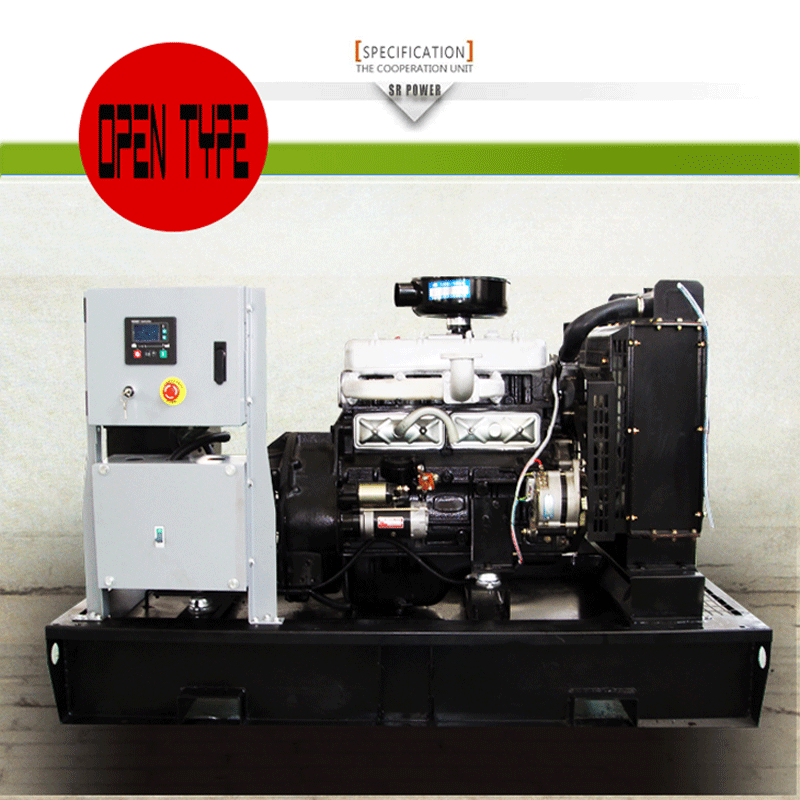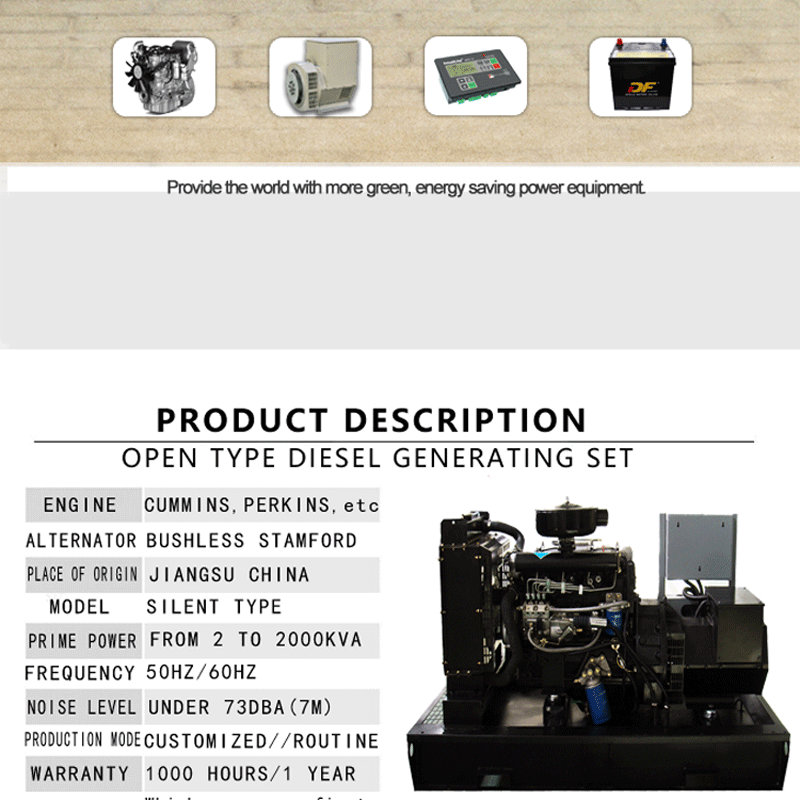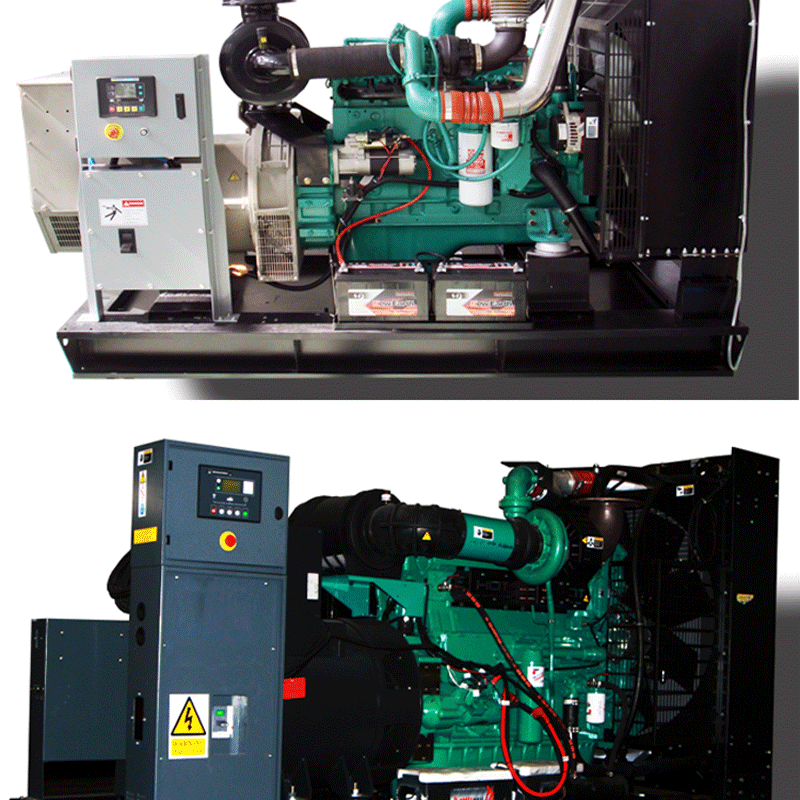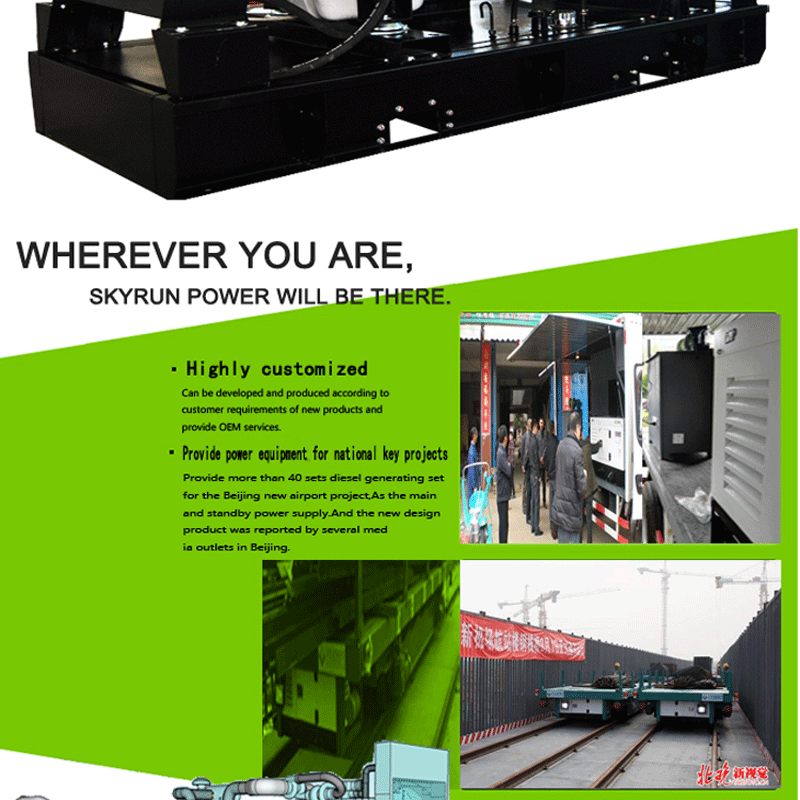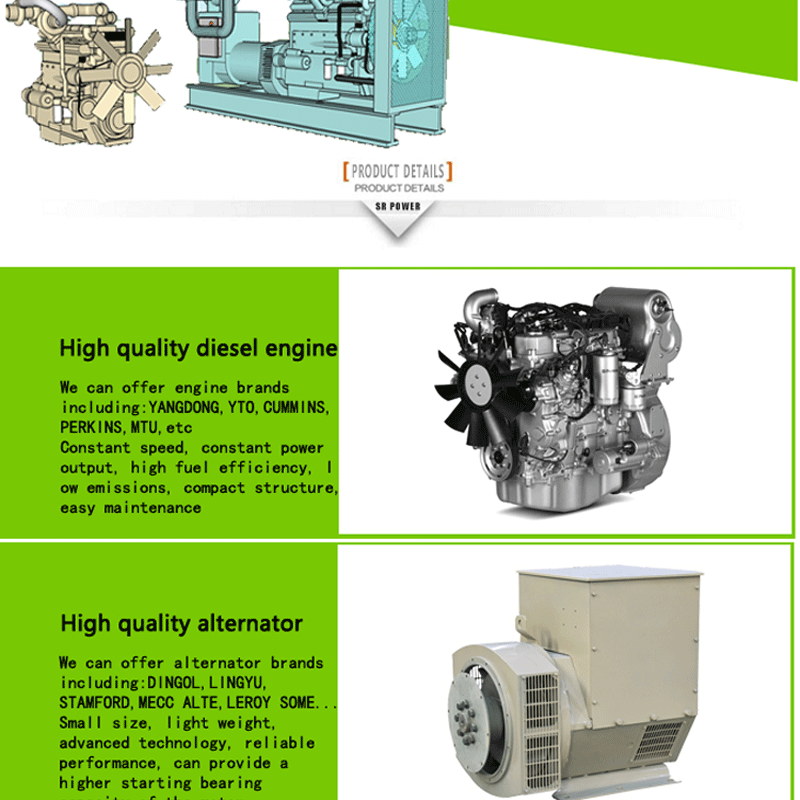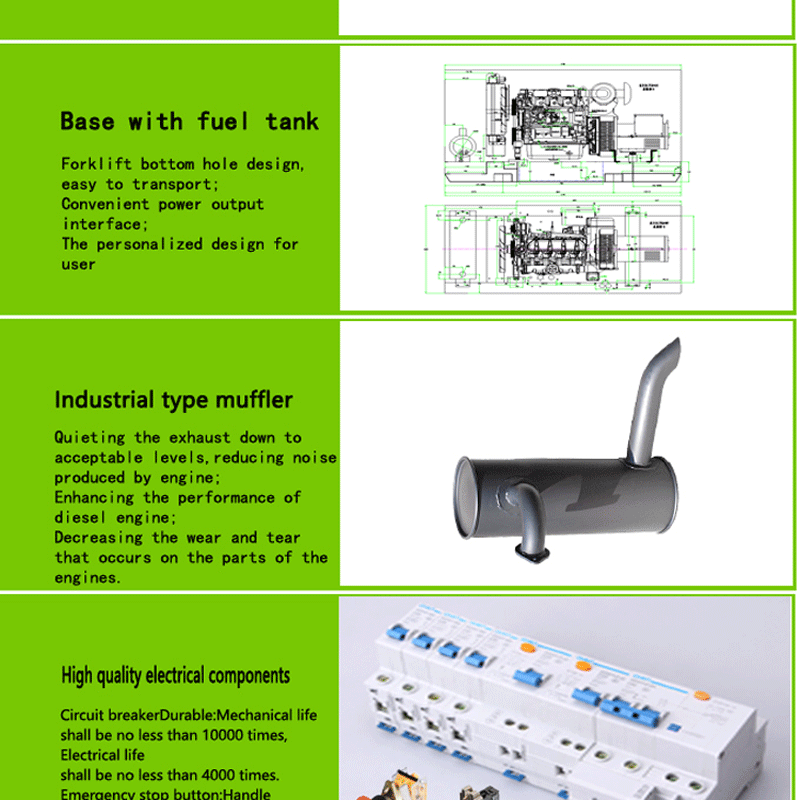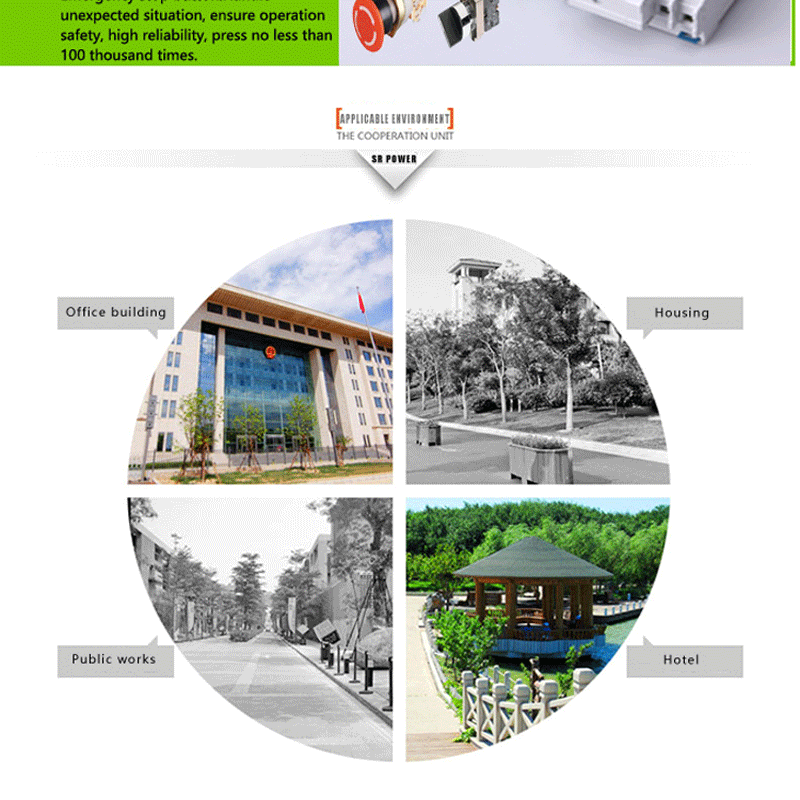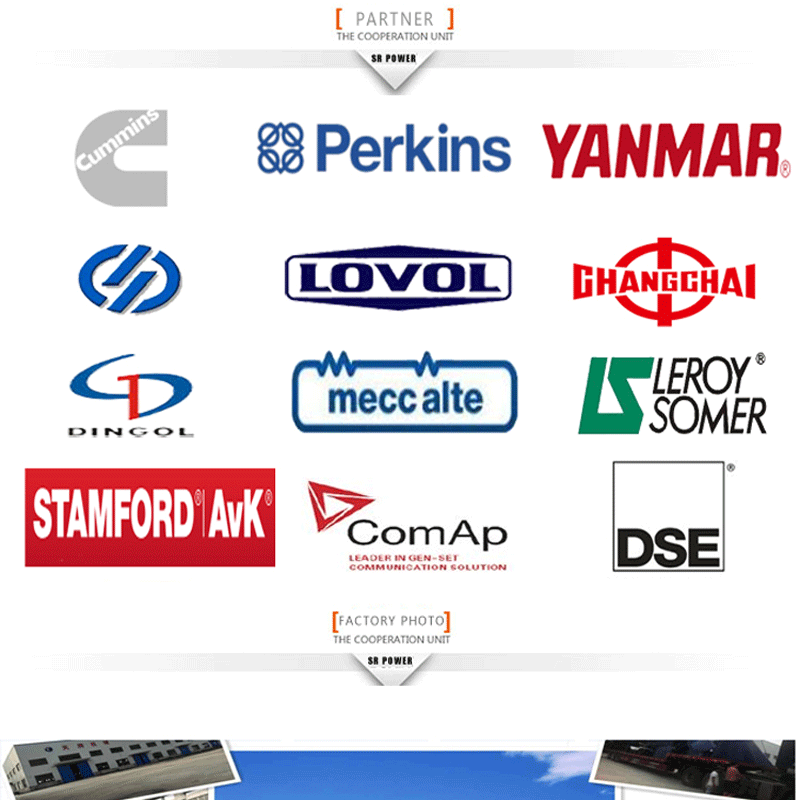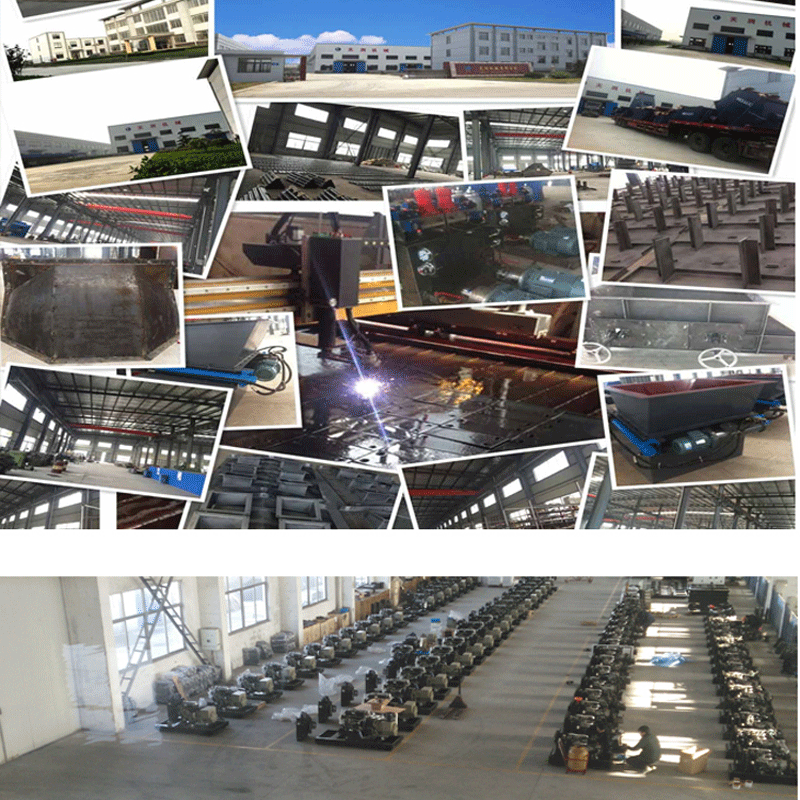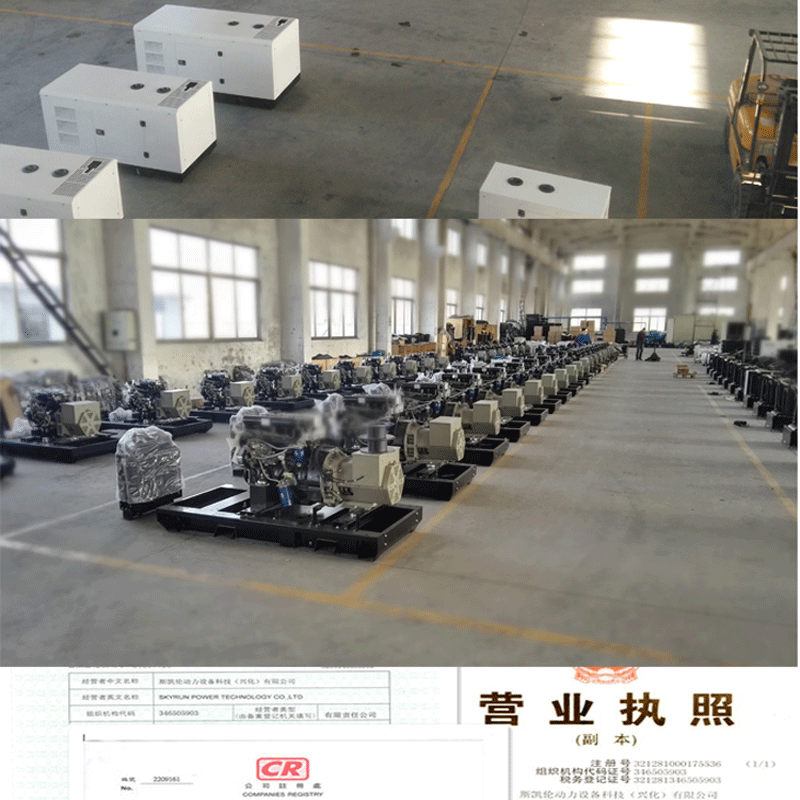 1000kVA Open Type Generator Diesel Generating Set powered by cummins engine
Diesel Generator Model
SDG1000DC
1
Prime Power
KVA
1000
2
KW
800
3
Standby Power
KVA
1100
4
KW
880
5
Power Factor
0.8
6
Frequency
Hz
50
7
Rate Voltage
V
400/230
8
Rate Current
A
1443
9
Controller
Il-NT MRS 10
10
Control Voltage
V
DC24V
11
Battery Capacity
AH
400
12
Coolant Capacity
L
280
13
Fuel Tank Capacity
L
External Tank
14
Fuel Consumption
L/Hour
209
15
Running Time
Hour
16
Sound @7 meter
Db
17
Open Type Product size
L×W×H
4380×2060×2397
18
Open Type Weight net
kg
7930
19
Canopy type product size
L×W×H
ISO 20ft container
20
Canopy Type Weight net
kg
TBA
Diesel Generator Engine
21
Model
KTA38-G5
22
Prime power
KW
880
23
Structure
12 Cylinders,V type
24
Fuel type
Diesel
25
Fuel consumption
L/Hour
209
26
Lubricant consumption
L/Hour
1.045
27
Governor
Electrical
28
Coolling
Water
29
Lubricant capacity
L
114
30
Air intake flow
m³/min
68
31
Exhaust gas flow
m³/min
183
32
Exhaust gas temperature
ºC
541
33
Exhaust gas back pressure
Kpa
10
34
Compression ratio
13.9
35
Aspiration
Turbochargering
36
Bore
mm
159
37
Stroke
mm
159
38
Displacement
L
37.8
39
SAE
0/18
40
Dimension
L×W×H
2260×1338×2332
41
Net weight
Kg
3850
Diesel Generator alternator
42
Model (stamford)
LVI634E
Prime power
Kw
800
43
Model (Dingol)
634E
Prime power
800
44
Structure
1 Bearing
45
Excitation mode
PMG
46
Insulation class
H
47
Protection class
IP23
48
TIF
m³/s
<50
49
THF
<2%
50
Air flow
1.62
51
AVR Model
MX

About Engine Factory
Cummins engines power nearly every type of vehicle and equipment on earth, from fire trucks and 18-wheelers to berry pickers and 360-ton mining haul trucks. You'll also find us everywhere there's water, with a full line of recreational and commercial marine diesels.
Every Cummins engine is backed by Cummins Genuine Parts and service, providing total customer support from more than 7,200 worldwide locations every hour and every minute of every day.
Select an application from the list on the right to go directly to your area of interest.
Engine Feature
The new design of the electronic speed regulation system of Cummins diesel engine has the following features:
1. 4 valves per cylinder, spring separately. Water; exhaust gas turbo, four stroke, the inlet water for cold air type, direct fuel injection systems.
2. PT fuel injection system with advanced EFC electronic governor, diesel engine steady adjustable rate can be set between 0 to 5% (constant speed), which can realize remote operation control and easy to realize automatic control, torque synchronous excitation system can make the engine quickly recover rotation speed under sudden load increase.
3. The electric heater in engine intake manifold allows quick/reliable engine start under low temperature and can reduce greenhouse gas emissions. Achieve the emission standards prescribed by the state government.
4. The combustion process was optimized by using advanced technology, significantly reduce the fuel consumption,
higher reliability, no overhaul time more than 15000 hours,industry-leading level;Lower fuel consumption,the use of
lower cost, higher efficiency and security.
5. Better starting performance at low temperature.



About Skyrun Power
Skyrun (SRP) is a company focus on develop, design, manufacture diesel generator sets and APU for truck.
Our team engaged in sales and service, technology and support, purchasing and logistics, quality and production, and we have been in this industry for more than 10 years. The assembly line is both for generator and APU. We strictly enforce ISO9001: 2008 quality management system. We always believe in that only strict quality control, stick to input of research and development, continuously improve product design and process, get customers approval, success in the industry.
The company will seize the opportunity of China's rapid growth in the use of auxiliary power equipment market, constant innovation, provide the world with more green, energy saving power equipment. To become the world's leading power equipment and service providers.
We mainly produces and sells diesel generator set, for land use diesel generator set from 10-2500 kVA, and kinds of imported land use diesel generator set, movable, soundproof, , remote monitoring and etc. We have a lot of loyal crafts and technologies and testing procedures. Our company is proud of good reputation, high credit, precise technology and advanced equipments.
We focus on continuous development based on our credit, go up steps by our reputation, create a strong enterprise by seeking pragmatic spirit, lay stress on quality by seeking greater perfection according to the rule of market development and policy of enterprise developmental orientation...We provide certification, testing report, connection testing data, ex-factory qualified certificate, marine inspection certificate after inspection. We established good reputation by convincing quality and services in the global diesel gen-sets industries, and our products have been exported to more than 80 countries on five continents, and have got a lot of praise from our customers.
We surviving on quality, developing on innovation; Client-focused, technology-based. Striving for continuous development and never satisfied professional spirit inspires SKYRUN people to push enterprise to a new stage co-operatively.