Genuine New cummins QSB 5.9 Electronic control module 3990517 spare parts
Specifications:
1: Genuine and original Cummins engine parts
2: Full series Cummins spare parts
3: Large stock in warehouse
4: Best competitive price
5: Genuine Cummins package
6: Fast delivery time
7: Could change the material to control the cost as customer required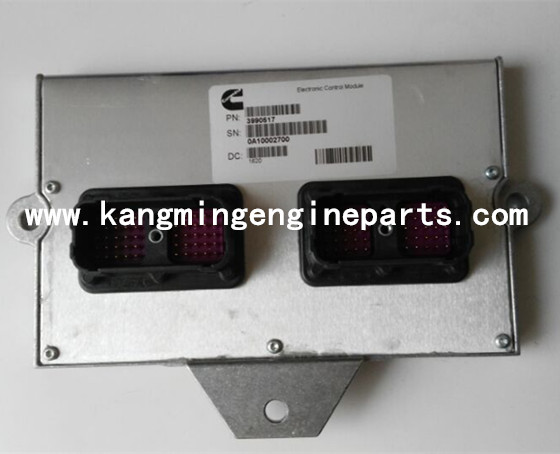 HKYZCUMMINS is a professional and experienced supplier of CUMMINS engine generator and parts: NT855, NTA855, KTA19, KTA38, KT38, KTA50, KT50, 4BT, 4BTA5.9, 6BT, 6BT5.9, 6CT, 6CTA8.3, M11, L10, L345, N14, NH250, NH220, VT28, QSK19, ISM11, QSM11, ISB, ISL

Main series of CUMMINS: CCEC CUMMINS, DCEC CUMMINS, XCEC CUMMINS, USA CUMMINS
Main Business: heavy-duty truck, construction equipment, mining equipment, marine engine, diesel engine, marine gearbox, generator
| | |
| --- | --- |
| No. | Products in Detail |
| 1 | Cummins truck parts, Cummins diesel engine parts, Cummins generator parts, Engineering machinery parts, Marine parts, |
| 2 | Cylinder Block ,Cylinder Head, overhaul gasket, Gasket Kit |
| 3 | Filter, Oil Filter, Fuel Filter, Fleetguard Filter, Oil Cooler Core |
| 4 | Piston, Piston Pin, Piston Cooling Nozzle, Piston Ring, Piston Pin, Piston Liner, Seal O-ring, O-ring |
| 5 | Oil Pump, Water Pump, Fuel Injection pump, Injector, Fuel Injector |
| 6 | Camshaft, Crankshaft, Main Bearing, Thrust bearing, Crankshaft oil seal, Cup |
| 7 | turbocharger, repair kit of turbocharger, holset turbocharger |
| 8 | Connection Rod, Gear Chamber, Oil Pan, Valve Parts , Assembly Parts, Cummins overhaul accessories |
For more Cummins parts
For Cummins ph6710-01 module, engine control
For Cummins 69771 screw, socket head cap
For Cummins 127018 washer, plain
For Cummins 3001811 screw, twelve point cap
For Cummins 3066855 dataplate
For Cummins 3079604 sensor, speed
For Cummins 3080416 sensor, pressure
For Cummins 3037537 seal, o ring
For Cummins 3083727 sensor, pressure
For Cummins 3654718 module, electronic control
Warm Notice:
Dear friend, Warmly welcome to us!
To help us quote the right parts, please kindly tell us following information:
----When inquiring, please kindly tell us the Part Number.
----If you don't have part number in hand, please tell us the Engine Number.
Our Goals: Fast, Completely and Safely delivery goods to our customers.
Any more information of Cummins engine and parts, please feel free to contact with us!
Skype: hkyzcummins01
Whatsapp: +86 152 7464 0898
Tel: (00)86-746-8213959
http://www.kangmingengineparts.com