Modbus Type Automation System Touch Screen Electronic Hotel Door plate with Room Number Logo DND MUR
This product is special for stars luxury hotels, with powerful function of hotel logo, room number, don't disturb, make up room, wait, doorbell, card for power, room status indicator. It is hotel touching electronic doorplate system, with features of ultra-luxurious appearance, reasonable size nice complete black tempered glass front panel, different colors nice LED back-light choice, designed words, size and font, designed symbol, simple and easy wiring to be installed and operated.
The most important, it is using Modbus communication protocol, which will be compatible with modbus RCU control to achieve luxury stars hotels intelligent central management. By the RCU you can set control the doorplate panels, such as back light, operating function and different scenes. Also, there is Modbus adjustable volume electronic doorbell, MCU programmable circuit control, and with the Modbus key card energy saving switch, by connected setting, to well show the room status on the doorplate.
4mm thickness completely black tempered glass crystal panel, anti-scratch, waterproof, leak-proof, easy to clean.
4mm thickness exclusive design completely tempered glass panel, good crystal effect, it will give you good visual effect, well enhance the hotel level and attraction, will bring more guests and all guests satisfied with distinguished enjoy.
The glass surrounded chamfering processing and tempered processing ensure using safety, even broken, the fragment edges is round, not like ordinary glass broken with edges and corners fragments angular to hurt scratch your hand.
Meanwhile, the glass is anti-scratch, waterproof, leak-proof, easy to clean.
Function keys, words, font, size, symbol are image and vivid, customize available
Function keys text, font, size, symbols icons on the panel are easy for identification, very image and vivid.
Customize design is available with different styles, including different languages according to different countries clients requirements.
The function, you can choose logo, room number, don't disturb, make up room, wait, bell touch, etc.
High sensitivity easy touch operating
This product uses capacitive touch-sensitive control, the reaction rate is very sensitive, large sensitive area, induction speed comparable to the iPhone.
Different colors LED back-light
All panels are with nice LED back-light indicator, different colors for choice, such as red, green, blue, white, yellow, orange, etc. These LED light is soft, not hurt the eyes or disturb the guest sleeping. Meanwhile, it is easy and convenient for indicator in night.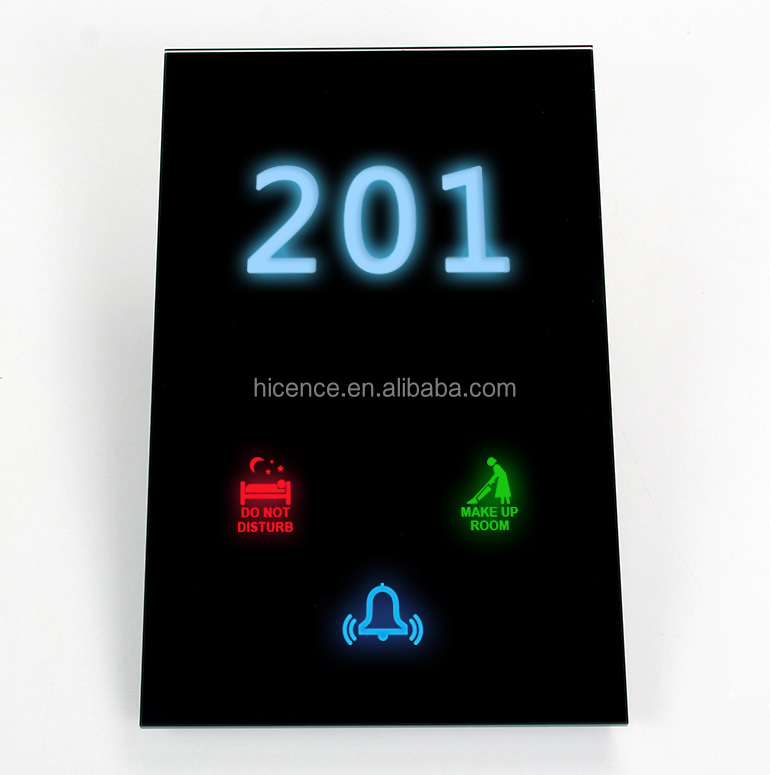 Good quality material and Integrated product structure
Whole integrated product structure, and all function components and back box is using V0 level ABS fire retardant material, moisture, meet international fire safety standards.
RS485 MODBUS protocol technology, support RCU central program integrate and control, easy wiring
All panels are based on RS485 Standard Modbus communication protocol, International Popular, stable and flexible. It is compatible with most RCU. With it, the stars luxury intelligent hotels will achieve smart centralized mangement control easily and efficiently.
Different colors choice
Except black, we can also special do white, silver, gold, champagne, etc. at request, you can choose as need.
Exclusive matched 86*86 mm size LED indicator 4 Volume levels bell for choice
Much different with other traditional bell, this bell is exclusive designed, also 86*86mm size, appearance style uniform with indoor other switch panels.
It is with very nice good voice quality, while 4 Volume levels can be adjusted as guests need.
In the lower right corner, there is a intimate soft blue LED indicator light, and it will flash Synchronizely with the bell voice.
Matched indoor panel
Indoor panel, you can choose don't disturb, make up room to matched, also you can add master or entrance or other scenes button as need.
Install mounting box you can choose 86*86*45mm, for single or for connected version
Two install screws distance is 60mm.
Doorplate datesheet:
Input voltage: 12V
Communication protocol: RS485 Modbus
Baud rate: 9600/19200, 8 data bits, no parity, 1 stop bit
Product size: 140*225*45mm
Fixed screw center distance: 60mm (86mm button box)
Operating temperature: -10℃--60℃
Working humidity: 0 - 95%