500pcs Newest model multi-functional fully automatic chicken eggs incubator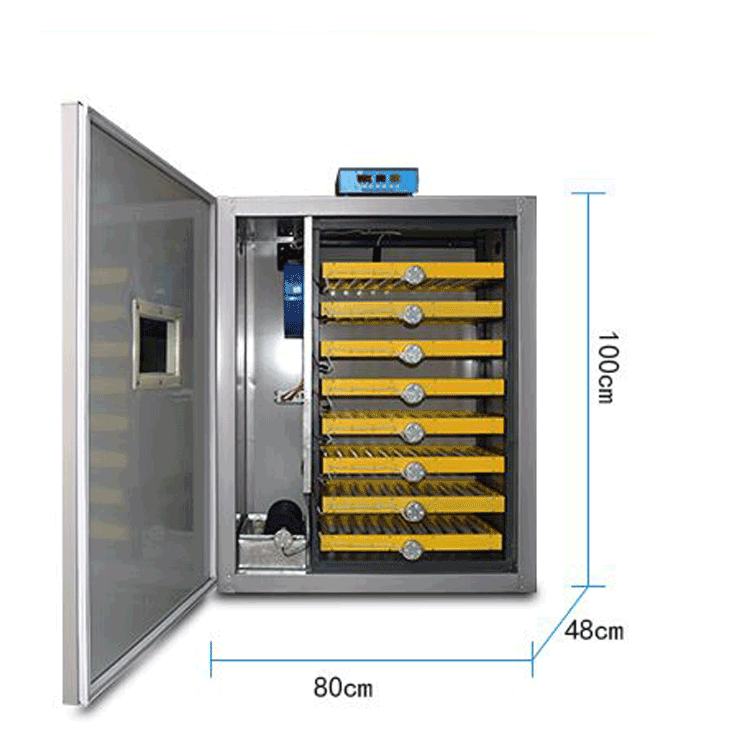 Feature:
Combine three process: incubation, hatching, brooding
One-touch incubation, easy to operate
Automatic temperature adjustment for newly hatched chicken
Introduction:
General function: INCUBATION, HATCHING, BROODING
Controller function: automatic change between 220V AC and 12V DC, automatic temperature&humidity control, automatic egg turning, automatic ventilation, alarm.
1.Observation hole
2.Stainless steal frame
3.Equal fan
4.Automatic controller
5.Temperature and humidity sensor
6.Air hole
7.Humidity system
8.Egg tray with motor
Accessoties
- Double power, smart temperature control.
Latest patented micro-computer controller, multi-mode smart temperature change, double power source, connected to 220V AC and 12V storage battery simultaneously and automatic switch, 220V AC being prior power. Effectively avoid the loss because of power failure during the hatching process.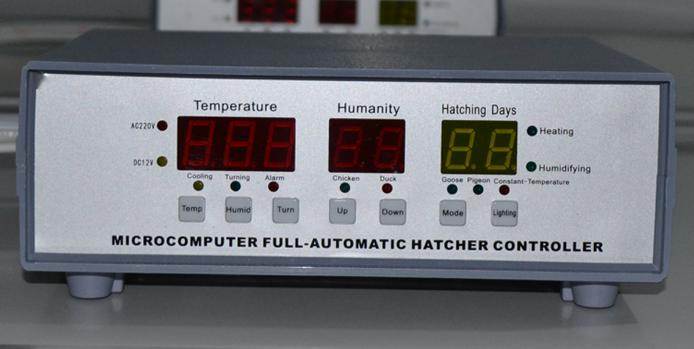 Convenient electricity connection, easy to repair and change, controller arranged outside, avoid getting wet, long use life.
-Fully-automatic egg turning
Patented rotating multifunctional egg tray, wide turning angle, possible to set as you want. Avoid embryo adhesion to egg shell and improve hatching rate. Possible to place any kind of egg (diameters > 2cm) in one tray.
-a set of hatching basket for free
You can arrange a basket at each floor. Hatching and brooding could take place inside the machine after incubation, making incubation, hatching and brooding all in one machine.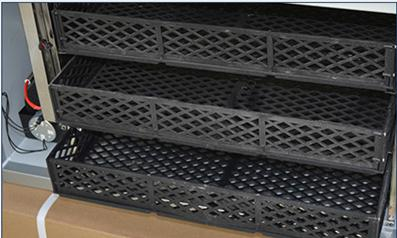 -Stainless steel shell
Exquisite box manufacture and careful production, representing the producing capability and technical level of SSD.
-Two sets of stainless steel heaters
Two independent sets of heaters, one is 220V , the other 12V, keep the incubation going even one of them stops working, leaving users with no worry.
-Patented water swing.
Fast and stable humidification. 4W micro-motor, energy-saving and efficient, the swing is resistant to corrosion, has no request for quality of water, with long use life. Satisfy humidity need in each stage of hatching, thus higher hatching rate.
360°egg tray made of good quality /Egg turning motor, good quality pure cooper with
ABS industrial plastic and nylon synchronized gear motor, long life use
High-speed, double axis, non-brush, direct-current fan, pure cooper coil, strong magnetic outside rotor, long use life, high speed and strong wind, new style cycling structure, smaller inner temperature difference, higher hatching rate.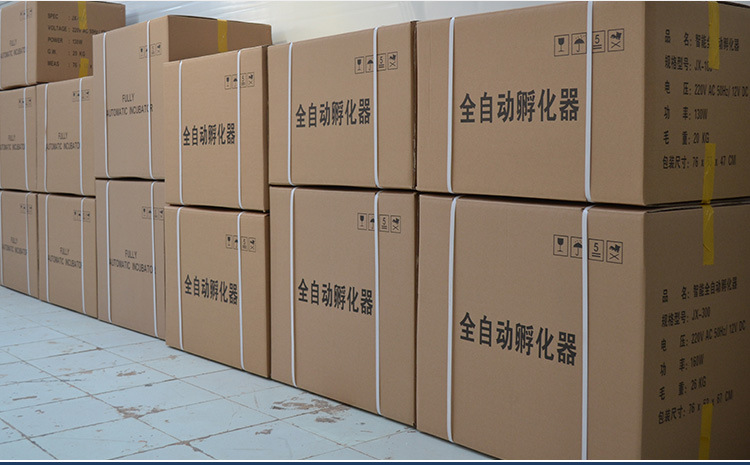 Qingdao Shengshide Manchinery Co.,Ltd.
main products including Poultry egg incubator,Solar poultry egg incubator, PoultrPoultry cages,Feeders&Drinkers,Poultry pluckers,Poultry feedmachine,Solar led lights and machinery equipment, which is widely used in agriculture and industries. After continuous development and innovation product quality has been in the forefront of the industry. High quality products and perfect after-sales service, won the customers trust and praise. Our products are sold throughout the world, such as South Africa,Ghana,Nigeria,Kenya,Tanzania,Rwanda,Zimbabwe,Botswana,Cameroon,Austrilia,America,Canada,UK as well as other countries and regions in Asia, Africa, Europe.