Honest Manufacturer ESPREAD ESSG Manual Three Roll Mill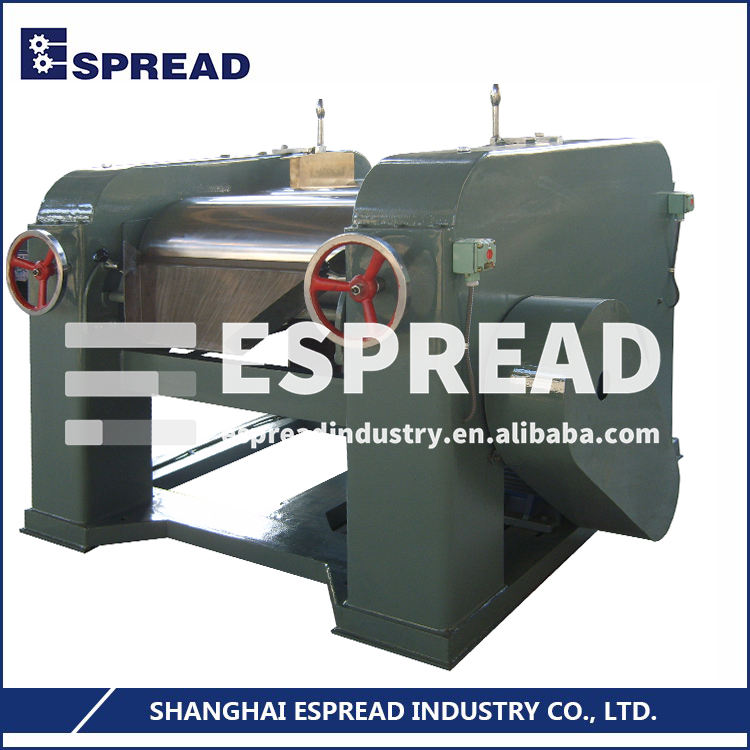 Technical Parameters - ESSG series
| | | | | | | |
| --- | --- | --- | --- | --- | --- | --- |
| Model | Roller Dia.(mm) | Roller Length(mm) | Low Speed(rpm) | Medium speed(rpm) | High speed(rpm) | Power(KW) |
| ESSG65 | 65 | 136 | 32 | 89 | 250 | 0.75 |
| ESSG100 | 100 | 250 | 22 | 66 | 178 | 1.5 |
| ESSG150 | 150 | 300 | 22 | 66 | 178 | 2.2 |
| ESSG200 | 200 | 500 | 19 | 55 | 155 | 5.5 |
| ESSG260 | 260 | 675 | 19 | 55 | 155 | 7.5 |
| ESSG315 | 315 | 760 | 19 | 55 | 155 | 11 |
| ESSG405 | 405 | 810 | 15 | 45 | 135 | 15 |
| ESSG405L | 405 | 1000 | 15 | 45 | 135 | 22 |

Product Description:
A three roll mill is a machine tool that uses the shear force created by three horizontally positioned rolls rotating at opposite directions and different speeds relative to each other to mix, refine, disperse, or homogenize viscous materials fed into it. They are widely used to mix electronic thick film inks, high performance ceramics, cosmetics, plastisols, carbon/graphite, paints, printing inks, pharmaceuticals, chemicals, glass coatings, dental composites, pigment, coatings, adhesives, sealants, and foods. It is very suitable for high vicious particle size reduction.
Material Viscosity: <=3,000,000 cps
Production Capacity: 10-1,000L/hour
Applied Materials: Suitable for dispersing and grinding materials in industries such as ink, color paste, adhesive, biological, pharmacy, foodstuff, cosmetic, paint, photovoltaic material etc.
Application Fields: Suitable for industrial coatings, general printing inks, and general pigment dispersions, calcium carbonate powder, liquids agrochemicals etc.
Product Features:
1. Removable bronze side shields;
2. Manual operate the roller gap;
3. Manual operated take-off knife;
4. Cast dual-metal rolls;
5. Full complement of safety equipment;
6. Single speed motor;
7. Hand or knee-operated safety switch;
8. The rollers extremely durable surface hardness rating of HS 66-68;
9. Recycling cored cooling roller;
10. Cast iron frame;
11. Centralized lubrication;
12. Enclosed silent chain drive for less noise during processing;
13. Explosion-proof electrical equipments;
14. Variable Frequency Drive adds great control to manipulate roller speed;
15. Feeding device equipments.