Product Description
| | | | |
| --- | --- | --- | --- |
| Brand | Hanchuang | Model | HC-M815 |
| Color | silver/black | Functional | mutilefunctional |
| Pump pressure | 19bar | weight | 11.6kg |
| Voltage | 220v-50hz | Water tank capacity | 2L |
| Capacity of slag cake | 15pcs | Coffee outlet height adjustable | 70 to 110mm |
| Adjustable range of coffee flow | 20 to 250ml | size | 475*382*470mm |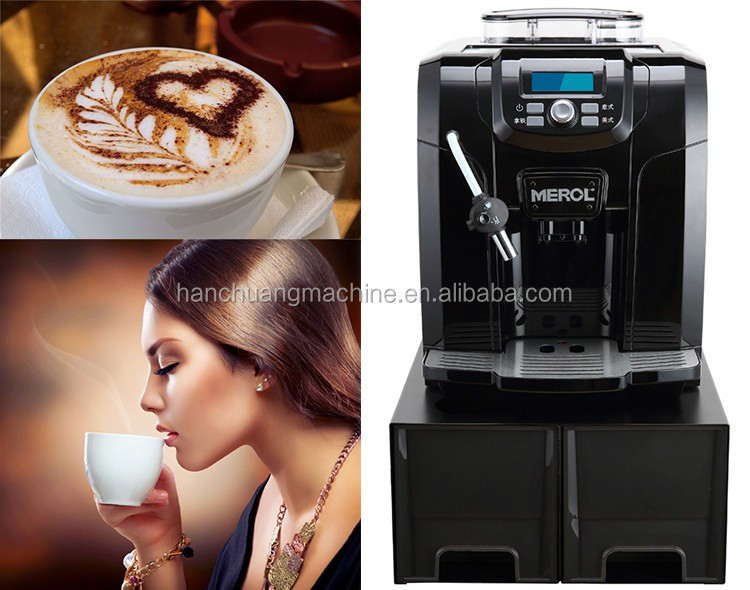 Detailed Product Description
Free color options, LCD display, 19bar Italy INVENSYS pump,NTC temperature control
system,the temperature can be adjusted, dual boilers, dual stainless steel filters,stainless
steel drip tray , steel conical grinder blade, high stability brass tube connector
system, multilingual menu. AWECO flowmeter from Germany!
Self-Cleaning:When the coffee machine wakeing up everytime,the LCD can show five
languages at most!Adjust the scope of spout, Single cup Function,Double cups Function,
Warning Automatically,Miss water warning Function,Miss Bean warning Function,
Sleeping mode Function& Power saving,with milk froth can make cappuccino automatically!
bean to cup coffee machine
Features:
1) Fully automatic coffee machine with plastic ABS housing,19bars INVENSYS Pump from Italy,Dual boilers,Aweco flowmeter from Germany!
2) The coffee machine can Grind coffee bean and powder instantly and completely automatically
3) The coffee machine Brew aromatic coffee just by pushing a small button
4) Easy to operate with LCD display and electron control,Graphic liquid crystal display a more user-friendly operation
5) Hot water and steam ready for use whenever necessary
6) Cup pre-warming function\
7) LCD can show Multilingual kinds of languages,such as English, German, Dutch, Spanish, Portuguese, Korean, Romanian and so on!
8) Removable water tank,Removable drip tray
9) Steam control valve to replace the electromagnetic control valve, steam and Hot water to complete the production of a button!
10) Use low-noise Grinding beans formation, the maximum noise can be controlled 72db!
11) With Multi-function milk froth devices can make cappuccino automatically!
Advantage:
1. A key to open intelligent life
Intelligent program control, a key operation, knob control temperature control
Convenient and quick, a key to easily create Italian-style espresso
2. Bean powder combo
Coffee beans: professional grinder, the thickness of third gear adjustable, add beans, please do not exceed 300g
Add coffee powder: open the powder tank cover, each can be added no more than a flat spoon coffee powder
3. One machine multi-function
Grinding machine, milk machine, single product coffee machine all included!
Italian, American, fancy all get!
4. Quadruple technical protection
Automatic anti-clogging protection
Protection of water and electricity
Boiler overheating protection
Baking box induction protection
5. Power on automatic cleaning function
6. Italy imported pump
7.Steam hand-made milk foam system
Automatic foam system: no professional approach, easy to play can be a lucrative, fine, softer the milk bubble.
Manual foam system: milk foam rich, fine, soft, to meet the professionals and coffee lovers pull flowers prepared.
8. Freestyle knob operation