100% Quality Assured ESSQ Series In Batch Pneumatic Lifting High Shear Mixer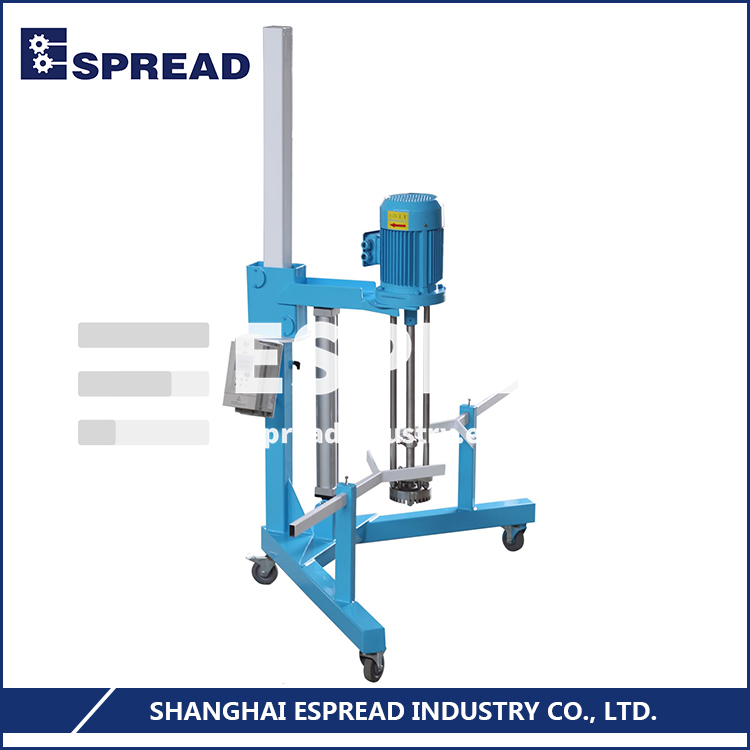 Technical Parameters - ESSQ series
| | | | | | | |
| --- | --- | --- | --- | --- | --- | --- |
| Model | Power | Speed | Lifting Stroke | Capacity | Equipment Appearance Size | Weight |
| ESSQ-2.2 | 2.2kw | 3000 rpm | 500mm | 20-100L | 0.6*1.3*1.35M | 95kg |
| ESSQ-4.0 | 4kw | 3000 rpm | 600mm | 50-200L | 0.8*1.5*1.45M | 145kg |
| ESSQ-7.5 | 7.5kw | 3000 rpm | 700mm | 80-300L | 1.0*1.65*1.8M | 165kg |
| ESSQ-11 | 11kw | 3000 rpm | 800mm | 150-500L | 1.1*1.75*1.9M | 190kg |
Product Introduction:
Batch Pneumatic Lifting High Shear Mixer fixed on various containers batch high shear emulsifying machine, it can be made into a closed vacuum type, kettle and other equipment used together to achieve automated production systems. It's working capacity is generally between 20-500L. It suitable for emulsifying, homogenizing and dispersing materials in industries, such as biology, pharmacy, food, cosmetic, ink and pesticides etc.
- Frequency converter are optional;
- With accelerated impeller;
- Lifting cylinder;
- High efficiency motor;
- Lifting the manual valve;
- Travel speed control valve.
Parts Description:
1. Guiding column.
2. Slide the bracket.
3. Frequency converter (optional).
4. Lifting cylinder.
5. Adjustable bucket clip.
6. Motor Explosion-proof / Non-explosion proof.
7. Lifting the manual valve.
8. Accelerated impeller.
9. Emulsified homogeneous work head.
10. Universal brake wheel x 3pcs.
Product Features:
Capacity - 20 ~ 500 litres.
Workheads - Special workheads available for all models.
Materials of Construction - Product contact in SS304 or 316L stainless steel.
Mounting - All mixers can be hanged on and mix with the mobile vessel.
Speed - Speed is adjustable with frequency inverter if needed.
Motor Specification - 1~11 kW, TEFC, flame proof, ATEX approved and stainless steel motors available as standard.
Technical Advantages:
1. Independent research and design work picturesque head structure, smooth operation, low maintenance cost, easy to clean.
2. Emulsifying machine mounted on a pneumatic lift bracket, easy to move, easy to operate.
3. The stator and rotor are forging materials processed in CNC machine center. The clearance between the stator and rotor is very small to enable to dispersing efficiency.
4. Material contact parts are available 304/316L stainless steel and titanium alloy materials.