PSA ( Pressure Swing Adsorption) Technology a revolution in Non Cryogenic Air Separation and Oxygen Generation Technology uses special grade of ZMS ( Zeolite Molecular Sieve).
The compressed air is passed through a Twin Tower PSA module interconnected with automatic change over valves. After passing through a Refrigerated Dryer air gets dried. Dried compressed air will now come in contact with bed of Zeolite molecular sieves (ZMS). Zeolite Molecular Sieves are special grade of adsorbent which have the property of preferential adsorption of nitrogen molecules. At a time one tower remains under nitrogen production cycle, whereas the other tower undergoes regeneration which is achieved through depressurization of the tower to atmospheric pressure. The outgoing oxygen gas is sent to a surge vessel where the minimum pressure will be maintained with the help of Back pressure Regulator.
Technical Index
Compressed Air Pressure: 0.7-1.3MPa(7Bar-13Bar)
Oxygen Capacity: 3 - 200Nm3/h
Oxygen Purity: 93%±2%
Outlet Pressure: 0.5Mpa or per requirement
Dew Point: ≤-40℃
Electrical Power :380V/3P/50HZ or Customized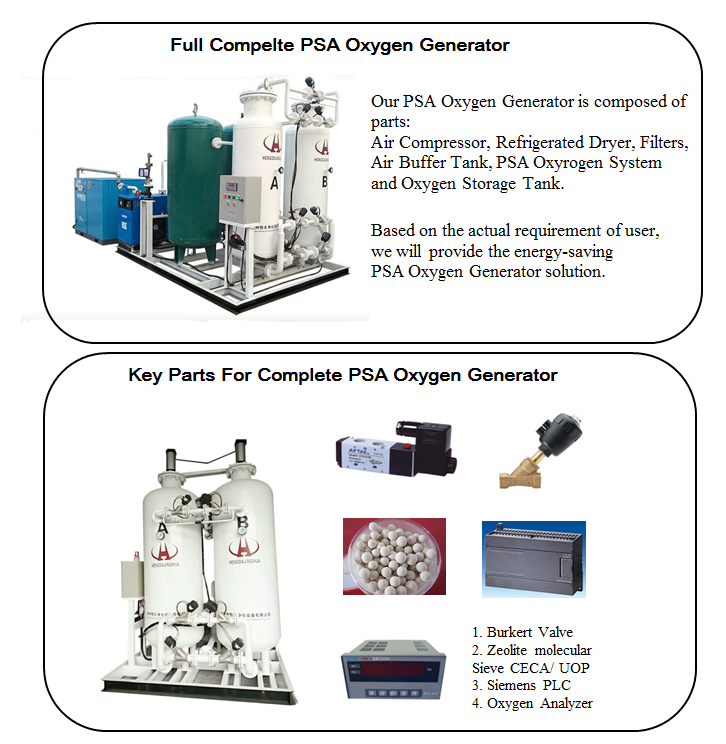 Oxygen Generator System Features
1.High Oxygen Production and Low Energy Consumption
The Oxygen Purity is large, can be adjusted between 25% -95%.
2.Low maintenance costs, moving equipment for the blower and vacuum pump; Simple operation and easy maintenance.
3.Full Aotomation
All systems are designed for un-attended operation and automatic Oxygen demand adjustment.
4.Zeolite Molecular Sieves Life
Unique compression device to ensure that the molecular sieve is always in static operation, so that the molecular sieve is not powder, not added.
5.Fast start-up
Start-up time is about 30 minutes to get desired Oxygen purity. So these plant can be switched on and off as per Oxygen demand changes.
Model No.

Flow Rate

Purity

HDFO-5

5

93±2%

HDFO-10

10

93±2%

HDFO-20

20

93±2%

HDFO-30

30

93±2%

HDFO-40

40

93±2%

HDFO-50

50

93±2%

HDFO-60

60

93±2%

HDFO-70

70

93±2%

HDFO-80

80

93±2%

HDFO-100

100

93±2%

HDFO-

12

0

120

93±2%

HDFO-

15

0

150

93±2%

HDFO-

18

0

180

93±2%

HDFO-2

0

0

200

93±2%
Q: Are you trading company or factory?
A: We are OEM skid-mounted Oxygen Generator factory, founded in 2008.Welcome you to visit our company at anytime!

Q: What is the terms of payment?
A: T/T, L/C etc.

Q: How long is your delivery time?
A: Generally it is 10-50 working days depending on your order.

Q: How to get a prompt quotation?
A: When you send us inquiry, please kindly tell us the below technical information.
1) O2 Flow rate: ____Nm3/h
2) O2 Purity: ____%
3) O2 Discharge pressure: ____Bar
4) Voltages and Frequency: _____V/PH/HZ
5) Application or use for which industry.
PSA Nitrogen Generator VPSA Oxygen Generator
Hydrogen Generator by Ammonia Cracking High Purity Hydrogen Generator