High Quality Dried Fig Fruit Powder, Fig Juice Powder
· Fig Fruit Powder ·
Product Details:
Prodcut name: High Quality Dried Fig Fruit Powder, Fig Juice Powder
Specification: Straight Powder
Appearance: Green brown powder
Mesh size: 70-80 Mesh
Used Part: Whole herb
Grade: Healthcare products
Brand Name: LS-Herb
Test Method: HPLC
Reference Price: $ 15.00USD/KG-$ 25.00USD/KG
Ficus carica is a monoecious, deciduous tree or a large shrub. It is native to the Middle East. It was later cultivated from Afghanistan to Portugal, and from the 15th century onwards was grown in areas including Northern Europe and the New World. In the 16th century, Cardinal Pole introduced fig trees to Lambeth Palace.
Nutrition: Figs are one of the highest plant sources of calcium and fiber. According to USDA data for the Mission variety, dried figs are richest in fiber, copper, manganese, magnesium, potassium, calcium, and vitamin K, relative to human needs. They have smaller amounts of many other nutrients. Figs have a laxative effect and contain many antioxidants. They are good source of flavonoids and polyphenols including gallic acid, chlorogenic acid, syringic acid, (+)-catechin, (−)-epicatechin and rutin. In one study, a 40-gram portion of dried figs (two medium size figs) produced a significant increase in plasma antioxidant capacity.
| | | | |
| --- | --- | --- | --- |
| Analysis | Specification | Result | Test method |
| Appearance | Yellow Green powder | Complies | Visual |
| Odor | Characteristic | Complies | Organoleptic |
| Tasted | Characteristic | Complies | Organoleptic |
| Particle size | 100% through 80 mesh | 80 mesh | 80 mesh screen |
| Loss on drying | 8.00% Max | 3.37% | 5g/105℃/2hrs |
| Loss on Ash | 8.00% Max | 3.42% | 2g/525℃/3hrs |
| Heavy Metal | 20ppm Max | Complies | Atomic Absorption |
| Arsenic(As) | 2ppm Max | Complies | Atomic Absorption |
| Microbiology | | | |
| Total plate count | 50,000cfu/g Max | Complies | AOAC |
| Yeast & Mold | 5,000cfu/g Max | Complies | AOAC |
| E. Coli | Negative | Negative | AOAC |
| Salmonella | Negative | Negative | AOAC |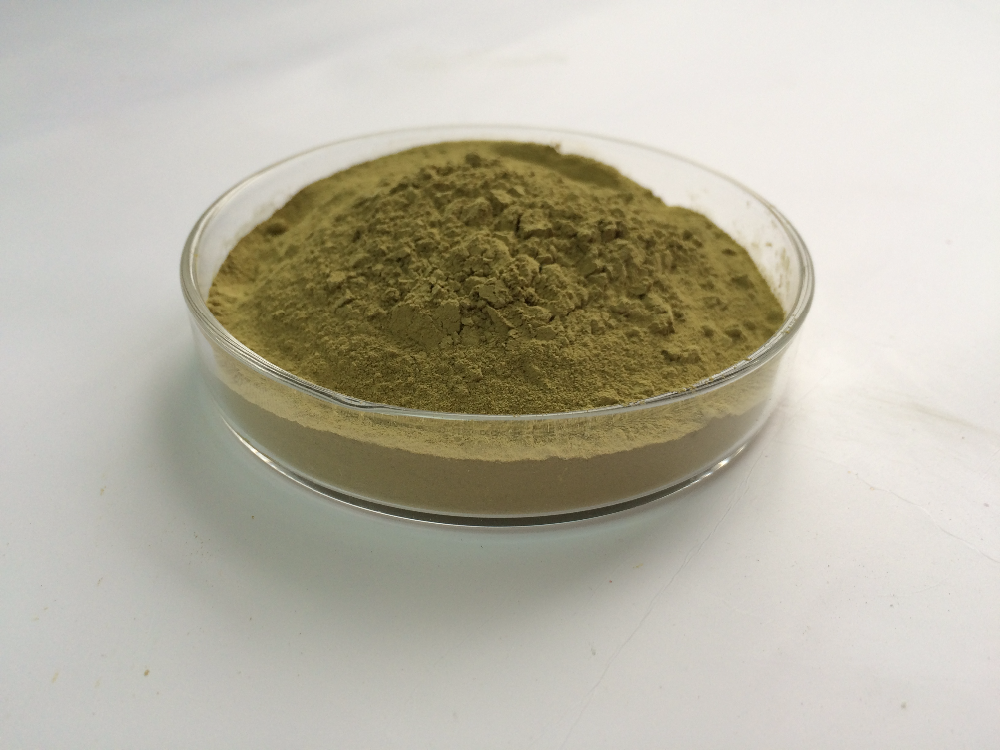 Strengthens Bones: Figs are rich in calcium, which is one of the most important components in strengthening bones, and reducing the risk of osteoporosis. It is also rich in phosphorus, which encourages bone formation and spurs regrowth if there is any damage or degradation to bones.
Rich in antioxidants: Dried figs are rich in antioxidants. A study [1] by Vinson JA and colleagues suggested that processed, dried figs are superior to natural figs when it comes to antioxidants. The study also mentions that dried figs have superior quality of antioxidants, called phenols, compared to other fruits that attribute their antioxidant property to vitamin C and E.
Prevents heart disease: The high levels of antioxidants in dried figs help to eliminate free radicals that can damage blood vessels and result in heart disease. And, as mentioned earlier, they prevent hypertension, a huge risk factor for development ofcoronary heart disease (CHD). Plus, there are some studies [2] which suggest that dried figs help to reduce the levels of triglycerides that contribute greatly to heart disease.
Prevents cancer: Antioxidant-rich dried figs also help in preventing cellular DNA damage due to free radicals that can make a cell cancerous.

Medical supplement,
healthcare supplements,
infant food,
solid beverage,
dairy products,
convenience food,
puffed food,
condiment,
middle-aged and old food,
baking food,
leisure food,
cold drinks and snacks etc.