Best Selling Mini Quran Holy Quran Reading Pen With English to Urdu Translation Dictionary
♦ Specifications ♦ :
Name

Talking Pen For Kids

Model

RP-32

OID decoder

SN9P701/SN9P70032

Pen head

Sonix OID2

Memory

4GB ~16GB or OEM

USB download

USB2.0 high speed

Battery

3.7V, 350mAH, Lithium Battery

/ AAA Battery

Speaker

28mm,8 Omega,1W

28mm_8Ω_1W Inner magnet

Earphone Jack

3.5mm

Color

Golden, Silver or

Costomized color

Size

(L)145*(W)36*(H)30(MM)

Material

Eco-friendly material

Certification

CE,ROHS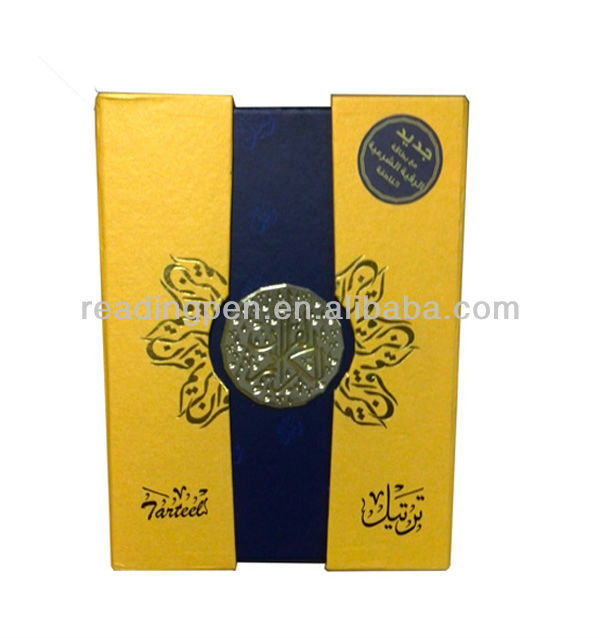 ♦ Description ♦ :
1.
Quran reader pen is developped for muslim people learning and memorying Quran books.
2.
Whereever you want to listening, just simply touch it.
3.
The pen could read any word, aya, surah,hezb, chapter,page of the given book provided by us.
4.
More books optional.
Quran teacher, Dua'a,40Hadith, Sahih Al-Bukhari, Talking dictionay.
5.
Recording and compare function available.
User could record their reciting voice and compare with the pen voice for improving pronunciation.
♦ Main Fuction ♦ :
1. Point to Read
2. Spell,Repeat,Group Reading
3. Language Switch/Translation
4. Read along and record for comparision
5. Interactive game and test
6. MP3 playing
7. USB charging and downloading
8. Speaker and earphone available
9. Volume and Speed control.
10. Function could be designed according with customer's requirement
♦ What help the talking pen could do ♦ :
1. Learning languages easily.
Talking pen equipped with different books for teaching kids character,words,
sentence and so on.
It arouse the learning enthusiasm of kids' strongly by bring them to a magic sounding world.
2. Listening vivid stories.
Talking pen equipped with story books for telling kids stories.
It will improve kids speaking and thinking ability.
3. Enjoying music and singing songs.
The pen has MP3 function to play music.
4. Playing Games.
Talking pen support game function.
Learning through playing, and playing from learning.
♦ How to use the talking pen ♦ :
Kids just simply power on the pen and point to the book, the pen could read anywhere it point. (The books are special books with OID codes, we could make your books equipped with our pen)
♦ How to coopreate ♦ :
1. We have talking pen and books kits available for your choice.
2. If you have your own books and book voice, we could make our pen equipped with your books.
♦ The service we offered ♦ :
Pen design, mold development
ModelPCB board design and development
The printing of books
Languages adding, text translation
Adding stealth codes for the books
Recording for the books,audio dubbing
Production of reading pens
The packing design and manufacturing
Shipping and preparing documents for customs
♦ Applications ♦ :
Kids education : Kids' books,cognition cards,stories, growing diaries, maps,land pad,Diy ording books, etc
Students' education : School books, teaching materials, words learning cards,diy recording books,etc.
Adults' training : Languages learning,Quran reading,Bible reading,etc
Speical Application : Professional audio books, Multi-Language travelling guide/Travelling Map, Tourism introduction, Blind people learning books,etc.
♦ Competitive Advantage ♦ :
1. Rich experience in manufacturing talking pen for 8 years.
2. Strong Technical Support for OID coding and software programme.
3. Many models of talking pen for choice.
4. Leading quality and best price.
5. Good and Quick after-sale service.
6. On time delivery
7. OEM, ODM service are welcome